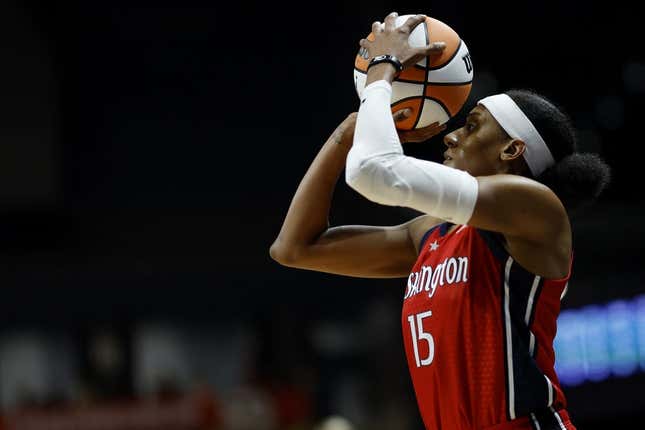 It has been nearly two months since the short-handed Washington Mystics won back-to-back games.
How running an NFL team is like running a restaurant | Chef Emeril Lagasse
They also have struggled with the last-place Indiana Fever this season.
As star Elena Delle Donne nears her return from injury, the visiting Mystics look to build on a needed victory when they visit the Fever on Friday at Indianapolis.
Washington (14-16) won a season-high three straight from June-16-22 but has since won six of 18 games. The Mystics, though, snapped their second three-game losing streak in less than a month with Sunday's 83-76 home win over the Chicago Sky.
They again played without Delle Donne, who's been out since an ankle injury on July 9. However, the two-time MVP is practicing, and coach Eric Thibault told NBC Sports Washington that she could be back soon.
"Elena's getting close," Thibault said. "She's very diligent about her rehab, and getting her treatment, and doing everything she can to be able to play.
"Obviously, she means a great deal to us when she's on the court."
Washington also is dealing with injuries to key performers like Ariel Atkins (ankle) and Kristi Toliver (foot). Meanwhile, Brittney Sykes scored 30 points versus Chicago, and has averaged 20.8 points over the last four games.
Sykes scored 29 during Washington's 96-88 home win over Indiana (8-23) on July 7, but managed just nine points each in its two losses against the Fever — on June 13 and July 19.
Indiana's 82-76 win over the Mystics on July 19 is the team's third victory in its last 19 contests.
The Fever shot 46.5 percent during Sunday's 100-89 home loss to New York but allowed the Liberty to shoot 51.4 percent and Breanna Stewart to score 30 of her 42 in the first half.
Indiana ranks last in the WNBA in scoring defense (85.2 points per game).
"It requires 40 minutes of actual defense," said Fever star Kelsey Mitchell, who has averaged 21.8 points in the last four games.
"You do what it takes ... You've just got to make the adjustments as the game goes."
Standout Indiana rookie Aliyah Boston has averaged 18.8 points in the last five games, and 10.0 rebounds over the last six.
—Field Level Media