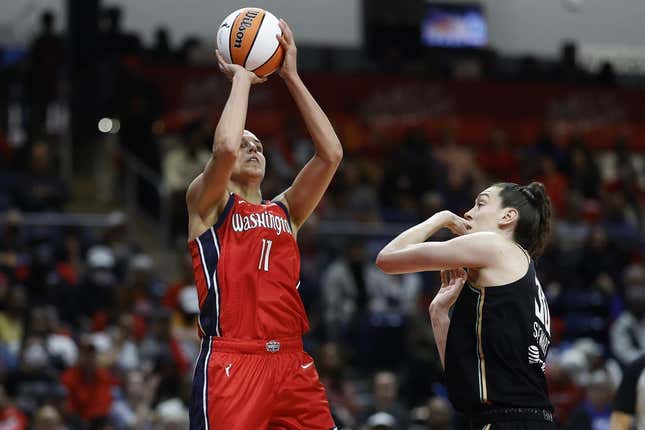 Two teams in a late duel for playoff positioning meet Tuesday night when the Minnesota Lynx visit the Washington Mystics.
How running an NFL team is like running a restaurant | Chef Emeril Lagasse
The Lynx are fifth in the overall WNBA standings and the Mystics are sixth, although each had distinctly different results this past weekend.
The Mystics (16-18) are feeling upbeat with star player Elena Delle Donne back in action and leading the team to its most impressive result of the season.
Washington topped the league-best Las Vegas Aces 78-62 on Saturday, with Delle Donne scoring 21 points with seven rebounds. Most important is that Delle Donne logged 22 minutes for her most playing time in a game since June 30.
"Just to have the whole group out there felt good," Delle Donne said. "I think you could see it. We were just playing with joy."
Delle Donne missed the previous two games with a hip ailment after an ankle injury kept her sidelined for a longer stretch of the season. She said she can't be consumed with her injury track record when she's on the court.
"It's basketball and you've got to just enjoy the moments you're out there, and play as hard as you can," said Delle Donne, who has played in half of Washington's games this season.
The Lynx (17-18) endured their second-worst loss of the season with Saturday's 111-76 home defeat to the New York Liberty.
"We didn't play defense," Minnesota coach Cheryl Reeve said. "I think we should have competed with them. ... You have to have a short-term memory."
The upcoming road game shouldn't faze the Lynx, who have won their past two contests away from home. Minnesota has been dealt back-to-back losses only once since the middle of July.
"Get yourself ready. Be a pro," Reeve said. "We got to rise up."
Washington, which is 3-5 since Aug. 6, had one of its best defensive results Saturday. The 62 points for the Aces marked the second fewest for a Washington opponent this season and came after allowing 113 points to the Aces on Aug. 11.
Minnesota is 2-0 vs. the Mystics this year, winning 80-78 at Washington on June 3 and 97-92 at home on July 26. Delle Donne was held to 12 points in the first meeting, and she didn't play in the second matchup.
"Washington had a big win," Reeve said. "They're getting healthy."
—Field Level Media