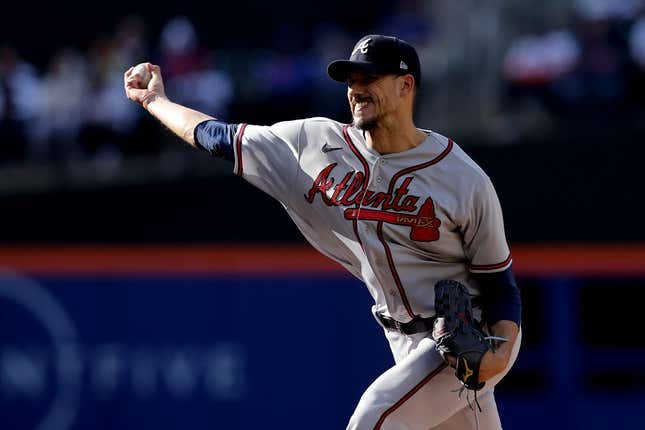 Expect a playoff atmosphere when the visiting Los Angeles Dodgers and Atlanta Braves begin a three-game series on Monday, the first meeting of the year between the teams with the most wins in the National League
How running an NFL team is like running a restaurant | Chef Emeril Lagasse
The two clubs have been the league's models of success. The Dodgers won the World Series in 2020 and the Braves won the title in 2021. Last year, the Dodgers won 111 games and the N.L. West but were upset by San Diego in the NLDS. The Braves won 101 games and the N.L. East but were knocked off in the NLDS by Philadelphia
The teams are atop their divisions more than one-quarter of the way through the season.
The pitching matchup for the series opener features Atlanta's Charlie Morton (5-3, 2.85 ERA) against Los Angeles' rookie Gavin Stone (0-0, 9.00).
Stone and Bobby Miller, the two top pitching prospects in the Dodgers' organization, are expected to be recalled as replacements for Dustin May (forearm strain) and Julio Urias (hamstring strain). Miller would be making his debut on Tuesday
"It's an opportunity for these two young pitchers," said Los Angeles manager Dave Roberts. "They're both talented. (The timing is) not what we expected, but that doesn't really matter. The only way to look at it is you've got to embrace the opportunity for these guys."
Stone made his debut on May 3 against Philadelphia and allowed five runs (four earned) in four innings. He has since made two Triple-A starts and allowed a combined four runs (three earned) in 11 innings. Stone is expected to get at least three starts as a replacement for May, who could be out for seven weeks.
"The unfamiliarity, the novelty of it, he's already done that," Roberts said. "Also, I think he's throwing the baseball better in general. The changeup is better. The fastball command is better. I just think the second time around, he'll be a lot more comfortable than he was the first time."
Inexperience isn't an issue for the veteran Morton, who will be making his ninth start of the season. In his last outing on May 15 at Texas, Morton got plenty of run support in a 12-0 victory and earned his second straight win. He pitched 6 2/3 scoreless innings and allowed seven hits, one walk and a season-high 10 strikeouts.
"It was a big win," Atlanta manager Brian Snitker said. "It was great to come out and swing the bats. And Charlie was awesome."
Morton has made five career starts against the Dodgers, going 1-2 with a 4.94 ERA. He lost his only start to the Dodgers in 2022 when he surrendered four runs in 5 1/3 innings
The two clubs are among the best in baseball. The Dodgers have scored 38 runs in the first inning and the Braves have scored 37. The Braves, with Ronald Acuna Jr. and Matt Olson batting one-two in the order, have scored 18 runs this season within the first 10 pitches of the game, the most in the majors
The Dodgers won four of the six games against Atlanta a year ago, taking two of three at home and on the road
--Field Level Media