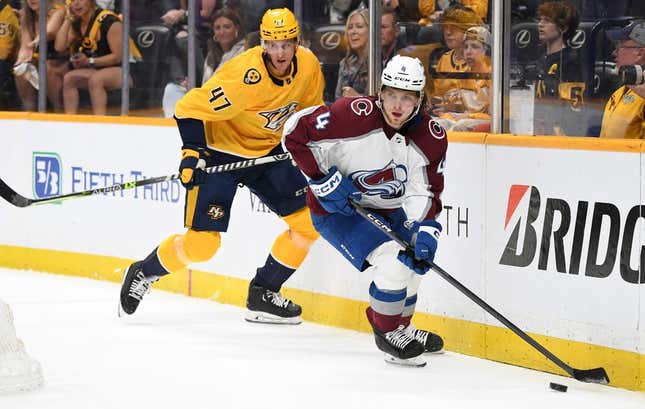 Nathan MacKinnon completed a hat trick with the late game-winning goal in a four-point outing and the Colorado Avalanche claimed the Central Division crown with a 4-3 road victory over the Nashville Predators on Friday
Devon Toews produced a goal and an assist while Mikko Rantanen collected two assists for the defending Stanley Cup champions, who will face the Seattle Kraken in the first round of the playoffs.
Goaltender Alexandar Georgiev made 18 saves for the Avalanche (51-24-7, 109 points). Colorado edged the Dallas Stars (47-21-14, 108 points) to claim the division title on the last day of the regular season
For the Predators (42-32-8, 92 points), Kiefer Sherwood posted his first career two-goal game and Luke Evangelista tallied once. Goalie Kevin Lankinen stopped 30 shots
With overtime looming, MacKinnon raced down the right wing on a two-on-one rush and buried a shot for his 42nd goal of the season with 1:42 left.
Colorado has struggled with all kinds of injuries but roared to the end of the regular season with a 16-2-1 run. Even so, this one was no free win, even after the Avalanche claimed a 3-1 first-period lead
Toews opened the scoring just 28 seconds into the clash when his long wrist shot ricocheted off a defender's skate and into the net for his seventh goal of the season.
MacKinnon doubled the lead less than three minutes later when he gained the puck at the point, zipped down the wing and upon cutting to the middle ripped a shot home.
Sherwood put the Predators on the board at 5:42 of the first with a glove-side wrist shot from just inside the right circle
MacKinnon notched his second of the night at the 13:14 mark of the game by splitting the defenders and then lifting a backhand shot.
Nashville, which will miss the playoffs first the first time in nine seasons, didn't pack it in.
Evangelista began the Predators' comeback 2:32 into the second period by joining a rush and wiring a top-shelf wrist shot for his seventh of the season
Then, Sherwood potted his second of the game and seventh of the season. While on a power play, Sherwood eluded a check as he reached the slot and one-timed a pass at 7:08 of the middle frame.
--Field Level Media