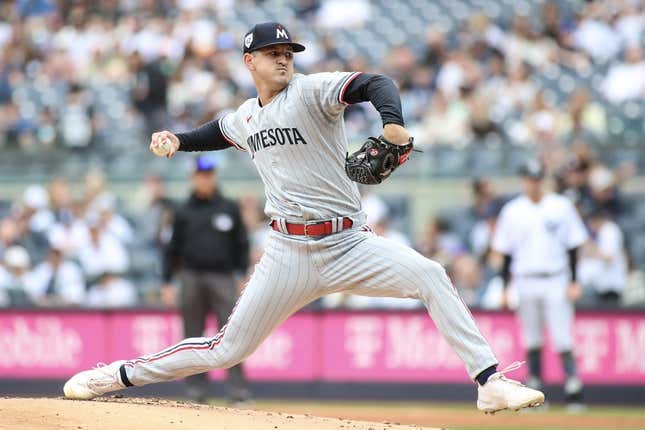 The Washington Nationals have serious concerns about their offense. The Minnesota Twins might be dealing with issues regarding pitching
Are the Oakland A's a failed state? | Agree to Disagree
Something is bound to give when the teams open a three-game series Friday night in Minneapolis.
Minnesota has dropped four of its last five games after an 11-5 loss at Boston on Thursday.
The Twins might be in need of pitching reinforcements after starter Kent Maeda was hit on the foot by a line drive Thursday and left after two innings. Minnesota ended up using five pitchers in the game
"We could see some movement anyway," Twins manager Rocco Baldelli said of the pitching staff. "We're in a little bit of a long run right here and now we've got a guy who is down with an injury. That's when you look to your other starters to go out there and give you a good start.
The Twins were in a bind, Baldelli said, because they needed relievers to get them through the game
"They went out there and pitched and gave us everything they had," Baldelli said.
The Nationals might not be much of a threat if they can't generate offense
"We're in a funk," Washington manager Davey Martinez said. "Just can't drive in that run. ... We just can't get that one big run across the board."
Not only have the Nationals been blanked in their each of their past two games (both times by the visiting Baltimore Orioles), but they have lost six of their past seven games. They endured shutouts in three of those outings
It sure sounds as if it is the fundamentals when it comes to the shortcomings with the bats.
"We're very inconsistent on just hitting the ball hard," Martinez said. "Right now, I'm just looking for quality at-bats, hitting the ball hard, hitting strikes, getting the ball in the strike zone, being aggressive on the fastballs."
The Nationals will try to get some semblance of offense going against Twins right-hander Tyler Mahle (1-2, 4.11 ERA), who has lost his past two starts
Mahle might understand the plight of Washington pitchers. The Twins have produced a total of two runs in his latest two outings
In five career appearances against the Nationals, Mahle has rung up a 3-1 record and a 4.50 ERA
The key for the Nationals will be to make sure there's not slippage in other areas until some more productive offense emerges
"Hitting comes and goes. There's no rhyme or reason," Martinez said. "Other than that, I know we've got to hit to score, but I like the way we're pitching, I like the way we're playing defense. We've got to stay right there."
Right-hander Trevor Williams (1-1, 3.52 ERA) will make his fourth start for Washington. He has gone at least five innings each time, and his most recent outing was his best, as he held the Cleveland Guardians to one run in five frames on April 14.
Williams has come across the Twins just once in his career, taking a loss despite allowing just one run in seven innings for the Pittsburgh Pirates on Aug. 5, 2020
The Twins are 4-2 in home games this season
"Ready to get home for a little while," Baldelli said.
--Field Level Media