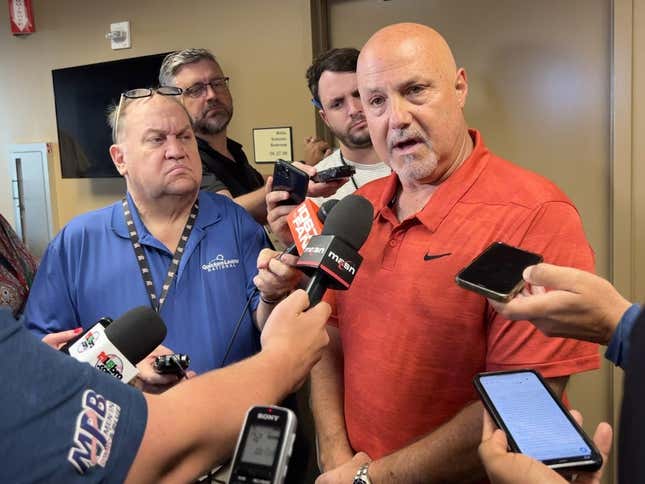 The Washington Nationals and general manager Mike Rizzo will be together for a few more years.
Is Texas or Florida State a bigger national title contender? | Agree to Disagree
Washington extended the contract of Rizzo, who is also the team's president of baseball operations, on Wednesday. He has been with the Nationals since 2007 and was elevated to the GM role in 2009.
"Mike and I have talked and worked with each other almost daily for 17 years. Together with my family and the entire Nationals staff, we've always shared the same dream: to make the Washington Nationals a team that our fans could love and be proud of," said Nationals owner Mark D. Lerner. "We have all worked collectively to build what was essentially an expansion team with no Major League depth into a contender, and then into a World Series champion. We've experienced some tough losing seasons and we've hung championship banners, and we've done it all together.
"We are once again hard at work to build a championship contender in D.C. We now believe we have the beginnings of a roster filled with promising young players and exciting prospects at nearly every position. While we once talked about winning World Series rings for our baseball-loving fathers, Mike's family and ours now look forward to winning even more rings for our children and grandchildren — and, of course, for every other Nationals-loving fan and family everywhere. We are excited about our future."
The Nationals, who won the franchise's first World Series championship in 2019, re-signed manager Dave Martinez to a two-year extension in August.
Rizzo, 62, also helped the team win four National League East titles in 2012, 2014, 2016 and 2017.
"I love being part of the Washington Nationals organization," Rizzo said. "Nearly 17 years ago, Ted Lerner and his family asked me to help build the Nats into a winning team. Together, we managed to find success within just a few years, winning multiple divisional titles and, ultimately, bringing D.C. its first World Series championship since 1924.
"It has been a pleasure to work alongside ownership as we put the pieces together for our initial team build-up and run. Now, we believe we are developing the next generation of contenders and champions. We deeply believe in our process and in our progress. The next few years are going to be ones no Nationals fan will want to miss."
The Nationals (65-80) entered Wednesday in last place in the NL East, 30 games behind the division-leading Atlanta Braves.
—Field Level Media