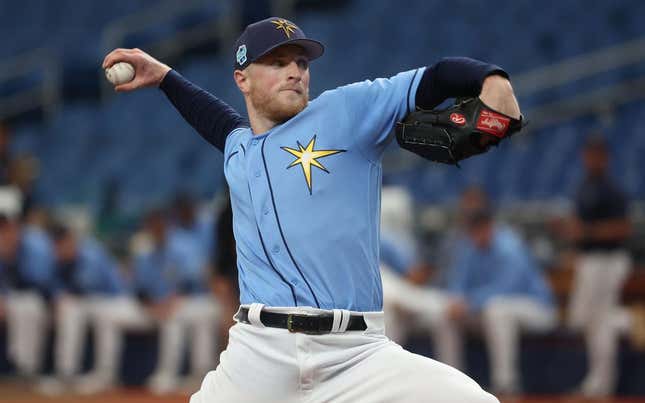 Fresh off dropping two out of three in their opening series against the Atlanta Braves, things don't get any easier for the young and rebuilding Washington Nationals
Bass' ERA stinks, but not compared to who he is off the mound | Worst of the Week Countdown
The Nationals remain at home on Monday to open a three-game series against the perpetual playoff-contending Tampa Bay Rays, who opened their season by sweeping the Detroit Tigers in Tampa
Rays left-hander Jeffrey Springs dominated the Tigers in a 5-1 win, striking out 12 over six no-hit innings
Springs had thrown 81 pitches by the time Tampa Bay manager Kevin Cash removed him despite having a no-hitter going.
"It was gut-wrenching," Cash told the Tampa Bay Times, "but we need Jeffrey for the whole season."
The Rays will send right-hander Drew Rasmussen to the mound on Monday. Rasmussen, who was a sixth-round draft choice of the Milwaukee Brewers in 2018, pitched to an 11-7 record with a 2.84 ERA in 2022
He will face off against Trevor Williams in his first start for the Nationals. Williams was 3-5 with a 3.21 ERA with the New York Mets last season. He has faced the Rays just once in his career, pitching seven innings as a Pittsburgh Pirate back in 2017 and allowing two runs in a no decision
After Rasmussen, the pitching-deep Rays will line up Josh Fleming and tough left-hander Shane McClanahan. After Williams, Washington will counter with right-hander Chad Kuhl and veteran lefty Patrick Corbin
Cash can take heart with the way his hitters are swinging the bats. The Rays come into the series after outscoring Detroit 21-3
Shortstop Wander Franco is 7-for-11 from the second spot in the order, and cleanup hitter Randy Arozarena clubbed his first homer of the season on Sunday.
MacKenzie Gore, the prized left-hander who was one of the key prospects the Nationals landed in the Juan Soto-Josh Bell blockbuster trade last summer with the San Diego Padres, shone in his long-awaited debut at Nationals Park on Sunday, earning a standing ovation when he exited in the sixth inning
"It was my debut with this team, but today was important -- it wasn't necessarily about me," Gore told the Washington Post after the game. "It was ... we need to figure out how to win, and we're capable of beating this team like we showed today. It was more about that."
The Nationals don't have the luxury of sending a No. 3 overall draft pick like Gore to the mound every game, but they can aim to play solid defense like they did on Sunday
"A club like ours, that's what we've got to do," Gore told MASN. "I wasn't perfect by any means, but we made the plays when we needed to in order to win. We got great defense."
Nationals manager Dave Martinez echoed Gore's sentiments
"When we made the trade and he (Gore) was involved in it, we were all excited. And to see him out there competing the way he competed today was awesome. He picked us all up today."
Martinez will still be without one of his few proven hitters as outfielder Corey Dickerson went on the 10-day injured list on Sunday with a strained left calf.
Outfielder Stone Garrett, who was called up from Triple-A Rochester Sunday, will fill in for Dickerson.
--Field Level Media