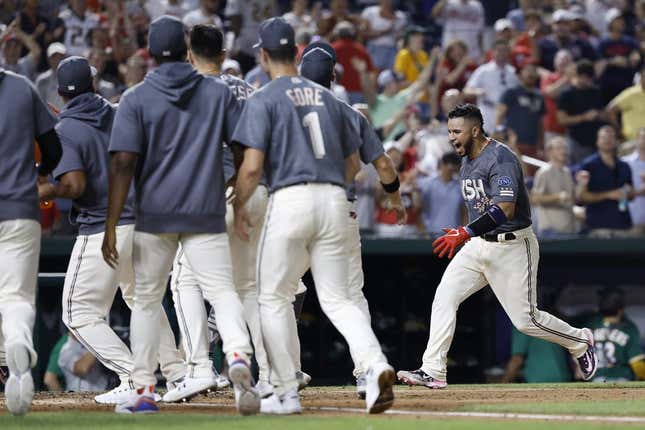 The Washington Nationals are taking advantage of their home surroundings
"We just got to keep it going," Nationals catcher Keibert Ruiz said
They'll look to do that by going for a three-game series sweep in Sunday afternoon's game against the visiting Oakland Athletics
How running an NFL team is like running a restaurant | Chef Emeril Lagasse
The Nationals are 9-2 at home since the All-Star break
Washington beat the Athletics 3-2 on Saturday night on Ruiz's home run to lead off the bottom of the ninth inning
"I've been dreaming for this moment for my whole life," Ruiz said after his first walk-off hit as a major leaguer
The Athletics have lost eight of their last 11 games. They've gone four games in a row without scoring more than two runs
"We beat ourselves, all the things that add up," Athletics manager Mark Kotsay said. "Going through this with a young roster right now.
A bright spot for Oakland came with outfielder Lawrence Butler rapping a seventh-inning double for his first career hit. It came in his second game since the promotion to the Athletics
"(Nationals pitcher Jake Irvin) was trying to get me a fastball up and he got one in and did what I'm supposed to do," Butler said. "It felt amazing. That's the feeling you dream about as a little kid, so to get that one out the way, now I can just relax.
Washington had the services of Lane Thomas as a pinch hitter Saturday night and he came through with a game-tying single in the eighth inning. He wasn't in the starting lineup because of a sore wrist
"I felt fine," Thomas said. "I think it was a precautionary thing. It's definitely pretty sore. I taped it pretty tight.
Two pitchers who haven't notched victories in more than a month will have the starting roles Sunday
Washington will have right-hander Trevor Williams (5-7, 5.00 ERA) as its first pitcher and he'll try to snap a funk that has involved him giving up 15 runs across 14 2/3 innings in his last three outings combined. He has surrendered five home runs during that span and has an unwanted string of five consecutive games of giving up at least one long ball
This will mark just the third home assignment in Williams' last nine stints. He has faced the Athletics twice, and just once previously as a starter. He's without a decision and a 6.43 ERA in those matchups
His ability to get deep into the game could be crucial
"Our bullpen has been beat up a little bit," Nationals manager Dave Martinez said. "Let's come back (Sunday) and try to knock a few more runs across the plate. Hopefully, we can score a bunch of runs and we can give a lot of guys a day off.
Oakland tries to avoid a series sweep by sending Ken Waldichuk (2-7, 6.30) to the mound
Since Waldichuk last recorded a victory July 5 at Detroit, the Athletics are 1-5 in games he has pitched. Still, his seven strikeouts matched a season-high total when he threw six innings Monday in a no-decision vs. the Texas Rangers
Waldichuk's only career outing against the Nationals resulted in a no-decision when he gave up one run in 4 2/3 innings in his big-league debut last September in Washington
--Field Level Medi