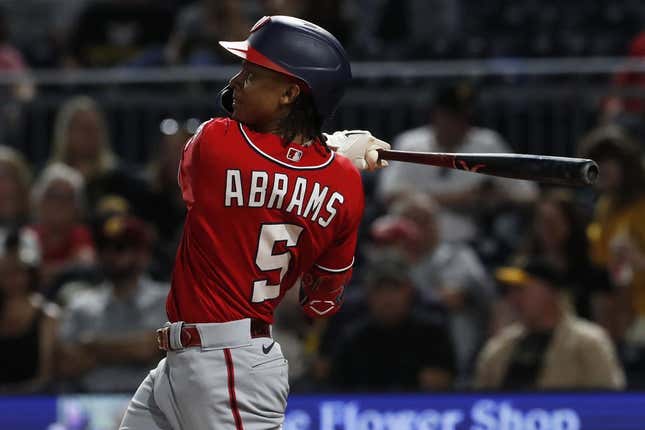 The Washington Nationals look like a team that wants to climb the standings, even if it's on the lower rung.
How running an NFL team is like running a restaurant | Chef Emeril Lagasse
Play the way they — and shortstop CJ Abrams in particular — did in the opener of their four-game series against visiting Pittsburgh on Monday, and they'll be even with the Pirates come Tuesday night.
Washington (65-79) topped the Pirates 6-2 Monday behind two homers from Abrams out of the leadoff spot and one from first baseman Dominic Smith. Abrams' 17th and 18th homers — a two-run shot and a solo smash — came after he sat out Sunday's game because of a bruised knee. It was his first career multiple-homer game.
"He's fine," Nationals manager Dave Martinez said of Abrams' knee.
"He's been swinging the bat really well. He's been playing really well. I'm glad he's OK.
"When he's been leading off for us, he's been the catalyst. ... He's giving himself a chance to hit every pitch hard. I always said that when he really learns to shrink the strike zone, he's going to be an All-Star. He's going to be something else."
Since he moved to the Nationals' leadoff spot July 7 — Martinez said he had a conversation then with his shortstop and told him to be ready for that move — Abrams, 22 and in his first full major league season, has six doubles, two triples, 11 homers, 23 RBIs, 28 stolen bases and 39 runs scored.
He certainly made an impression on Pittsburgh.
"He's a good player," Pittsburgh manager Derek Shelton said. "We're talking about, he was a guy who was one of the top prospects in the game. ... He just continues to get better.
"Plays shortstop really well. Moves well. Moves well on the bases. He's a good young player."
Washington entered the series in a 3-10 funk, but now sit a game behind the Pirates (66-78). Pittsburgh, after an 8-2 stretch, has lost three of four. The Nationals are 3-1 against Pittsburgh this season.
With Colorado pulling up the rear in the NL after a miserable season, Pittsburgh and Washington are among a group of five teams that appear capable of finishing in any order above the Rockies, along with San Diego, the New York Mets and St. Louis.
Tuesday, Washington right-hander Joan Adon (2-1, 5.56 ERA) and Pittsburgh left-hander Bailey Falter (1-8, 4.65) are scheduled to start.
Adon, who got his second call-up of the season Aug. 5, is coming off a no-decision Wednesday against the New York Mets. He allowed two runs and six hits in five innings. He yielded a season-high three walks and struck out six, which was one shy of his season high.
He faced the Pirates once, on April 14 of last year, taking the loss after allowing six runs and nine hits in 4 2/3 innings.
Since being acquired by the Pirates in a trade-deadline deal with Philadelphia, Bailey is 1-1 with a 4.02 ERA, 26 strikeouts and eight walks in seven games, four of them starts, over 31 1/3 innings.
His past two appearances came in relief, serving as the bulk reliever after Pittsburgh used an opener.
Against the Nationals, Falter is 2-0 with a 2.45 ERA in six career appearances, three of them starts. He has not faced them this year.
—Field Level Media