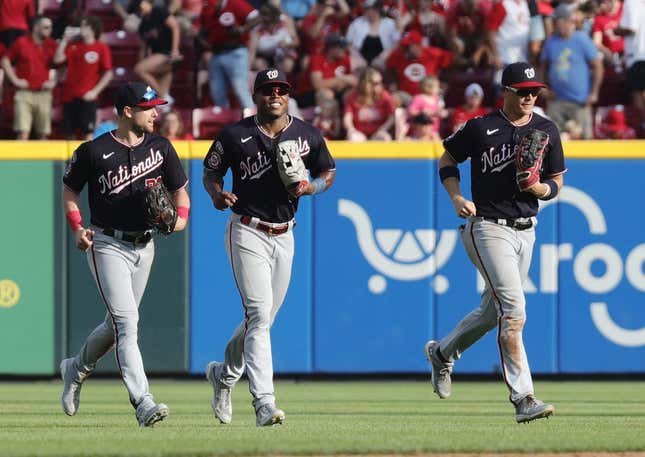 In another season spent in the National League East cellar, the visiting Washington Nationals aim for their first four-game win streak of the season and a sweep of Cincinnati Reds when they finish their three-game series Sunday
How running an NFL team is like running a restaurant | Chef Emeril Lagasse
The Nationals are playing their best baseball of the season, winning 10 of 15, including back-to-back wins against the Reds after Cincinnati swept a four-game set in Washington at the beginning of July
Lane Thomas has been the star for the Nationals offensively in the first two games of the series, going 5-for-9 with two home runs and five RBIs
The Reds, on the other hand, enter Sunday on their second five-game losing streak since the All-Star break. They committed four errors in Saturday's 7-3 loss, their second four-error game in their last four
Cincinnati is 9-13 since the All-Star break
"There's zero concern with this team," Reds manager David Bell said. "Just continue to work hard and stick together and know it will turn itself around.
TJ Friedl's three-run homer was Cincinnati's only offense Saturday, as Joan Adon opened the game with five perfect innings and retired the first 17 batters
"There are going to be times where you've got to dig deep," Friedl said. "No one loses faith in this team. We know what we have in this clubhouse. We know what we're capable of. We know we'll be OK. We're still right in the thick of things like, nothing's changed. Our mindset hasn't changed, our goal each day hasn't changed.
The Reds recalled Lyon Richardson from Triple-A Louisville on Saturday and added him to the taxi squad. The right-hander is expected to make his major league debut against Washington, becoming the fourth Reds pitcher to make his debut in a starting role this season
Richardson has been one of Cincinnati's top minor league pitchers, posting an 0-2 mark with a 1.86 ERA in 19 starts. Richardson's recall was necessitated by Ben Lively landing on the injured list this week because of a right pectoral strain
The Nationals counter with right-hander Jake Irvin (3-5 4.86), making his 17th start of the season. Irvin allowed two runs in 5 1/3 innings against Milwaukee in his last start, striking out two
Irvin is 2-2 with a 4.25 ERA since June 17
On Saturday, the Nationals placed another reliever on the injured list as Mason Thompson landed on the 15-day IL because of a left knee contusion
Thompson hadn't appeared in a game since Monday, when he pitched a scoreless eighth in Washington's 5-3 win over the Brewers
Nationals manager Davey Martinez said Saturday that Washington's top setup reliever hurt himself after a fall
"I don't know how he fell, but he said he fell and he's been dealing with it for a few days," Martinez said. "Hopefully it will go away. He had an MRI that showed he had a contusion. So we're going to make sure we take care of him and get him ready to go again.
Thompson's stint on the IL is back-dated to Aug. 2. He will be eligible to return on Aug. 17
Cincinnati outfielder Jake Fraley was placed on the 10-day injured list Saturday because of a stress fracture in his left fourth toe. Outfielder TJ Hopkins was recalled from Triple-A Louisville and served as a pinch runner Saturday
Hopkins batted .167 with one RBI in 14 games with Cincinnati in June. Hopkins belted 16 home runs in 85 games with Louisville this season
--Field Level Medi