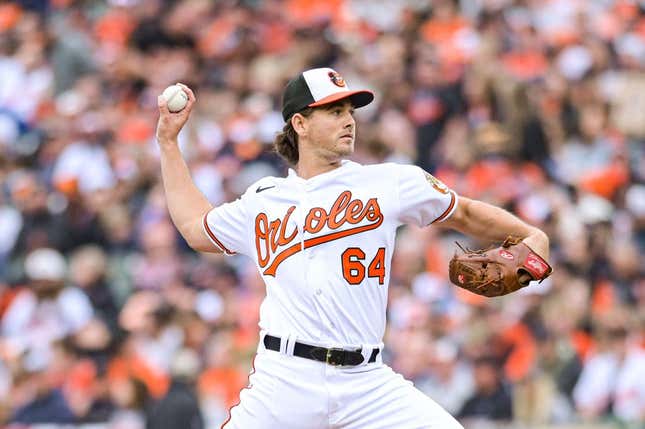 Baltimore right-hander Dean Kremer knows what his biggest issue has been through three starts this season: giving up the long ball.
Chris Paul should ride the bench next season | Keep it a Buck(et)
Kremer (0-0, 9.49 ERA) has served up five homers in 12 1/3 innings this year after giving up just 11 in 125 1/3 innings all of last season.
Kremer, who will take the mound for the visiting Orioles when they open a two-game set against the Washington Nationals on Tuesday, has allowed 13 runs this season, with 11 crossing the plate on home runs. He's given up 16 hits
"I made a couple of mistakes that led to a long ball," Kremer said. "If I can keep the ball in the yard, then I think I'd be doing a pretty good job.
"Honestly, I think it's improved compared to last year -- throwing harder, stuff moving a little bit more. Just got to figure out how to keep it in the zone."
In Kremer's last start on Wednesday against Oakland, he allowed a three-run homer to Brent Rooker in the first inning and a leadoff homer to Carlos Perez in the fifth inning of an 8-4 loss. The right-hander exited with one out in the fifth, having yielded four runs on five hits with a strikeout and two walks.
Kremer pitched well in his lone start of his career against the Nationals last season. He allowed three runs on eight hits -- no homers -- to go along with a strikeout and a walk to pick up the victory in a 4-3 win last September
The Orioles head to the nation's capital after taking two of three games against the host White Sox, which followed a series where they won three of four from the visiting Oakland Athletics
Washington ended a four-game losing streak with a 7-6 win over the visiting Cleveland Guardians on Sunday.
The Nationals counter with right-hander Josiah Gray (0-3, 3.42 ERA). He earned the loss for the third time in three starts after allowing two runs on four hits with three strikeouts and two walks over 5 2/3 innings of a 2-0 loss to the Los Angeles Angels last Tuesday
Gray allowed a run on eight hits with six strikeouts and a walk in a 1-0 loss to the Colorado Rockies five days earlier.
"I'm going out there doing my job, keeping my team in the game and just making it simpler on myself," said Gray, who has never faced the Orioles. "I'm seeing the results I want to see in terms of getting softer contact, getting more ground balls, getting off the barrel
"These last two starts are really beneficial, and they will bear fruit a week from now, two weeks from now, months from now, to where I have the year I'm looking to have."
The Orioles won three of four games against the Nationals last season, outscoring the interleague foe 17-8
The Orioles are led by shortstop Jorge Mateo, who is hitting .372 in 14 games, while first baseman Ryan Mountcastle has a team-leading six home runs and 20 RBIs in 16 games, with nine RBIs coming in a win over the A's last Tuesday
Right fielder Lane Thomas is hitting .323 for the Nationals, who have received a team-leading three homers and nine RBIs from third baseman Jeimer Candelario
--Field Level Media