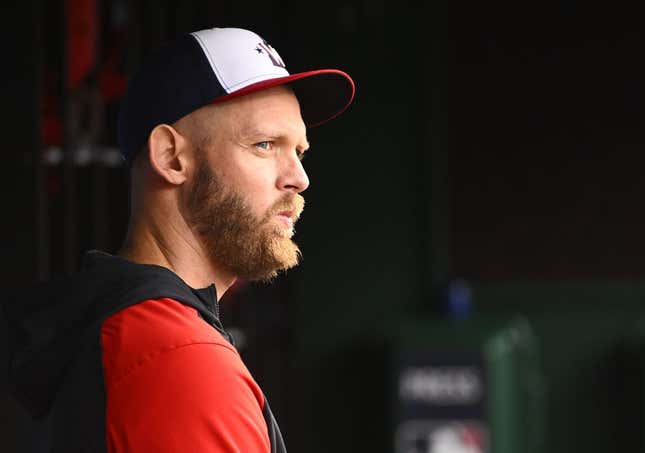 Washington Nationals owner Mark Lerner said in a statement Friday that team discussions with former World Series MVP Stephen Strasburg about his future were "mischaracterized," and there are no plans for a retirement press conference yet.
How running an NFL team is like running a restaurant | Chef Emeril Lagasse
The statement's language casts doubt over whether the pitcher had formally decided to retire, which had been reported by several outlets in late August.
A retirement press conference was reportedly scheduled for Saturday, but The Athletic reported Thursday that the Nationals had offered to pay the full remainder of Strasburg's contract if he retired, then wanted to "modify" the terms of the deal after he'd agreed.
"Stephen Strasburg is and always will be an important part of the Washington Nationals franchise," Lerner said. "We support him in any decision he makes and will ensure that he receives what is due to him.
"It is regrettable that private discussions have been made public through anonymous sources attempting to negotiate through the media. While we have been following the process required by the Collective Bargaining Agreement, behind-the-scenes preparations for a press conference had begun internally. However, no such event was ever confirmed by the team or promoted publicly. It is unfortunate that external leaks in the press have mischaracterized these events."
After leading the Nationals to the 2019 World Series championship, Strasburg signed a seven-year, $245 million deal before the next season. However, because of injuries, he made just eight starts and threw 31 1/3 innings while going 1-4 with a 6.89 ERA under the new contract.
Strasburg, 35, had surgery for thoracic outlet syndrome in 2021, had a stress reaction in his ribs last season and was shut down in spring training this year with what was characterized as severe nerve damage. He has not pitched in a game since June 9, 2022.
Lerner's statement also concluded with another reference to Strasburg being under contract with the club: "It is our hope that ongoing conversations remain private out of respect for the individuals involved. Until then, we look forward to seeing Stephen when we report to Spring Training."
—Field Level Media