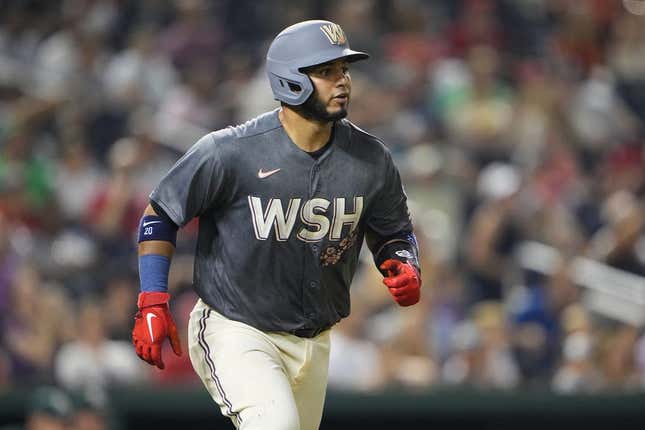 The Washington Nationals will take aim at their fourth consecutive victory when they host the Boston Red Sox in the opener of a three-game series Tuesday.
How running an NFL team is like running a restaurant | Chef Emeril Lagasse
As the Red Sox battle for an American League wild-card spot, the trip to Washington does not appear to be as easy as it once looked. The Nationals are 19-12 since July 8 and have swept three series since July 21 after going nearly two years without earning a sweep.
The latest sweep was completed with an improbable comeback Sunday. Trailing 7-2 and unable to get key hits over the first eight innings, the Nationals rallied for sixth runs in the ninth to walk off the Oakland Athletics 8-7.
"This team has been relentless," Nationals manager Dave Martinez said. "They play hard. They don't give up. We talk about playing hard for 27 outs, and it shows. You can see it. We're never out of it."
Martinez could have been speaking about Saturday's game as well, when Washington tied the game with a run in the eighth before Keibert Ruiz won it with a homer in the ninth.
Washington's Josiah Gray (7-9, 3.69 ERA) is set to pitch the opener against Boston's Nick Pivetta (8-6, 4.16). Gray is 0-1 with a 9.72 ERA over his past two starts.
In his most recent outing, Gray gave up four earned runs in 4 2/3 innings in a no-decision against the Phillies. He left the game one batter after surrendering a two-run homer to Bryce Harper.
"Had to grind through it, definitely," Gray said. "Had some good stuff out there but had to grind through it. There are some good hitters. Just one bad pitch to Harper there. If I could have that back, it might be a little different outing."
Gray allowed one run over six innings of a no-decision in his only previous start against Boston in 2021.
Pivetta will be making his third start in his last four appearances. In the previous two starts, he went 1-1 while allowing five runs on nine hits over 12 1/3 innings. He struck out 18 batters and walked two.
Overall, Pivetta has been on an extended roll, compiling a 2.53 ERA over his past 14 outings while holding opponents to a .155 batting average.
"I think it's just all going with the same mindset," Pivetta said switching between 10 starts and 18 relief appearances this season. "Every inning is like the seventh inning and just continuing to pitch until I get taken out of the game."
Pivetta will be looking to improve on an abysmal lifetime mark versus Washington. In 12 appearances (nine starts) against Washington, Pivetta is 1-7 with a 9.54 ERA. In 38 2/3 innings he has allowed 57 hits with 23 walks.
Boston has won four of five, including two of three from the visiting Detroit Tigers over the weekend. Adam Duvall hit a three-run homer and Trevor Story had four hits in a 6-3 win on Sunday.
In his fifth game back from elbow surgery, Story had three doubles, scored twice and stole two bases. He became just the third Boston player to record three extra base hits and two stolen bases in a game, joining John Valentin (1995) and Dom DiMaggio (1941), according to MLB.com.
"Definitely more comfortable," Story said. "At-bats are much better, and I'm more consistent with the timing. And driving the ball the other way, that's always a good sign for me."
—Field Level Media