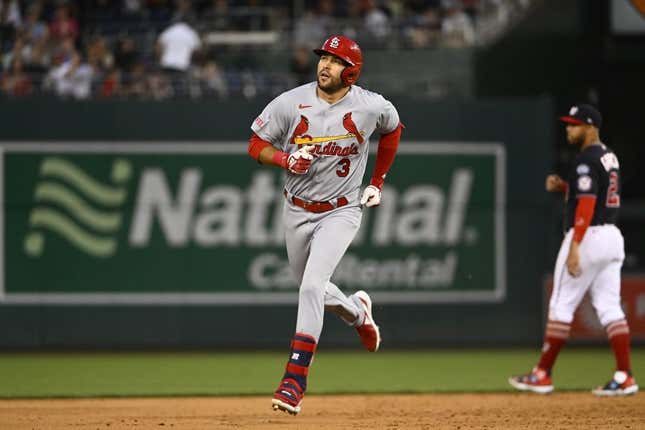 The St. Louis Cardinals realized they weren't making much headway for the first 2 1/2 months of the season, but they hung in there and might finally be on track
Is Texas or Florida State a bigger national title contender? | Agree to Disagree
Carrying a season-high-tying, four-game winning streak, the Cardinals will look to complete a three-game sweep of the host Washington Nationals on Wednesday
"We've been doing our best to keep it as positive as possible," Cardinals right fielder Dylan Carlson said. "Just keep rolling and having fun doing it.
Since falling behind 5-0 on Monday, the Cardinals have outscored the Nationals 17-4 across the past 16 innings
Washington enters the series finale with a five-game losing streak. The Nationals have dropped 13 of their past 15 games overall, and at home, they have lost their past nine
Tensions have risen within the Nationals. Center fielder Victor Robles and starting pitcher MacKenzie Gore had a verbal exchange in the dugout after the top of the second inning on Tuesday, shortly after a fly ball fell in front of Robles for a hit
Manager Dave Martinez downplayed the spat as something that occurs across a long season.
"It happens," he said. "You're trying to compete, it happens. Obviously, MacKenzie thought (Robles) should have caught the ball."
Robles came off the injured list on Friday after missing six weeks because of a back injury. Martinez said he would check with Robles, who went 2-for-4 at the plate on had two hits in the Nationals' 9-3 loss on Tuesday, to make sure he is capable of going at full speed
"The way he's swinging, he looks good," Martinez said.
The Cardinals have homered five times in the first two games of the series. Carlson hit two on Tuesday night
"We can really do some damage when things start rolling," Carlson said. "Definitely a lot of momentum right now."
The Nationals will try to reverse the trend with right-hander Trevor Williams (3-4, 4.50 ERA) going to the mound on Wednesday
Williams will try to get back on track after matching his second-shortest outing of the season on Friday, when he gave up five runs in 4 1/3 innings against the Miami Marlins.
In a stretch of almost three weeks, Williams is the only Nationals starting pitcher with a victory, as he beat the Atlanta Braves on June 11
The Cardinals have been the most frequent opponent in Williams' career. He has faced St. Louis 20 times, including 15 starts, and is 4-6 with a 5.35 ERA in those games
St. Louis right-hander Miles Mikolas (4-4, 4.36 ERA) will make his 16th start of the season, trying to snap a personal losing streak. He is 0-3 with a 6.88 ERA in three starts this month after going 3-0 with a 1.89 ERA in six starts during May.
He has registered only five strikeouts in 17 June innings after ending May with a 10-strikeout performance across eight scoreless innings against the Kansas City Royals.
Mikolas is 3-2 with a 4.36 ERA in six all-time meetings (five starts) against the Nationals
Cardinals reliever Jordan Hicks had Tuesday night off after recording saves on three consecutive days. The hard-throwing right-hander could be ready for another late-inning appearance on Wednesday
"It shows I was feeling good and amped up and ready to go and get it done for the guys," Hicks said of his three-day run.
--Field Level Media