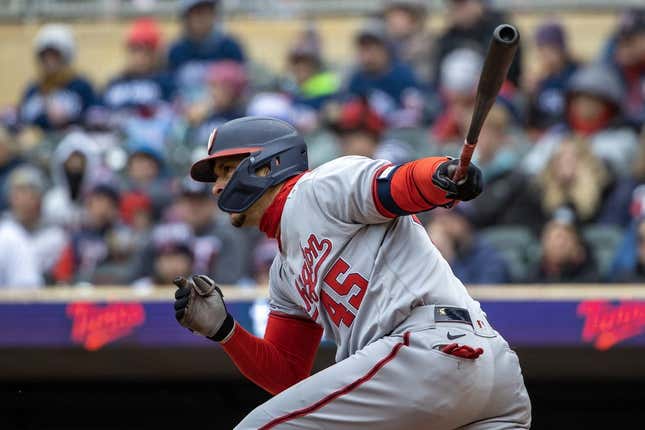 Minnesota Twins pitching seems to have cured whatever has been ailing Joey Meneses, whose offensive production in the past two games has helped put the Washington Nationals in position on Sunday to sweep the teams' three-game series in Minneapolis
Bass' ERA stinks, but not compared to who he is off the mound | Worst of the Week Countdown
One day after ending his team's 24 1/3-inning scoreless streak with a solo home run in Friday's night's 3-2 victory, Meneses collected four hits and drove in two runs during Washington's 10-4 triumph Saturday.
Meneses entered Saturday's game with a .227 batting average, but his four hits raised his average to .259. His home run on Friday was his first of the season.
Although the Nationals plan to use Meneses primarily as a designated hitter this season, he switched places with Dominic Smith and played first base Saturday
"He's trying to develop a routine DHing," Washington manager Dave Martinez said. "It's tough when you're DHing every day to find a routine when you've never done it before.
"With the quick turnaround, I wanted to give Dom basically a day off. Joe's been DHing every day. I just want to get him a little bit more involved every now and then and play first base."
The 10 runs Washington scored Saturday tied for the most runs the Nationals have scored in a game this season. Washington had 15 hits in the victory, which clinched the team's first series win this season. It is only the second time Washington has won back-to-back games this year
Left-hander Patrick Corbin is listed as Washington's probable starting pitcher for Sunday's contest. He's 1-2 with a 6.30 ERA in 20 innings this season. Corbin is 1-0 against the Twins in his career, with a 4.50 ERA
Although Sonny Gray (2-0, 0.82 ERA) has had four days of rest since he allowed a run on seven hits in five innings of Tuesday's 5-4 loss to the Boston Red Sox, the Twins are expected to call up right-hander Bailey Ober from Triple-A St. Paul to start Sunday's game
Ober has a 5-6 record and a 3.82 ERA in 31 starts at the major league level but has not started against Washington. He's 2-1 with a 2.55 ERA in four starts with St. Paul this season.
"We anticipate Bailey throwing a lot of major league games for us this year," Twins manager Rocco Baldelli said
Minnesota will try to end a three-game losing streak Sunday. The Twins have lost six of their past seven games after a 10-4 start
The Twins' pitchers have been doing their job. They have a staff ERA of 3.47, sixth-best in the majors
At the moment, Baldelli seems more concerned about the offense.
"We're putting a lot of pressure on the pitching staff. They're throwing the ball pretty good overall," he said after Friday's loss. "We've got to find ways to get a few more baserunners on and find ways, when they are out there, to bring a few more of them home."
The Twins are in the midst of a 10-game homestand, with the New York Yankees and Kansas City Royals following the Nationals
--Field Level Media