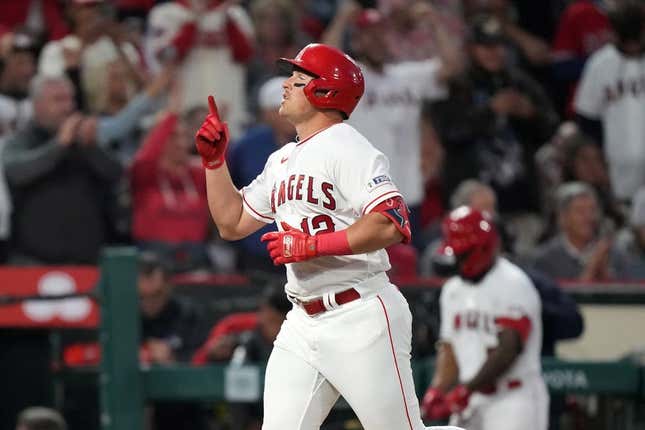 The Washington Nationals got at least one hit from everyone in the starting lineup while their pitching staff held the Los Angeles Angels hitless after the third inning on the way to a 6-4 victory Monday night in Anaheim, Calif
Air Jordans are more American than McDonald's French fries | Deon Cole's Ultimate Sports Fantasy
Five hitters each had two hits of the Nationals' 14 hits as they rallied from an early 4-1 deficit. Four Nationals relievers followed starter Patrick Corbin and combined to shut down the Angels offense over the final four innings. Kyle Finnegan pitched the ninth for his second save of the season
Corbin (1-2) got the victory over Angels reliever Tucker Davidson (0-1)
Angels third baseman Gio Urshela doubled home Luis Rengifo with one out in the third inning to give Los Angeles a 4-1 lead. But the Angels did not get another hit
The Nationals, meanwhile, piled up 12 singles and two doubles, getting two hits each from Alex Call, Jeimer Candelario, Joey Meneses, Dominic Smith and Victor Robles
The game started promisingly for the Angels as they put pressure on Corbin at the outset. They loaded the bases with two out in the bottom of the first and cashed in on a two-run single by Rengifo for a 2-0 lead
The Nationals got one run back against Angels starter Jose Suarez in the second inning after Smith led off with a single. Two outs later, Smith went to second on a single by Robles and then scored on a single by CJ Abrams
The Angels increased their lead to 4-1 in the third inning on Hunter Renfroe's solo homer and Urshela's double, but the Nationals rallied in the fourth when things fell apart for Suarez
Michael Chavis led off the inning, and with a full count, Suarez was called for a pitch clock violation, allowing Chavis to be credited with a walk. Two outs later, Chavis was on third base when Call reached on a bunt single up the third-base line. Chavis, however, stayed on the bag at third.
With a chance to escape, Suarez got Lane Thomas to hit a slow chopper to second. But the second baseman Rengifo, in his haste to make the throw to first, bobbled the ball as he took it out of his glove and then threw the ball away.
Thomas was given an infield single and Rengifo was tagged with a throwing error that allowed Thomas to take second. It also opened the door for Candelerio, who followed with a two-run single to tie the game at 4-4.
The Nationals took their first lead of the night at 5-4 in the fifth inning against Davidson after Keibert Ruiz led off with a double and later scored on a fielder's choice grounder by Abrams
--Field Level Media