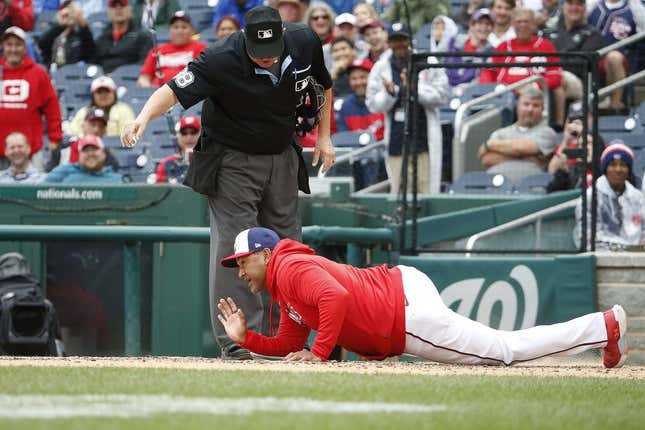 When Padres manager Bob Melvin and Washington Nationals manager Dave Martinez exchange lineup cards in San Diego on Friday night, they also could exchange notes on ejections
How running an NFL team is like running a restaurant | Chef Emeril Lagasse
Both have been booted in the past two days in classic arguments.
Melvin was ejected Wednesday night by crew chief Manny Gonzalez in San Francisco after coming onto the field to argue an appeal decision that reversed what had apparently been an inning-ending out on a play at the plate in the fifth.
The overturned call put the Giants ahead 2-0. San Francisco tacked on two more runs in the inning and eventually won 4-2.
Martinez was ejected after having an epic meltdown on balls-and-strikes calls Thursday afternoon in Washington during the Nationals' 5-3 loss to the Arizona Diamondbacks. At one point, Martinez was prone behind home plate to show umpire Doug Eddings the errors of his pitch-calling
Listen to both managers ...
Melvin: "It's an awful call that had an impact on the game. ... One of the worst calls I've seen this year."
Martinez: "We're in a crucial situation, and the call was bad."
Clearly, both managers are frustrated. But that goes far beyond the umpires.
Before San Diego earned a 10-0 win on Thursday to snap the Giants' 10-game winning streak, the first three games went to the hosts. San Francisco produced back-to-back, walk-off victories before the controversy-marred Wednesday contest.
Meanwhile, the Nationals are 3-14 over the past 17 games with losing streaks of six and five games. On Thursday afternoon, Washington gave up four unearned runs in the makeup game against Arizona on what originally was an off day -- before flying cross country
The Padres and Nationals will open a three-game series on Friday night with different goals
The Padres, who won two of the three games played in Washington a month ago, are looking to build on the Thursday blowout. San Diego jumped on top of San Francisco 3-0 after one inning and 10-0 after five
"After three tough losses, nobody went home too terribly happy last night, so it was good to see an early response," Melvin said.
The Nationals are looking to avoid mistakes after committing two costly errors on Thursday
"We can't give good teams 28, 29 outs," Martinez said. "We have to get better ... play a clean game. In order for us to compete, we have to clean it up. To beat ourselves is not acceptable. We've played some good teams really well."
The Friday pitching matchup will feature Washington left-hander Patrick Corbin (4-8, 4.89 ERA) and Padres right-hander Joe Musgrove (5-2, 4.22). Neither pitcher faced the other team last month
Over his past five starts, Musgrove is 4-0 with a 2.15 ERA, a 1.091 WHIP and a .243 opponents' batting average. Against the Nationals in six career games (five starts), he is 0-2 with a 5.67 ERA, a 1.407 WHIP and a .283 opponents' batting average
Corbin is 0-3 over his past three starts with a 4.76 ERA, a 2.000 WHIP and a .361 opponents' batting average. In 23 career appearances (18 starts) against the Padres, he is 7-10 with a 4.76 ERA, a 1.478 WHIP and a .285 opponents' batting average
--Field Level Media