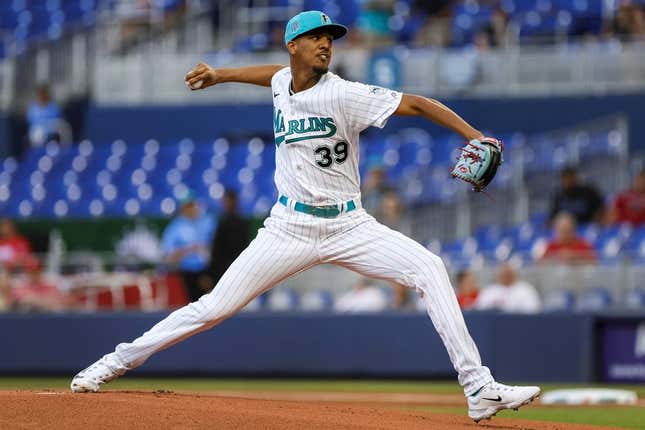 Right-hander Trevor Williams, who is on his fourth team in four years, is set to start for the Washington Nationals against the host Miami Marlins in the series finale on Thursday afternoon
Bass' ERA stinks, but not compared to who he is off the mound | Worst of the Week Countdown
Washington will be looking to avoid a three-game sweep.
Williams, a 31-year-old native of San Diego, was Miami's second-round pick in 2013 out of Arizona State. However, the Marlins traded him to the Pirates in 2015. He made his MLB debut with the Pirates one year later
In nine career appearances against the Marlins, including four starts, Williams is 1-1 with a 3.60 ERA
Last year, lefty batters hit .319 against Williams. Righty hitters hit just .209 against him. This year, his splits have narrowed -- .242 by right-handed batters and .296 by lefty hitters.
The Nationals are 5-3 with an active three-game win streak in Williams' eight starts this year. But Williams is averaging fewer than five innings per start, and his season high is six frames at the Twins on April 21
Williams and 33-year-old Patrick Corbin are the veterans of a Washington rotation that includes pitchers on the other end of the age spectrum such as MacKenzie Gore, 24, and Josiah Gray, 25.
Nationals manager Dave Martinez would surely love for Williams to go deeper into games. But Martinez acknowledged that there is another way to protect his younger pitchers -- a six-man rotation
"It's definitely in the back of my mind," Martinez said this week. "I want to take care of these young guys."
Speaking of young guys, the Marlins are set to start 20-year-old rookie right-hander Eury Perez on Thursday
Perez (0-0, 3.86 ERA) made his MLB debut last Friday night against the Cincinnati Reds, striking out seven in 4 2/3 innings.
A consensus top-10 MLB prospect, Perez left with a no-decision after allowing four hits, two walks and two runs.
"It was an unbelievable experience playing against veteran players," said Perez, who is the youngest player in Marlins history. "My emotions were all over the place.
The Marlins beat the Nationals 5-4 on Tuesday on Jorge Soler's walk-off, two-out, two-strike, two-run homer; and won again 4-3 on Wednesday. They are gaining confidence, according to first baseman Garrett Cooper
Careful not to criticize Don Mattingly -- a legendary player who was Miami's manager from 2016-22 -- Cooper said the Marlins are enjoying playing for his replacement, Skip Schumaker
"Our team dynamic is different than in years past," Cooper said. "It's just a different mentality with Skip and our hitting coaches. We believe we're never out of games."
It helps that Soler is hot. He has homered in two straight games. He also leads the Marlins with 11 dingers and 24 RBIs
Other hot Marlins hitters include Luis Arraez, who went 2-for-4 on Wednesday and leads the majors with a .389 batting average; outfielder Bryan De La Cruz, has at least one hit in 11 of his past 12 games; and Jean Segura, who has six hits in his past four games
All of that helps explain why the Marlins are 14-1 in one-run games
"Hard work leads to good luck," Schumaker said when asked about Segura. "He's been playing his (butt) off."
Arraez, meanwhile, reached 500 career hits Wednesday, which led to a Schumaker quip: "It feels like he has 500 hits this year."
--Field Level Media