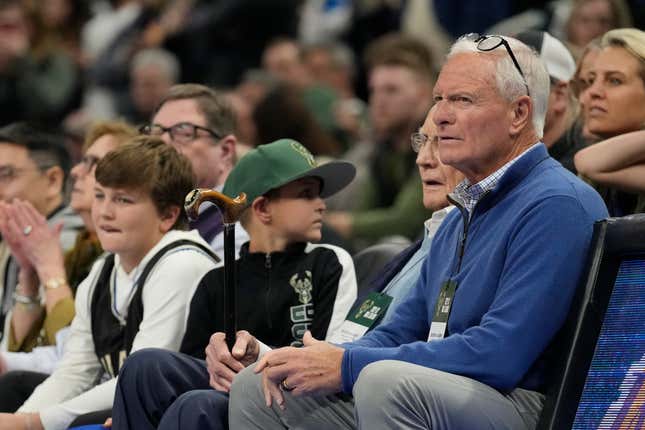 The NBA Board of Governors approved the transfer of a share of the ownership of the Milwaukee Bucks to Cleveland Browns owners Dee and Jimmy Haslam on Friday.

Is 60 > 71? Debating Luka Dončić and Donovan Mitchell's record breaking games
In February, the Haslams agreed to purchase the 25 percent stake owned by Marc Lasry, who decided to exit the ownership group. The two sides agreed to a $3.5 billion valuation of the team at the time of the transaction.
Wes Edens, who bought the Bucks with Lasry in 2014, will succeed him as governor for the next five years. The third primary owner of the Bucks is Jamie Dina.
Unsympathetic figure
As Carron J. Phillips wrote last month, in a post-Donald Sterling and Robert Sarver world, Jimmy Haslam is the last thing the NBA needed.
"After ridding itself of degenerate former governors (owners) who did heinous acts during their tenures in Los Angeles (Sterling) and Phoenix (Sarver), the league finds itself with another white and wealthy man with questionable morals" in an ownership position, he wrote.
The Haslam family bought the Browns in 2012 for $1.05 billion. The franchise has one playoff appearance, a winless season, hired and fired a multitude of coaches, and has been one of the worst teams in the NFL while the Haslams have been in charge.
More about the purchase
The Haslams' purchase also includes a share of the Fiserv Forum arena; the Froedtert & the Medical College of Wisconsin Sports Science Center, the team's training center; the Wisconsin Herd, the Bucks' G League affiliate; and Bucks Gaming, the team's 2K League affiliate
"On behalf of Jamie and the entire ownership group, I want to welcome Dee, Jimmy and the Haslam family to the Bucks," Edens said in a news release. "The Bucks have a special bond with the people of Milwaukee and throughout Wisconsin, and we're looking forward to working closely with Dee and Jimmy to further build upon our team's success, both on and off the court."
"We are equally honored and excited for the opportunity to invest in the Milwaukee Bucks and join the Edens and Dinan families as partners," the Haslams said. "This ownership group has created a championship organization both on and off the court, a standard that is rare in sports, and we highly respect the team they have built. We have tremendous appreciation for the impressive history of basketball in Milwaukee and the passionate and loyal fan base. We ... look forward to providing the support necessary for the Bucks to continue to achieve sustainable success."

The Bucks are the No. 1 seed in the NBA playoffs.
—Field Level Media