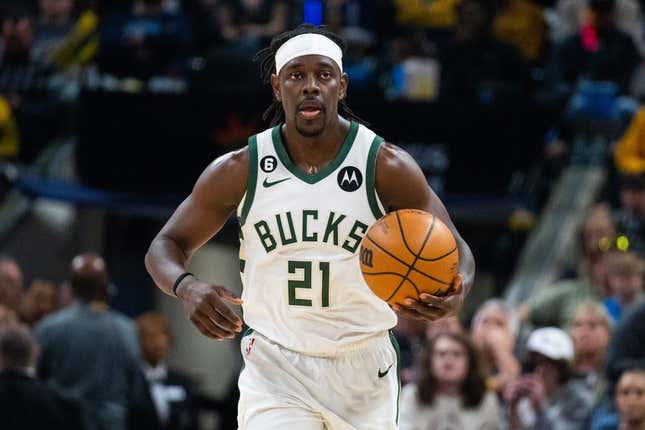 After wrapping up the top seed in the NBA playoffs, the Milwaukee Bucks could be considering rest for a number of regulars ahead of Friday's matchup against the visiting Memphis Grizzlies
Chris Paul should ride the bench next season | Keep it a Buck(et)
Milwaukee (58-22) clinched the best record in the NBA with a 105-92 win over the Chicago Bulls on Wednesday. Bobby Portis had 27 points and 13 rebounds, while Brook Lopez added 26 points and seven rebounds.
Bucks star Giannis Antetokounmpo sat out due to right knee soreness and is expected to rest again Friday. Antetokounmpo is averaging 31.1 points and 11.8 rebounds for Milwaukee, which has finished with the best record in the league in three of the last five seasons
"It's just a credit to the players. The players have really stepped up. I think they've embraced the challenge, night in and night out," Bucks coach Mike Budenholzer said. "To have the best record, it is something that matters, and it is important, but I think being our best each day and every night is what we talk about the most. Now, we get to take a breath. ... The guys have earned it.
One of Milwaukee's worst losses this season came at Memphis on Dec. 15. Ja Morant scored 25 points to lead the Grizzlies in the 142-101 victory
Memphis (50-30) needs one win in its final two games to clinch the No. 2 seed in the Western Conference. The Grizzlies began their season-ending three-game road trip with a 138-131 overtime loss to the New Orleans Pelicans on Wednesday
Jaren Jackson Jr. scored a season-best 40 points to go with nine rebounds and four blocks for Memphis, which rested Morant (hip), Luke Kennard (ankle) and Xavier Tillman (ankle).
Morant has been adjusting to a new role since returning from his eight-game suspension. The two-time All-Star remains a focal point of the Grizzlies' offense, but coach Taylor Jenkins wants Morant to create more scoring opportunities for both Jackson and shooting guard Desmond Bane
"For me, it's getting used to pretty much not being the main option," Morant said. "Just finding my spots. We got Jaren and Des who took over that role for us. For me, just getting them the ball and then when I get my chance, just take it."
Memphis has recorded back-to-back 50-win seasons for the second time in franchise history since going three straight in 2013-15. After working through Morant's suspension, plus injuries to Steven Adams (knee) and Brandon Clarke (season-ending Achilles), the Grizzlies believe they're in good position heading into the postseason
"I think we're going to come through stronger out of all of this," Jackson said. "There's just been a lot of stuff, man."
Milwaukee has enjoyed a relatively stress-free season compared to the Grizzlies, but the Bucks are monitoring a few injuries with two regular-season games remaining
Khris Middleton exited Wednesday's game against Chicago in the first quarter with right knee soreness and did not return. The Bucks also played without Pat Connaughton and Grayson Allen, who were both out with right ankle sprains
With several regulars out of the lineup, Jrue Holiday stepped up with 20 points, 15 assists and eight rebounds against the Bulls.
"He's a hell of a player," Milwaukee guard Wes Matthews said. "He's so underrated, what Jrue does in this league. He holds himself accountable and he always makes up for it."
--Field Level Media