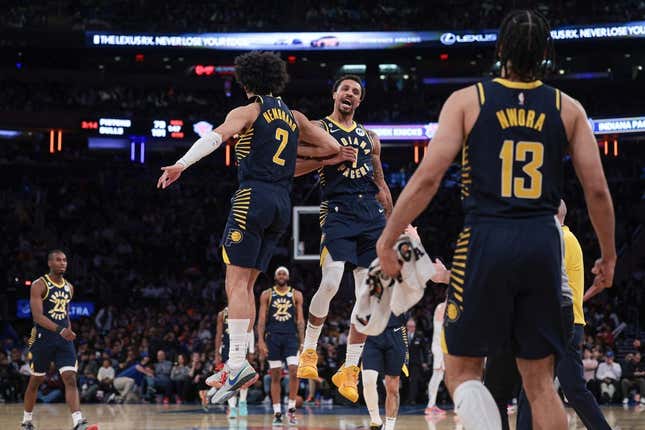 The NBA held random drawings on Monday to break six ties among teams with the same regular-season records, sorting out much of the order for June's NBA draft.
'Soccer fandom is full of gatekeepers' says Ted Lasso actor Brendan Hunt
The Houston Rockets won a tiebreaker with the San Antonio Spurs after both teams finished 22-60, the second-worst record in the league.
While both teams still have a 14 percent probability of winning the No. 1 pick in next month's draft lottery, the Rockets are officially slotted as the No. 2 team as a result of Monday's tiebreaker and can fall no further than sixth overall. The Spurs can fall to seventh.
Having finished the season at 35-47, the Indiana Pacers won a tiebreaker over the Washington Wizards to determine the No. 7 slot. The Pacers' lottery win probability will be 6.8 percent, while the Wizards' will be 6.7 percent.
In similar fashion, the Chicago Bulls won their tiebreaker over the Oklahoma City Thunder at 40-42. The Bulls have a 1.8 percent probability for the winning ping-pong ball while the Pelicans will be at 1.7.
Outside the lottery, the Miami Heat will pick 18th overall after winning a three-team tiebreaker at 44-38 over the Golden State Warriors and Los Angeles Clippers. The Warriors will pick 19th, and the 20th pick will go to the Houston Rockets in a prior deal with the Clippers.
The Phoenix Suns won a tiebreaker with the Brooklyn Nets at 45-37, but the Nets own the Suns' first-round pick as part of February's Kevin Durant trade and will pick back-to-back at Nos. 21 and 22.
The Memphis Grizzlies won their tiebreaker with the Cleveland Cavaliers at 51-31 and will select 25th overall. The Cavaliers' pick, No. 26, was previously dealt to the Indiana Pacers.
The draft lottery will be held May 16 and the NBA draft is scheduled for June 22 in New York.
Lottery probabilities:
1. Detroit Pistons, 14 percent
2. Houston Rockets, 14 percent
3. San Antonio Spurs, 14 percent
4. Charlotte Hornets, 12.5 percent
5. Portland Trail Blazers, 10.5 percent
6. Orlando Magic, 9.0 percent
7. Indiana Pacers, 6.8 percent
8. Washington Wizards, 6.7 percent
9. Utah Jazz, 4.5 percent
10. Dallas Mavericks, 3.0 percent
11. Chicago Bulls, 1.8 percent
12. Oklahoma City Thunder, 1.7 percent
13. Toronto Raptors, 1.0 percent
14. New Orleans Pelicans, 0.5 percent
--Field Level Media