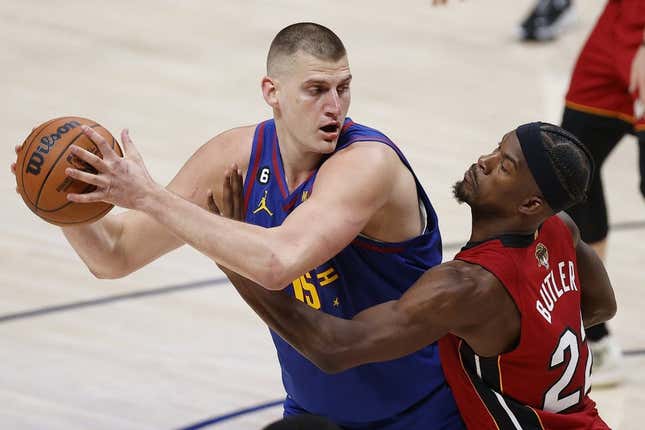 The Miami Heat entered the playoffs as the No. 8 seed in the Eastern Conference but are in an unfamiliar position ahead of Game 2 of the NBA Finals -- down 1-0
How running an NFL team is like running a restaurant | Chef Emeril Lagasse
Despite starting every series in this year's playoffs on the road, the Heat managed to win the first game in each of their first three series. That certainly wasn't the case in Game 1 on Thursday, when the Denver Nuggets won Game 1 of the finals in convincing fashion, 104-93
The Heat will attempt to even the series in Game 2 on Sunday in Denver, and they will again be heavy underdogs
Denver is an 8.5-point favorite at BetMGM, where the Nuggets have been backed by 55 percent of the spread-line bets and 59 percent of the money. However, Miami's +300 moneyline has been a popular bet, with the public backing the Heat with 72 and 60 percent of the action, respectively
WHAT IT MEANS
Miami has lost four of its past five games overall and is facing a deficit for the first time in these playoffs.
"That was one of my last messages to the group before our game," Denver coach Michael Malone said after his team improved to 9-0 at home in the playoffs on Thursday.
"I reminded our group, if they didn't know, that Miami went into Milwaukee (in the first round) and won Game 1. They went into the Garden in New York City (in the second round) and won Game 1. They won Game 1 up in Boston (in the Eastern Conference finals). So, we did not want them coming in here taking control of the series on our court."
PROPPED UP
Nuggets star Nikola Jokic was the most popular prop bet ahead of Game 1 and went on to reward the public's confidence in him with his ninth triple-double of the playoffs. That includes six in his past seven games after collecting 27 points, 14 assists and 10 rebounds in Game 1
"The most important thing is to win a game," Jokic said. "I'm trying to win a game in any possible way."
KEY STAT
Denver made 16 of its 20 free-throw attempts in Game 1, which was significantly better than Miami's all-too-brief performance at the line.
The Heat went to the charity stripe on just two occasions to set an NBA postseason record for fewest free-throw attempts in a game
"Things have to be done with a lot more intention and a lot more pace, a lot more detail," Miami coach Erik Spoelstra said. "We are an aggressive, attacking team, and so if we are not getting those kind of opportunities at the rim or at the free throw line, we have to find different ways to be able to do it."
THEY SAID IT
Heat star Jimmy Butler had only 13 points in Game 1 to go along with seven rebounds and seven assists. He did not make it to the foul line a single time
"You've got to attack and attack everybody, not just one individual. I have to do a better job of creating the help, one, two guys, and getting to my shooter, otherwise finishing at the rim, making shots," he said.
"But we missed a lot, and we'll be better in Game 2. At the end of the day, that's what it is, and we'll take this and we'll learn from it."
--Field Level Media