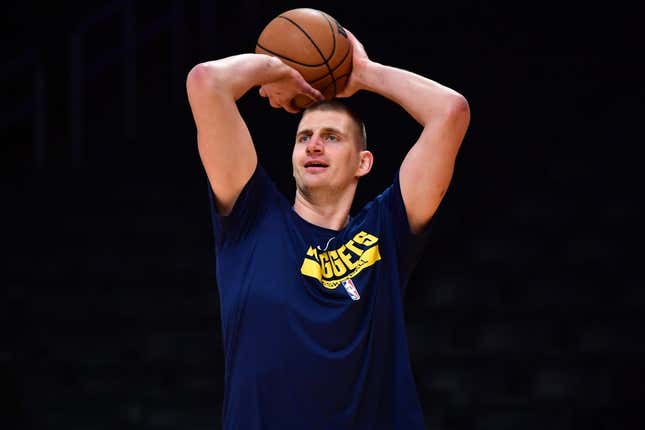 The Denver Nuggets finally get to tip-off their first NBA Final appearance when they play host to the Miami Heat in Game 1 on Thursday night
How running an NFL team is like running a restaurant | Chef Emeril Lagasse
The Nuggets had to wait nine days after sweeping the Los Angeles Lakers in the Western Conference Finals, while the Heat went the distance with the Boston Celtics in the East after blowing a 3-0 lead of their own
Denver is seeking the franchise's first NBA title, and the Nuggets are heavily favored to accomplish the feat
They opened as -350 series favorites at BetMGM, where the line is now -400 with the Nuggets backed by 72 percent of the title money
Denver is favored by 8.5 points in Game 1 at BGM, although the public has been split with the Nuggets drawing 52 percent of the spread-line money while the Heat have been backed by 51 percent of the total bets. The line is 9.0 points at BetRivers, with Denver supported by 65 percent of the money and Miami by 56 percent of the bets
STARS WITH SUPPORTING CASTS
The Nuggets' Nikola Jokic did not win the NBA MVP award this season after holding the honor for the previous two campaigns. Instead, he is poised for the ultimate team honor with a statistically dominating run in the postseason
The Heat's Jimmy Butler has never won an MVP award but has shown at various points in his career that he has the kind of dogged determination that can carry a team through the most rugged of stretches
While the individual accomplishments of Jokic and Butler will be a focus, they will be key for both teams in order to win a title.
"In some ways, it's a mirror image series, not in terms of style, but teams that probably have been overlooked, underestimated, built a chip on their shoulder over that," Heat head coach Erik Spoelstra said. "It's lined up to be a great competition.
Jokic appears sufficiently motivated after losing out on the MVP award to the Philadelphia 76ers' Joel Embiid. Jokic has averaged a triple-double in 15 playoff games: 29.9 points, 13.3 rebounds, 10.3 assists.
He will get help from Jamal Murray (27.7 points per game), Michael Porter Jr. (averaging 14.6 points, 8.0 rebounds) and Aaron Gordon (13.0 ppg).
"I think the way we play, everybody can step up and everybody could be a best payer for a game or for a week," Jokic said, sounding uncomfortable with the top-player label. "The ball is in my hands a lot so I make a lot of decisions, but I don't know if I can be the best player."
Butler has found a different gear in this run, with an ideal blend of dirty work and glamour play that has led to averages of 28.5 points, 7.0 rebounds and 5.7 assists in the playoffs. That is up from regular-season averages of 22.9 points, 5.9 rebounds and 5.3 assists.
Bam Adebayo has averaged 16.8 points with 9.2 rebounds in the playoffs. The Heat roster also includes seven undrafted players, led by Caleb Martin (14.1 ppg in playoffs) and Gabe Vincent (13.1 points), who scored 29 in a Game 3 victory over the Boston Celtics in the Eastern Conference finals
WHAT IT MEANS
It will be the No. 1 seed from the Western Conference in the Nuggets against the No. 8 seed from the Eastern Conference in the Heat. Miami is just the second No. 8 seed to reach the NBA Finals after the New York Knicks in 1999
"You get to the NBA Finals, it's not about seeding anymore, and for those who are thinking that this is going to be an easy series, I don't even know what to say," Nuggets head coach Michael Malone said. "This is going to be the biggest challenge of our lives. This is the NBA Finals.
PROPPED UP
Jokic is the focal point for the public when it comes to player props. Entering Game 1, he is +105 at BetMGM and -110 at DraftKings to record a triple-double on Thursday night. Meanwhile, BetRivers reported the most popular Game 1 player prop in terms of total bets (12.8 percent) and money (4.4 percent) has been Jokic at -295 to score more than 23.5 points.
KEY STAT
Protecting home-court advantage will be critical. The Nuggets have a 10-game home winning streak and have covered the spread in the past six
INJURY REPORT
The series wild card may be injured Miami guard Tyler Herro, the team's third-leading scorer (20.1 ppg) in the regular season. The 23-year-old sharpshooter has been out since suffering a broken right hand in the opening game of the Heat's first-round series against the Milwaukee Bucks
On Wednesday, Spoelstra ruled Herro out for Game 1 but added that he is closer to returning.
FINALS HISTORY
The Nuggets are playing in the NBA Finals for the first time in franchise history and are playing for a championship for the first time since losing in the 1976 ABA Finals
The Heat are in the Finals for the first time since losing to the Los Angeles Lakers in 2020. Butler put on a similar performance in those playoffs that led to Miami's sixth all-time Finals appearance. The Heat have three titles, the most recent in 2013 led by LeBron James
THEY SAID IT
Heat: "We have a connection and a competitive spirit, especially lately, just throughout the midst of this run. I think it's kind of all coming together at the right time. Those two things alone can really, really carry you. ... If you kind of have that collective trust and competitive spirit and grit to fall back on, I think that always gives you a chance." -- Guard Duncan Robinso
Nuggets: "Sometimes I am, sometimes I'm not. I'm cool with that. I think the way we play, everybody can step up, everybody can be a best player in one game or whatever, week, whatever." -- Jokic, on what it means to be the best player on the court in the NBA Finals
--Field Level Media