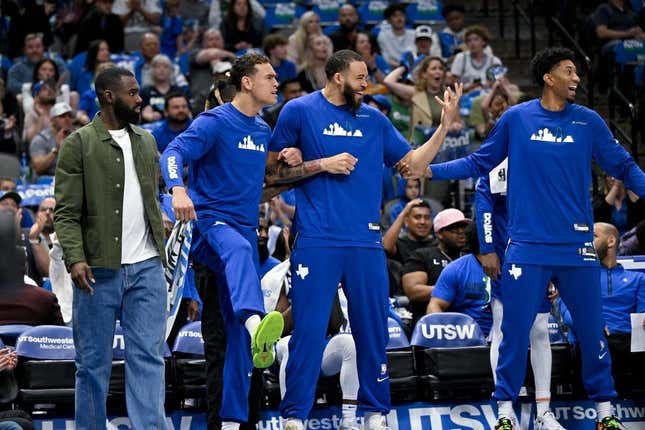 The Dallas Mavericks organization was fined $750,000 for "conduct detrimental to the league," the NBA said Friday
'Soccer fandom is full of gatekeepers' says Ted Lasso actor Brendan Hunt
The fine stems from the Mavericks' actions in a game against the Chicago Bulls on April 7, when Dallas still had a chance of qualifying for the NBA's play-in tournament. Instead of making an all-out effort, the Mavericks sat Kyrie Irving, limited the play of Luka Doncic and made four other players unavailable
"The Mavericks violated the league's player resting policy and demonstrated through actions and public statements the organization's desire to lose the game in order to improve the chances of keeping its first-round pick in the 2023 NBA Draft," the NBA said in a news release. "The league did not find that the players who participated in the game were not playing to win.
The Mavericks lost to the Bulls 115-112, with Doncic scoring 13 points in 13 minutes in the elimination game. With another depleted lineup, Dallas also lost to the San Antonio Spurs 138-117 on April 9 to finish the season 38-44
"The Dallas Mavericks' decision to restrict key players from fully participating in an elimination game last Friday against Chicago undermined the integrity of our sport," said Joe Dumars, the league's head of basketball operations. "The Mavericks' actions failed our fans and our league.
Against the Bulls, Tim Hardaway Jr. (left ankle), Maxi Kleber (right hamstring), Josh Green (rest) and Christian Wood (rest) also were held out by the team.
The next day, the NBA announced it would investigate the Mavericks' actions, which seemingly were taken to protect their first-round pick in the draft
If the Mavericks were to finish the season with a pick in the top 10, the Mavericks would retain it. If it were No. 11 or lower in the draft, it would go to the New York Knicks as part of the compensation in a 2019 deal for Kristaps Porzingis, who now plays for the Washington Wizards
Dallas finished in the No. 10 slot.
After the loss to Chicago, Dallas coach Jason Kidd said the organization made a tough call.
"Decisions sometimes are hard in this business. We're trying to build a championship team," Kidd said. "With this decision, this is maybe a step back, but hopefully it leads to going forward."
Kidd termed the situation as an "organizational decision" that was made by owner Mark Cuban and general manager Nico Harrison.
Cuban was fined $600,000 in 2018 for publicly admitting the Mavericks were tanking ahead of a draft in which Deandre Ayton, Marvin Bagley III and Doncic were among the top prospects. Dallas selected fifth on draft night and took Trae Young and traded him to the Atlanta Hawks, who sent No. 3 overall pick Doncic to the Mavericks
--Field Level Media