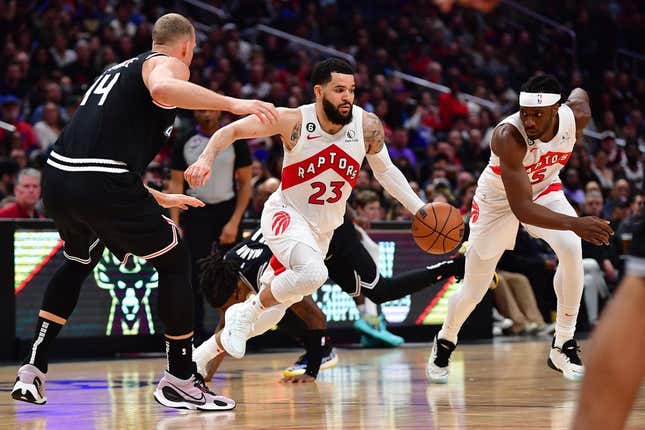 Toronto Raptors guard Fred VanVleet began his profanity-filled tirade on Wednesday by saying, "I'll take a fine, I don't really care."
Is Texas or Florida State a bigger national title contender? | Agree to Disagree
The NBA obliged a day later, handing him a $30,000 fine for "public criticism of the officiating."
That description is a euphemism for what VanVleet said following the Raptors' 108-100 road defeat to the Los Angeles Clippers. In particular, VanVleet singled out referee Ben Taylor.
"I thought Ben Taylor was (expletive) terrible tonight," VanVleet said, speaking calmly. "For most nights, out of the three (officials) there's one or two that just (expletive) the game up. It's been like that a couple games in a row. ... You come out tonight competing pretty hard, in the third quarter, I get a (expletive) tech, (and it) changes the whole dynamic of the game, changes the whole flow of the game.
"Most of the refs are trying hard, I like a lot of refs, they're trying hard, they're pretty fair, they communicate well, and then you got the other ones who just want to be (expletive). It just kind of (expletive) the game up. Nobody's coming to see that (expletive), they come to see the players. I think we're losing a bit of the fabric of what the NBA is and was. It's been disappointing this season."
The Raptors lost for the third time in four games, with VanVleet hitting just 4 of 12 shots from the floor and winding up with 13 points, nine assists and three steals.
Toronto is back in action on Friday against the host Los Angeles Lakers.
--Field Level Media