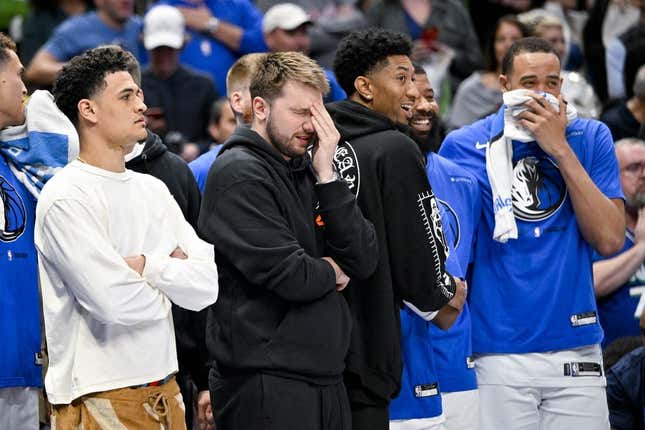 The NBA has launched an investigation into the Dallas Mavericks' actions that resulted in several key players either missing Friday's loss to the Chicago Bulls or playing sparingly while the club was still eligible to make the play-in tournament
Chris Paul should ride the bench next season | Keep it a Buck(et)
Kryie Irving (foot) was among the players who sat out while Luka Doncic departed in the first minute of the second quarter. Dallas led the contest by 13 at halftime before the Chicago Bulls rallied for a 115-112 road victory.
Tim Hardaway Jr. (left ankle), Maxi Kleber (right hamstring), Josh Green (rest) and Christian Wood (rest) were also held out by the team despite the contest being a must-win to keep Dallas' play-in hopes alive.
"The NBA commenced an investigation today into the facts and circumstances surrounding the Dallas Mavericks' roster decisions and game conduct with respect to last night's Chicago Bulls-Mavericks game, including the motivations behind those actions," league spokesman Mike Bass said Saturday
The second half consisted of Dallas playing reserves -- some who have seen little action this season -- before the elimination from the play-in race became a reality.
"It's not so much waving the white flag," Dallas coach Jason Kidd said after the setback. "It's decisions sometimes are hard in this business. We're trying to build a championship team. With this decision, this is maybe a step back, but hopefully it leads to going forward."
Kidd termed the situation as an "organizational decision" that was made by owner Mark Cuban and general manager Nico Harrison.
Also at play is Dallas' protected first-round draft pick. If the pick is a top 10 choice, the Mavericks retain it. If it is No. 11 or lower in the draft, it goes to the New York Knicks as part of the compensation in a 2019 deal for Kristaps Porzingis, who now plays for the Washington Wizards
Cuban was fined $600,000 in 2018 for publicly admitting the Mavericks were tanking ahead of a draft in which Deandre Ayton, Marvin Bagley III and Doncic were among the top prospects. Dallas selected fifth on draft night and took Trae Young and traded him to the Atlanta Hawks, who sent third-overall pick Doncic to the Mavericks
Dallas is expected to hold out all the same players -- plus Doncic -- when it concludes the regular season on Sunday against the visiting San Antonio Spurs.
--Field Level Media