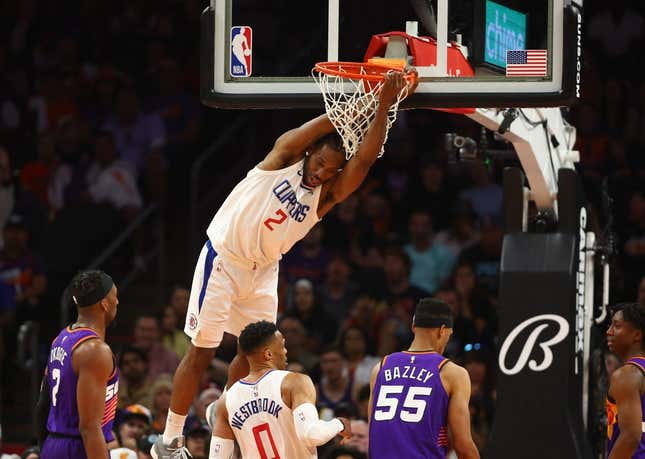 The Los Angeles Clippers and Golden State Warriors earned road wins on Sunday, clinching the last two automatic Western Conference playoff berths on the final day of the regular season.
'Soccer fandom is full of gatekeepers' says Ted Lasso actor Brendan Hunt
The Clippers (44-38) edged the Suns 119-114 to seal the West's fifth seed. Phoenix (45-37), which already was locked into the fourth seed, sat out all of its star players. The result will see the Clippers and Suns square off in a first-round playoff series beginning on April 16 in Phoenix.
The Warriors (44-38) demolished the Portland Trail Blazers 157-101 to secure the sixth seed in the West. Golden State finished with the same record as the Clippers, and the teams split their four-game season series, but Los Angeles is No. 5 thanks to a superior division record.
The Los Angeles Lakers (43-39), Minnesota Timberwolves (42-40) and New Orleans Pelicans (42-40) wound up at Nos. 7, 8 and 9, respectively, in the West. The Lakers beat the visiting Utah Jazz 128-117, and the Timberwolves topped the visiting Pelicans 113-108.
The Timberwolves will visit the Lakers in the first Western Conference play-in game on Tuesday. The winner of that contest will advance to the playoffs as the No. 7 seed.
The Oklahoma City Thunder (40-42) will visit the Pelicans for a play-in game on Wednesday. The winner of that game advances to a road matchup against the Timberwolves-Lakers loser, with the victor in that Friday contest sealing the No. 8 seed.
The Denver Nuggets (53-29) finished atop the Western Conference standings, and they will open the postseason vs. the No. 8 seed. The second-seeded Memphis Grizzlies (51-31) will match up against the No. 7 seed.
The Warriors will open the playoffs against the third-seeded Sacramento Kings (48-34) on Saturday.
The Eastern Conference play-in event will start with the Atlanta Hawks (41-41) visiting the Miami Heat (41-41) on Tuesday. The winner seals the No. 7 seed and a playoff matchup against the second-seeded Boston Celtics (57-25).
The Chicago Bulls (40-42) will square off with the host Toronto Raptors (41-41) on Wednesday for the right to visit the Hawks-Heat loser on Friday. The Friday winner will move on to face the top-seeded Milwaukee Bucks (58-24).
Two Eastern Conference playoff matchups are set: The third-seeded Philadelphia 76ers (54-28) will oppose the sixth-seeded Brooklyn Nets (45-37) beginning on Saturday, the same day the fourth-seeded Cleveland Cavaliers (51-31) and the fifth-seeded New York Knicks (47-35) begin their series.
--Field Level Media