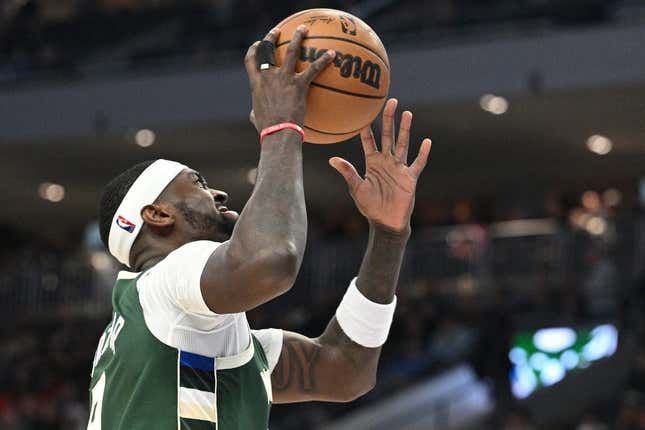 Bobby Portis scored 27 points and grabbed 13 rebounds and Brook Lopez added 26 points as the short-handed Milwaukee Bucks took down the visiting Chicago Bulls 105-92 on Wednesday to clinch the No. 1 seed in the Eastern Conference playoffs.
Air Jordans are more American than McDonald's French fries | Deon Cole's Ultimate Sports Fantasy
Milwaukee also got 20 points, 15 assists and eight rebounds from Jrue Holiday, the only member of the Bucks' Big Three to play for a majority of the night. Giannis Antetokounmpo was ruled out due to a sore right knee after warming up, and Khris Middleton left early in the first half because of a right knee ailment.
Chicago was led by Nikola Vucevic with 21 points and 11 rebounds. DeMar DeRozan did not score a single point until the fourth quarter, finishing the game with eight points on 3-of-12 shooting. Zach LaVine also struggled, putting up 13 points on 5-of-17 shooting.
Milwaukee earned its third win in a row while Chicago, which is headed to the Eastern Conference play-in tournament, dropped its second straight.
Pelicans 138, Grizzlies 131 (OT)
Herbert Jones Jr. scored a career-high 35 points and host New Orleans overcame a 19-point deficit and a blown six-point lead in the final 11 seconds of regulation to clinch a spot in the Western Conference play-in tournament with a victory against Memphis.
CJ McCollum added 31 points and 10 rebounds, Trey Murphy III scored 30 points and Brandon Ingram had 24 for the Pelicans, who are assured of no worse than the No. 9 seed.
Jaren Jackson Jr. scored 40 points, including two free throws in the final second to force overtime, Dillon Brooks added 25, Desmond Bane had 24 and Tyus Jones had 13 points and 12 assists to lead the Grizzlies, who played without seven players, including Ja Morant (left hip soreness).
Mavericks 123, Kings 119
Kyrie Irving hit three late 3-pointers and teamed with Luka Doncic and Tim Hardaway Jr. for 84 points, helping host Dallas move into a tie for 10th place in the Western Conference with a victory over Sacramento.
Irving finished with a game-high 31 points, Doncic 29 and Hardaway 24 as the Mavericks snapped a three-game losing streak. Dallas caught the Oklahoma City Thunder for the West's last play-in spot with just two games remaining.
De'Aaron Fox had a team-high 28 points and Domantas Sabonis a 19-point, 11-rebound, 11-assist triple-double for the Kings. Sacramento failed to pick up a game on the Memphis Grizzlies, a loser at New Orleans, in their duel for the No. 2 seeding in the West.
Nets 123, Pistons 108
Mikal Bridges scored 26 points and dished out six assists to help visiting Brooklyn pull away from Detroit.
Nic Claxton contributed 19 points and seven rebounds for Brooklyn and Joe Harris supplied 18 points. The Nets extended their lead over the Miami Heat for the sixth-best record in the Eastern Conference to 1 1/2 games with Brooklyn having two games to go. The sixth-place team avoids the play-in tournament.
Detroit lost its 11th straight game and fell for the 22nd time in 23 games. R.J. Hampton's career-high 27 points led the Pistons. Jaden Ivey logged 23 points and 10 assists, and Jalen Duren had 18 points and eight rebounds.
Hawks 134, Wizards 116
Trae Young led six double-figure scorers with 25 points as Atlanta cruised to a win over visiting Washington.
Atlanta also got 23 points from John Collins and 19 points and seven rebounds from Dejounte Murray. Young, meanwhile, recorded a double-double, complementing his scoring total -- which featured 16 points from free throws -- with a game-high 16 assists.
Washington's Daniel Gafford matched Young's game high in scoring with 25 points on 8-of-10 shooting from the floor. He also made all nine of his free-throw attempts and grabbed 10 rebounds for his 10th double-double of the season.
Celtics 97, Raptors 93
Boston secured the No. 2 seed for the Eastern Conference playoffs with their homecourt win over Toronto despite playing without Jayson Tatum, Marcus Smart and Al Horford.
Malcolm Brogdon came off the bench to score a game-high 29 points for the Celtics, who received 25 points, 11 rebounds and five assists from Jaylen Brown. Boston is 2 1/2 games ahead of Philadelphia but holding the tiebreaker, while Milwaukee clinched the top seed with a win on Wednesday.
Pascal Siakam had 28 points and 11 rebounds for Toronto, which is battling Atlanta for the No. 8 spot in the Eastern Conference standings. The Raptors were just 6-for-33 (18.2 percent) from 3-point range.
Knicks 138, Pacers 129
Immanuel Quickley, Quentin Grimes and Obi Toppin became the first trio of New York players to score 30 points in the same game in more than 44 years in beating host Indiana.
Quickley scored 39 points, one shy of his career-high, while Grimes finished with a career-high 36 and Toppin had 32. They are the first Knicks trio to score at least 30 points each since Earl Monroe, Ray Williams and Toby Knight in a double-overtime loss to Chicago in 1979.
Mitchell Robinson had his 13th double-double of the season (14 points, 16 rebounds) as the Knicks won their fifth straight. T.J. McConnell collected 18 points and 12 assists off the bench for the Pacers, who had eight players score in double figures but lost for the eighth time in 10 games. Jalen Smith scored 19 points, and Bennedict Mathurin had 17 points and eight rebounds.
--Field Level Media