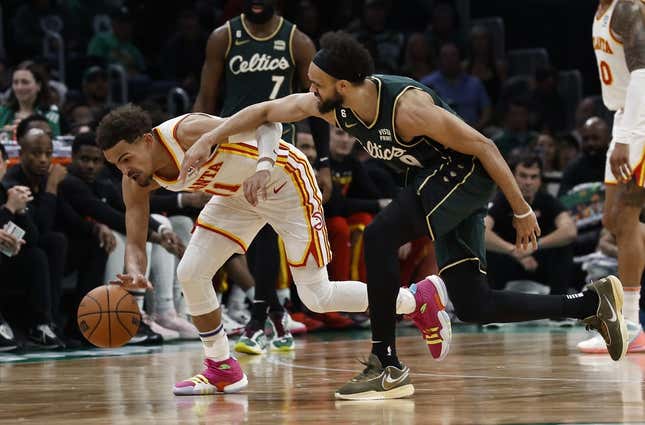 Trae Young's 3-pointer with 1.8 seconds left capped a 38-point performance as the Atlanta Hawks stayed alive by rallying to beat the host Boston Celtics 119-117 in Game 5 of their Eastern Conference first-round playoff series on Tuesday.
Air Jordans are more American than McDonald's French fries | Deon Cole's Ultimate Sports Fantasy
Boston now has a 3-2 lead in the series. Game 6 will be played Thursday in Atlanta.
Young scored the final 14 points for Atlanta, which was playing without the league-suspended Dejounte Murray after he made contact with an official at the end of the previous game. Young added 13 assists and a pair of steals. John Collins contributed 22 points and Bogdan Bogdanovic had 18 to support Young.
Boston's Jaylen Brown (35 points) posted his second straight 30-plus-point game and Jayson Tatum had 19 points, eight rebounds and eight assists.
Nuggets 112, Timberwolves 109
Nikola Jokic had 28 points, 17 rebounds and 12 assists to lead host Denver past Minnesota, closing out their first-round Western Conference playoff series in five games.
Jamal Murray scored 35 points, Bruce Brown and Aaron Gordon each had 14 and Michael Porter Jr. grabbed 10 rebounds for Denver. The top-seeded Nuggets are headed to the Western Conference semifinals for the fourth time in five seasons.
Anthony Edwards put up 29 points, Karl-Anthony Towns had 26 points and 11 rebounds and Rudy Gobert had 16 points and 15 rebounds for the eighth-seeded Timberwolves.
Suns 136, Clippers 130
Devin Booker scored 47 points, including 25 in the third quarter, as Phoenix roared back from a double-digit, second-half deficit against visiting Los Angeles and advanced to the Western Conference semifinals.
Kevin Durant scored 31 points and Deandre Ayton added 21 points and 11 rebounds for the No. 4 seed Suns, who recovered from a Game 1 defeat to roll through the remainder of the series. Phoenix is set to face the No. 1-seeded Denver Nuggets in the second round, which starts Saturday in Denver.
Norman Powell scored 27 points, Mason Plumlee had 20 and Ivica Zubac added 16 points and 10 rebounds for the short-handed Clippers, who played without Paul George (knee) the entire series and lost Kawhi Leonard (knee) following Game 2.
--Field Level Media