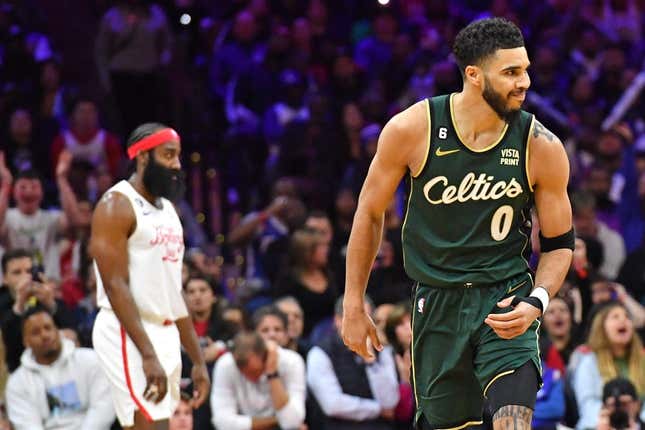 Jayson Tatum hit a game-winning 3-pointer with 2.2 seconds remaining to lift the Boston Celtics past the host Philadelphia 76ers, 110-107, on Saturday.
Joel Embiid appeared to send the game into overtime with a 75-foot 3-pointer, but the ball was ruled to be in his hands when the clock ran out.
Jaylen Brown led the Celtics with 26 points, Tatum added 18 points, 13 rebounds and six assists and Derrick White had 18 points. Embiid was stellar with 41 points, 12 rebounds, five assists and three blocked shots for his 14th career game with at least 40 points, 10 rebounds and five assists. James Harden supplied 21 points.
After Tatum's tip-in with 1:00 left, the Celtics went ahead 107-103. Harden and Embiid each hit two free throws in the final 46.1 seconds to temporarily tie the game at 107 before Tatum's 3-pointer. The Sixers had led by 15 in the third quarter, but Boston closed the frame with an 18-3 run to go into the fourth with an 80-78 edge.
Knicks 128, Pelicans 106
Julius Randle scored a game-high 28 points and Mitchell Robinson posted a double-double for host New York, which continued surging and never trailed in a rout of New Orleans.
Robinson had 11 points on 5-of-5 shooting from the field and added 13 rebounds for the Knicks, who won for the second time in 24 hours and the seventh time in eight games. RJ Barrett scored 25 points while Jalen Brunson had 20 points for the Knicks, who tied a season high by draining 19 3-pointers.
Brandon Ingram scored 19 points and Jonas Valanciunas (12 points, 10 rebounds) had a double-double for the Pelicans, who have lost three straight and are 4-14 since Jan. 16.
Raptors 95, Pistons 91
Pascal Siakam scored 29 points and visiting Toronto defeated Detroit.
Gary Trent Jr. added 19 points for the Raptors, who have won four in a row for the first time this season. Marvin Bagley III had 21 points and 18 rebounds off the bench for the Pistons, who have lost four in a row. James Wiseman added 10 points and 10 rebounds.
After Cory Joseph's 3-pointer tied the game at 84 with 3:44 remaining, Trent made a 3-pointer with 2:38 to go. Isaiah Livers and Siakam exchanged dunks and Toronto still led by three with 2:01 left. Jaden Ivey made two free throws, trimming the deficit to one. Siakam made two foul shots with 11 seconds to go. Bagley made one of two free throws with four seconds left, then Siakam sealed the win with two free throws.
Pacers 121, Magic 108
Myles Turner scored 24 points and Bennedict Mathurin added 19 as visiting Indiana dominated the second half in a win over Orlando.
Jordan Nwora had 18 points, eight rebounds and six assists off the bench for Indiana, which led by as many as 21 and won for just the third time in its last 13 games. Tyrese Haliburton added 15 points and 14 assists, and Andrew Nembhard scored 13 points.
Franz Wagner led Orlando with 21 points, while Paolo Banchero scored 19, Markelle Fultz had 18 and Jalen Suggs chipped in 14. The Magic shot 38.9 percent from the field and 6 of 29 (20.7 percent) from 3-point range.
Hornets 108, Heat 103
Gordon Hayward scored 21 points and rookie center Mark Williams had key baskets among his 18 points and also collected 20 rebounds as Charlotte extended its best stretch of the season by defeating visiting Miami.
LaMelo Ball had 19 points and 13 assists, Kelly Oubre Jr. and Dennis Smith Jr. both supplied 15 points and Terry Rozier finished with 14 points. The Hornets have now won four consecutive games after never winning more than two straight this season prior to the All-Star break.
Tyler Herro's 33 points and Jimmy Butler's 28 points couldn't prevent Miami's season-worst, four-game losing streak. Bam Adebayo had 14 points and Kevin Love posted 13 points and 13 rebounds for the Heat, who shot 40 percent from the field.
Grizzlies 112, Nuggets 94
Memphis held visiting Denver to just its seventh outing with fewer than 100 points en route to a rout.
Memphis snapped Western Conference-leading Denver's four-game winning streak emphatically, capitalizing on the Nuggets shooting just 36 of 89 from the floor. Ja Morant led the Grizzlies with 23 points, and matched Xavier Tillman's seven rebounds. Tillman scored 12 points as one of six Memphis scorers in double figures.
Nikola Jokic led Denver with 15 points and snared a game-high 13 rebounds. Jeff Green came off the bench to score 12 points. The Grizzlies took control in the middle quarters, going on a 24-7 run over the first half of the second period to build a 23-point lead.
Jazz 118, Spurs 102
Lauri Markkanen scored 27 points and Utah dug out of a 14-point deficit en route to a victory over San Antonio in Salt Lake City.
The new-look Jazz got another nice contribution off the bench from Kris Dunn, who totaled 15 points, eight assists and seven rebounds in his second game after signing a 10-day contract.
Jeremy Sochan led the Spurs with 22 points and Keldon Johnson contributed 18 points and seven rebounds, but San Antonio dropped its 16th straight game overall and 18th in a row on the road.
--Field Level Media