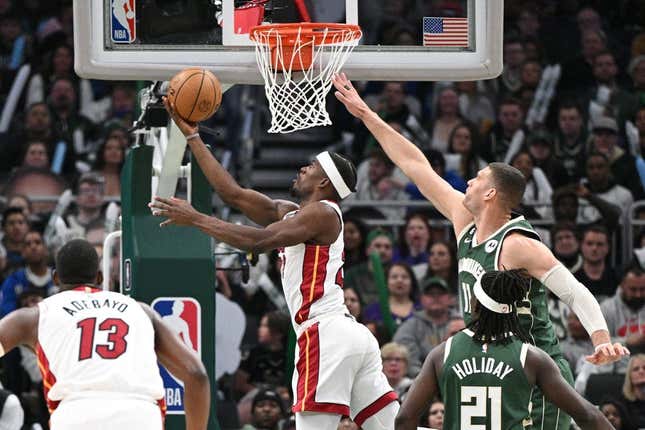 Jimmy Butler scored 42 points as the visiting Miami Heat advanced to the Eastern Conference semifinals with a 128-126 overtime victory over the top-seeded Milwaukee Bucks in Game 5 on Wednesday.
Bass' ERA stinks, but not compared to who he is off the mound | Worst of the Week Countdown
Butler followed up his franchise-playoff-record, 56-point performance in Game 4 by helping the eighth-seeded Heat overcome a 16-point, fourth-quarter deficit with 12 straight Heat points during one stretch before converting an alley-oop in the final second to force overtime.
In the extra session, Miami's Gabe Vincent misfired on a 3-point attempt with nine seconds to play at the Heat up two, but Milwaukee's Grayson Allen did not get off a shot before time expired. Bam Adebayo collected 20 points, 10 rebounds and 10 assists for the Heat, who will face the fifth-seeded New York Knicks in the Eastern Conference semifinals.
Antetokounmpo recorded 38 points and 20 rebounds and Khris Middleton pumped in 33 points for the Bucks.
Knicks 106, Cavaliers 95
Jalen Brunson scored 23 points and New York advanced past the opening round of the playoffs for the first time since 2013, closing out host Cleveland with a victory in Game 5 of an Eastern Conference series.
Fifth-seeded New York never trailed and built an advantage of as many as 18 points, flexing its defensive muscle and dominance on the glass. The Knicks held the Cavaliers to fewer than 100 points for the fourth time in the series, and New York won all of those games. New York enjoyed a 48-30 rebounding edge with Mitchell Robinson pulling down 18 boards, 11 of them on the offensive end. The Knicks posted an overwhelming 20-3 advantage in second-chance points.
The Cavaliers pulled to within seven with 73 seconds remaining when Donovan Mitchell knocked down a 3-pointer, part of his game-high 28 points. However, Immanuel Quickley sank four consecutive free throws to effectively put the game -- and series -- away. Darius Garland added 21 points for Cleveland.
Grizzlies 116, Lakers 99
Desmond Bane recorded 33 points, 10 rebounds and five assists, and Ja Morant added 31 points, 10 rebounds and seven assists as Memphis remained alive with a victory over visiting Los Angeles in Game 5 of a Western Conference first-round series.
Jaren Jackson Jr. contributed 18 points and 10 rebounds as the Grizzlies cut the Lakers' lead to 3-2 in the best-of-seven series. Second-seeded Memphis will attempt to tie the series on Friday night in Los Angeles.
Anthony Davis amassed 31 points and 19 rebounds and Austin Reaves registered 17 points, eight rebounds and six assists for the seventh-seeded Lakers. LeBron James added 15 points and 10 rebounds. The Grizzlies led by as many as 25 points after breaking open a close game in the latter half of the third quarter.
Warriors 123, Kings 116
Stephen Curry scored 31 points and dished out eight assists and Klay Thompson added 25 points as visiting Golden State moved one victory away from the Western Conference semifinals by defeating Sacramento.
Draymond Green scored 21 points and Andrew Wiggins had 20, while Kevon Looney grabbed 22 rebounds as the Warriors took a 3-2 lead by becoming the first road team to win in the best-of-seven series.
De'Aaron Fox had 24 points, nine assists and seven rebounds for the Kings despite playing with an avulsion fracture at the tip of the index finger on his left (shooting) hand. Domantas Sabonis and Malik Monk each scored 21 points for Sacramento, with Sabonis grabbing 10 rebounds.
--Field Level Media