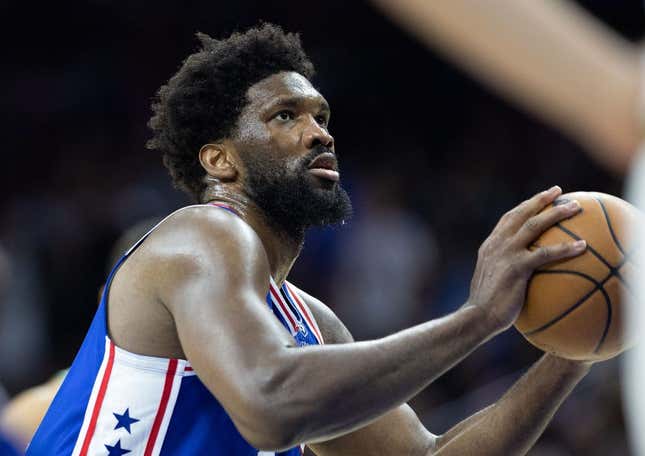 Joel Embiid scored 52 points on 20-of-25 shooting and added 13 rebounds, six assists and two blocks to lead the host Philadelphia 76ers to a 103-101 win over the Boston Celtics on Tuesday in a showdown between Eastern Conference contenders.
Chris Paul should ride the bench next season | Keep it a Buck(et)
It was Embiid's fifth career 50-point game. James Harden added 20 points and 10 assists for Philadelphia, which has won three of four and avoided a four-game season sweep in the head-to-head series.
Six Boston players scored double-digit points, led by Derrick White's 26 on four 3-pointers. Jayson Tatum had 19 points, six assists and three steals.
P.J. Tucker (11 points) scored back-to-back 3-pointers during a 12-1 run that ultimately swayed the game in the Sixers' favor. White sliced the deficit to 103-101 with two seconds left. After Williams drew an offensive foul on an inbounds play, Tatum's tough 3-point attempt from the corner at the buzzer clanked off the rim.
Suns 115, Spurs 94
Devin Booker scored 27 points as Phoenix jumped to a big lead against visiting San Antonio on the way to securing a playoff spot with a sixth straight win.
Chris Paul added 22 points for the Suns, Deandre Ayton tallied 19 points and 11 rebounds, and Kevin Durant scored 18 points.
Malaki Branham led the Spurs with 21 points and Tre Jones added 20.
Lakers 135, Jazz 133 (OT)
LeBron James scored 37 points and hit a game-winning layup in overtime to help Los Angeles Lakers edge Utah in Salt Lake City.
Austin Reaves added 28 points and Anthony Davis totaled 21 points, 14 rebounds and six assists as the Lakers won their fourth straight and moved a step closer to clinching a playoff spot.
Despite having three starters sidelined, the Jazz rallied in the final 1:36 of regulation, outscoring the Lakers 10-0 to force overtime. Former Laker Talen Horton-Tucker and Kelly Olynyk each scored 23 points and Ochai Agbaji contributed 22 for the Jazz, which lost for the seventh time in eight games.
Kings 121, Pelicans 103
Domantas Sabonis had a triple-double, Keegan Murray produced a barrage of 3-pointers and visiting Sacramento overcame a slow offensive start to rout New Orleans.
Sabonis finished with 16 points, 12 rebounds and 11 assists and De'Aaron Fox added 23 points and nine assists as the Kings won the Pacific Division for their first division title in 20 years.
Brandon Ingram scored 22 points but committed a career-high seven turnovers for the Pelicans, who missed an opportunity to clinch a spot in the Western Conference play-in tournament.
Hawks 123, Bulls 105
Bogdan Bogdanovic scored 26 points and Clint Capela had 13 points and 14 rebounds as Atlanta defeated host Chicago in a game key to Eastern Conference play-in tournament positioning.
Atlanta moved into a tie with Toronto, effectively taking possession of eighth place in the East with three games remaining. The Bulls lost for the third time in five games but clinched a spot in the play-in when Orlando lost to Cleveland earlier Tuesday. Chicago is in 10th place in the conference.
Saddiq Bey scored 18 points, and Dejounte Murray had 17 points and nine assists for Atlanta. Zach LaVine led the Bulls with 26 points, DeMar DeRozan tallied 21 points and Nikola Vucevic had 19 points and 10 rebounds.
Timberwolves 107, Nets 102
Karl-Anthony Towns broke a late tie with two free throws, Mike Conley and Anthony Edwards preserved the lead with key blocks and Minnesota scored a critical victory in the NBA playoff race, beating host Brooklyn.
Edwards finished with a team-high 23 points, Towns had 22 and Conley had 18 for the Timberwolves, who snapped a three-game losing streak and improved their chances of landing a play-in spot in the West.
Spencer Dinwiddie poured in a game-high 30 points and Mikal Bridges scored 24 for the Nets, who saw their lead over the Miami Heat for the coveted No. 6 spot in the East trimmed to one game with three remaining.
Bucks 140, Wizards 128
Giannis Antetokounmpo put up 28 points, 11 rebounds and 10 assists, his sixth triple-double of the season, as Milwaukee won at Washington.
Bobby Portis added 19 points and 20 rebounds for the Bucks. Jrue Holiday had 26 points and 10 assists and Jae Crowder scored 19 points in his first start with the Bucks, subbing in for Grayson Allen (ankle). Khris Middleton (knee) and Jevon Carter (foot) also sat out.
The Wizards were led by Kendrick Nunn, who had 24 points, seven rebounds and six assists. Six other Wizards scored in double figures -- including rookie Wisconsin native Johnny Davis, who tallied a career-high 20 points.
Cavaliers 117, Magic 113
Donovan Mitchell recorded his fourth consecutive game of 40 points, finishing with 43 against host Orlando as Cleveland secured its first 50-win season since 2017-18.
Darius Garland scored 16 points and distributed a game-high 10 assists for the Cavs. Evan Mobley added 14 points, seven rebounds and four assists, and Jarrett Allen finished with 12 points, seven rebounds and two blocked shots.
Markelle Fultz led Orlando with 23 points and eight assists. Paolo Banchero tallied 20 points and 10 rebounds, and Wendell Carter Jr. recorded 17 points and 12 boards.
Heat 118, Pistons 105
Jimmy Butler produced 27 points, eight rebounds, eight assists and four steals as Miami handed host Detroit its 10th straight loss.
Gabe Vincent contributed 22 points for the Heat. Tyler Herro and Bam Adebayo tossed in 18 points apiece.
Jaden Ivey led Detroit with 30 points and added seven assists, and Jalen Duren had 20 points and 14 rebounds.
Raptors 120, Hornets 100
Pascal Siakam put up 22 points and 14 rebounds and visiting Toronto used a big third-quarter burst to run away from Charlotte.
Chris Boucher scored 21 points and Will Barton 20 for Toronto. O.G. Anunoby had 17 points and Fred VanVleet added 16 as Toronto rolled in a two-game set after winning Sunday in the same arena.
Bryce McGowens scored 20 points to lead the Hornets, who have lost three straight. Nick Richards had 18 points and 11 rebounds, and Svi Mykhailiuk notched 17 points.
Rockets 124, Nuggets 103
Jalen Green scored 32 points, Alperen Sengun had 20 points and 10 rebounds and host Houston beat Denver.
Kevin Porter Jr. also scored 20 points, while Jabari Smith Jr. had 16 points and 13 rebounds for the Rockets.
Michael Porter Jr. scored 23 points for the Nuggets, who failed to clinch the top seed in the Western Conference. Nikola Jokic had 14 points and 10 rebounds in his return to the lineup after missing three games with right calf tightness.
Grizzlies 119, Trail Blazers 109
Desmond Bane tallied 30 points, seven rebounds and five assists and Ja Morant recorded 23 points, nine assists and six rebounds to lead Memphis over visiting Portland.
Luke Kennard made six 3-pointers while scoring 20 points as the Grizzlies reached the 50-win mark for the second straight season. Memphis moved within two games of the first-place Denver Nuggets in the Western Conference while maintaining its two-game lead over the third-place Sacramento Kings.
Skylar Mays registered 24 points, eight rebounds and seven assists in his third game with Portland and Shaedon Sharpe added 20 points, eight rebounds and six assists.
Warriors 136, Thunder 125
Jordan Poole poured in 18 fourth-quarter points and Golden State, which never led through three periods, rallied past Oklahoma City for a win in San Francisco.
The Warriors outscored the Thunder 34-19 in the fourth quarter. Stephen Curry paced the Warriors with 34 points, and Poole finished with 30. The result moved the Warriors into fifth place in the Western Conference, a half-game ahead of the Los Angeles Clippers, who now sit in the final automatic playoff position.
Shai Gilgeous-Alexander scored 32 points for the Thunder, who took their third loss in a row.
--Field Level Media