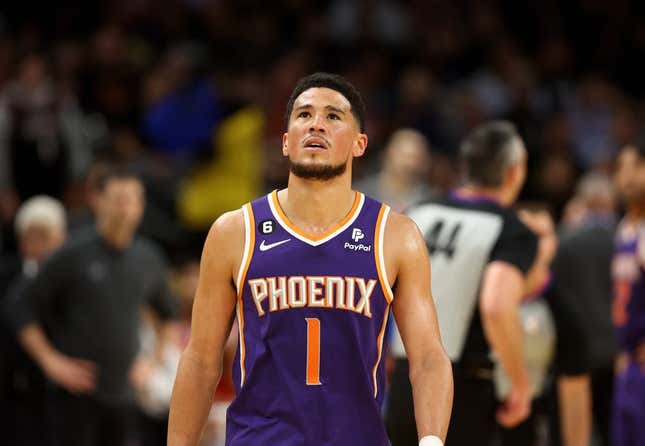 Devin Booker scored 44 points on 17-of-23 shooting to help the Phoenix Suns roll to a 132-101 victory over the visiting Oklahoma City Thunder on Wednesday.
How running an NFL team is like running a restaurant | Chef Emeril Lagasse
Kevin Durant was scheduled to make his home debut for Phoenix but slipped and injured his left ankle in pregame warmups. Booker made up for Durant's absence, sinking six 3-pointers while scoring 35 or more points for the fourth consecutive game.
Terrence Ross came off the bench to score 24 points and hit a season-high six 3-pointers to help the Suns win for the 16th time in 21 games. Chris Paul recorded 18 points, nine assists and four steals, and Deandre Ayton had 12 points and eight rebounds.
Lindy Waters III had 23 points and six 3-pointers for the Thunder, who had a three-game winning streak end. The Thunder played without All-Star Shai Gilgeous-Alexander (injury management) and impressive rookie Jalen Williams (wrist).
Pelicans 113, Mavericks 106
CJ McCollum scored 13 of his game-high 32 points in the final four minutes as host New Orleans held off Dallas.
McCollum finished 6 of 8 on 3-pointers and made three straight during his late-game blitz to stem the Mavericks' rally from a 19-point deficit. Trey Murphy III added 16 points, Herbert Jones Jr. and Jaxson Hayes scored 14 each, and Brandon Ingram had 12 before leaving the game for good late in the second quarter because of a right ankle sprain.
Kyrie Irving scored 27, Tim Hardaway Jr. had 17 and Luka Doncic had 15 before leaving the game for good late in the third quarter because of a left thigh strain. Doncic called the injury "not good" after the game.
Hawks 122, Wizards 120
Trae Young scored 28 points and De'Andre Hunter scored five of his 15 points in the final 67 seconds to help visiting Atlanta erase a 15-point second-half deficit and beat Washington.
Hunter's three-point play with 1:07 left put Atlanta ahead to stay and his two free throws with 18.3 seconds remaining gave the Hawks the advantage they needed to break their two-game losing streak.
The Wizards were led by Kristaps Porzingis, who scored a season-high 43 points on 17-of-22 shooting and seven 3-pointers, with five rebounds and five assists. Washington has dropped three of its last four games. Washington also got 25 points, 10 rebounds and six assists from Kyle Kuzma and received 24 points and eight assists from Bradley Beal.
Clippers 108, Raptors 100
Kawhi Leonard scored 24 points and grabbed 12 rebounds against his former team and Paul George added 23 points as Los Angeles used improved defense to rally from a slow start and beat visiting Toronto.
Ivica Zubac scored 17 points for the Clippers, who won their second consecutive game following a five-game losing streak. Terance Mann scored 14 points for Los Angeles, which shot 54.9 percent from the field to 38.5 percent for Toronto.
Pascal Siakam and Scottie Barnes each scored 20 points as the Raptors fell to 1-3 on a five-game road trip that ends Friday against the Los Angeles Lakers. Toronto then plays seven of its next eight games at home.
Celtics 115, Trail Blazers 93
Jayson Tatum tossed in 30 points in 31 minutes as Boston broke a three-game losing streak by beating visiting Portland.
Derrick White added 21 points, five rebounds and seven assists for the Celtics, while Al Horford finished with 17 points, six rebounds and five assists. Damian Lillard led Portland with 27 points, five rebounds and eight assists. He made each of his 11 free-throw attempts.
Boston led 35-28 after one quarter and 60-45 at halftime. Tatum made a 3-pointer with 4.9 seconds remaining in the third quarter that helped the Celtics take a 94-72 lead into the fourth. Tatum didn't play in the final quarter.
Bulls 117, Nuggets 96
Zach LaVine scored 29 points, Nikola Vucevic had 25 points and 15 rebounds, and Chicago ended Denver's eight-game home winning streak.
Patrick Williams scored 18 points and DeMar DeRozan added 17 for the Bulls, who snapped a two-game losing streak. Nikola Jokic had 18 points, 12 rebounds and eight assists, while Aaron Gordon added 17 points.
Denver, whose last home loss came Jan. 22 to Oklahoma City, led by 10 in the first quarter, but Chicago erased most of its deficit by the start of the second. Chicago took over in the third quarter and led by 11 heading into the fourth before putting it away.
Cavaliers 104, Heat 100
Darius Garland scored 25 points and dished a game-high seven assists to lead visiting Cleveland to a win over Miami.
Donovan Mitchell, despite going just 1-for-7 on 3-pointers, added 18 points as Cleveland won its third straight game. Teammate Jarrett Allen had 15 points and a game-high 12 rebounds. Jimmy Butler led the Heat with 28 points, five rebounds and five assists, and Tyler Herro chipped in 22 points.
Herro kept Miami in the game with a 3-pointer from the left corner with 20.7 seconds remaining. Allen then made 1 of 2 free throws to give Cleveland a 103-100 lead. Miami's Max Strus had a would-be tying 3-pointer rim out, and Evan Mobley made a clinching free throw with 2.3 seconds left.
--Field Level Media