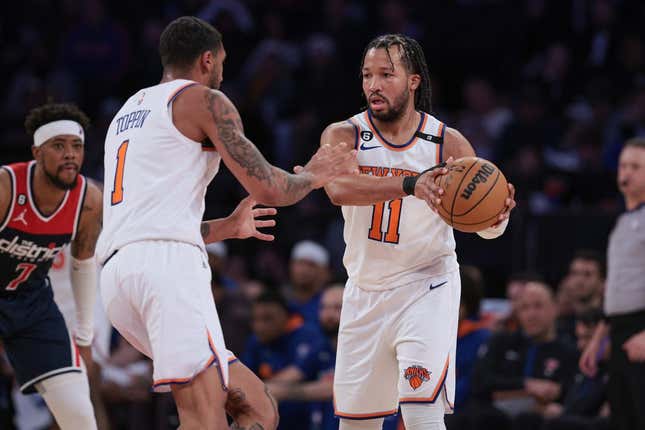 Quentin Grimes and Jalen Brunson scored 27 points apiece to lead a balanced scoring attack Sunday night for the New York Knicks, who clinched a playoff spot by pulling away from the visiting Washington Wizards and earning a 118-109 victory.
'Soccer fandom is full of gatekeepers' says Ted Lasso actor Brendan Hunt
The Knicks, who have won four straight and seven of their last 10, are headed to the playoffs for the second time in the last three seasons -- the first time New York has made the postseason at least twice in a three-year span since qualifying three straight times from 2010-11 through 2012-13.
Corey Kispert scored a career-high 29 points for the undermanned Wizards, who were eliminated from play-in contention with the win by the Atlanta Hawks against the Dallas Mavericks later Sunday night.
Grimes' 3-pointer with 4:33 left in the third quarter gave New York the lead for good at 72-69 and began a quarter-ending 17-10 run in which Grimes and Brunson combined for the first 15 points. Obi Toppin opened the fourth quarter with a 3-pointer to give the Knicks their first double-digit lead at 89-79. New York led by no fewer than eight and by as many as 20 the rest of the way.
Hawks 132, Mavericks 130 (OT)
Trae Young scored 24 points and hit a pair of free throws with 1.8 seconds left in overtime to give Atlanta a win against visiting Dallas.
The Mavericks had a chance to win the game, but Luka Doncic missed a 3-pointer with 0.2 seconds remaining, and Dallas dropped its third straight game and fell for the seventh time in its last eight meetings. The Mavericks had a chance to win the game with 1.2 seconds left in regulation, but Christian Wood missed the second of two free-throw attempts to leave Dallas one point behind.
Atlanta got 25 points from Dejounte Murray, 18 points and 10 rebounds from John Collins and 14 points and 11 boards from Clint Capela. Kyrie Irving collected 41 points -- his most since joining the Mavericks. Dallas also got 22 points, seven rebounds and seven assists from Doncic and 18 points from Wood.
Suns 128, Thunder 118
Kevin Durant scored 35 points to lead Phoenix past host Oklahoma City for its fifth consecutive win.
Durant scored 13 of his points in the fourth quarter, helping the Suns hold off a Thunder rally. Oklahoma City has lost five of its last seven but remained a game up on Dallas for 10th in the West -- the final spot in the play-in tournament.
Devin Booker finished with 22 points and 10 assists for the Suns, while Deandre Ayton had 19 points and 11 rebounds. Chris Paul had 16 points and eight assists. Shai Gilgeous-Alexander had 39 points for the Thunder, and Josh Giddey added 16 points, nine rebounds and eight assists.
Spurs 142, Kings 134 (OT)
Doug McDermott poured in nine of his season-best 30 points in overtime as visiting San Antonio outlasted Sacramento to snap a six-game losing streak.
Julian Champagnie added a career-high 26 points for the Spurs. Tre Jones racked up 17 points, 11 assists and 10 rebounds for San Antonio.
De'Aaron Fox led the Kings with 28 points while Domantas Sabonis had 26 points and eight rebounds.
Cavaliers 115, Pacers 105
Donovan Mitchell scored 40 points, Evan Mobley posted a double-double of 14 points and 16 rebounds and host Cleveland beat Indiana.
Mitchell shot 14-for-25 from the floor and 9-for-12 from the free-throw line en route to his 12th 40-plus-point game of the season and second against the Pacers.
Seven Pacers scored in double figures, led by Bennedict Mathurin's 19 points. Mathurin also grabbed nine rebounds.
Raptors 128, Hornets 108
Pascal Siakam poured in 36 points and visiting Toronto had an easy time in a victory against Charlotte.
Fred VanVleet scored 20 points and also set a franchise record with 20 assists, becoming the first player in Raptors history to have a 20-point, 20-assist game. O.G. Anunoby's 23 points were also big for the Raptors, who are closing in on an Eastern Conference play-in tournament slot.
Svi Mykhailiuk's 26 points paced the Hornets, who have lost two games in a row following a three-game winning streak. James Bouknight racked up 21 points off the bench, while Mark Williams provided 15 points and 12 rebounds.
Bulls 128, Grizzlies 107
Zach LaVine scored a game-high 36 points and had nine assists, DeMar DeRozan added 31 points and seven assists and Chicago engineered a big second-half comeback to knock off visiting Memphis.
Chicago rallied from down 23 points in the first half with a dominant third quarter on both ends of the court. The Bulls held the Grizzlies to just 16 points in the period on 5-of-18 shooting, while knocking down 17 of 27 shot attempts for 40 points on the other end.
Nikola Vucevic recorded his 48th double-double of the season with 13 points and 10 rebounds for the Bulls. Desmond Bane scored 21 points for the Grizzlies, Ja Morant notched 17 -- part of a triple-double along with his 10 rebounds and 10 assists -- and Dillon Brooks scored 14 points.
Trail Blazers 107, Timberwolves 105
Shaedon Sharpe scored 27 points, including a hook shot with 24 seconds left, and Portland snapped a five-game losing streak with a win over Minnesota in Minneapolis.
After Sharpe's basket put Portland ahead 106-103, Anthony Edwards scored on the next possession before Drew Eubanks made 1 of 2 free-throw attempts with 14.4 seconds remaining. Kyle Anderson missed a layup in the final second that would have forced overtime.
Edwards led Minnesota with 37 points, while Anderson added 13 points, eight rebounds and seven assists.
Nets 111, Jazz 110
Mikal Bridges scored 30 points and Brooklyn survived a late scare from Utah in New York.
Cameron Johnson finished with 18 points, including a pair of free throws with 14 seconds remaining, and Spencer Dinwiddie totaled 17 points and 12 assists to help the Nets win their third straight and move closer to clinching a playoff spot.
Talen Horton-Tucker sparked a huge Jazz comeback, scoring 32 points and dishing out eight assists, but Utah's rally from down 23 points in the fourth came up just short. Kelly Olynyk, who hauled in 15 rebounds, missed a game-winning attempt at the buzzer. Lauri Markkanen returned to action, scoring 23 points with nine rebounds.
Magic 128, Pistons 102
Jalen Suggs led eight players in double figures with 18 points as host Orlando handed Detroit its ninth straight loss.
Cole Anthony had 17 points and six rebounds for Orlando, which tied its season high with 17 3-pointers and shot 57.3 percent from the field. Detroit had a one-point lead two minutes into the game. Wendell Carter Jr. then knocked down a 3-pointer and the Magic never trailed again.
The Pistons have lost 23 of their last 25 games. They were led by Killian Hayes, who had 20 points and seven assists. Eugene Omoruyi supplied 19 points and Jaden Ivey had 14 points with six assists.
Lakers 134, Rockets 109
Anthony Davis recorded his third 40-point game of the season, LeBron James posted his second triple-double and Rui Hachimura scored 20 points off the bench as Los Angeles rolled past host Houston for its sixth win in seven games.
Davis finished 15-for-20 from the floor and 10-for-12 from the free-throw line. He also snagged nine rebounds. James facilitated with aplomb, producing a team-leading 11 assists in addition to his 18 points and 10 rebounds.
The Rockets' starting backcourt of Kevin Porter Jr. and Jalen Green combined for 44 points with Green adding seven assists. Alperen Sengun posted his 26th double-double with 18 points and 15 rebounds while dishing out five assists. Sengun added three blocks and two steals.
Bucks 117, 76ers 104
Giannis Antetokounmpo scored 33 points and grabbed 14 rebounds, leading Milwaukee to a bounce-back win over visiting Philadelphia.
Brook Lopez added 21 points while Khris Middleton scored 19 points along with a team-high nine assists for the Bucks. Joel Embiid and Tyrese Maxey carried the load for Philadelphia, scoring 57 of the 76ers' 104 points with Maxey ultimately leading with 29.
The Bucks led 69-53 at halftime, with Antetokounmpo already at 19 points on 8-for-10 shooting. Then came the third quarter, where the 76ers would go on a run, shrinking their deficit to just four at one point. The 76ers' run was short-lived, as Milwaukee stormed back at the end of the third, capped off by an emphatic dunk from Antetokounmpo just before the buzzer sounded. The Bucks led 96-82 going into the fourth and would not look back.
Nuggets 112, Warriors 110
Michael Porter Jr. had 29 points and 11 rebounds, Jamal Murray scored 26 points and host Denver beat Golden State to move within a game of clinching the top seed in the Western Conference with four to play.
Klay Thompson scored 25 points, Stephen Curry had 21 and Donte DiVincenzo added 18 to go with 13 rebounds, four assists and two steals as the Warriors slipped into a tie with the Los Angeles Clippers for fifth in the Western Conference, just a half-game ahead of the Los Angeles Lakers.
The Nuggets played their third straight game without two-time MVP Nikola Jokic, who is dealing with calf tightness. Zeke Nnaji (knee) was also out, leaving Denver without two centers.
--Field Level Media