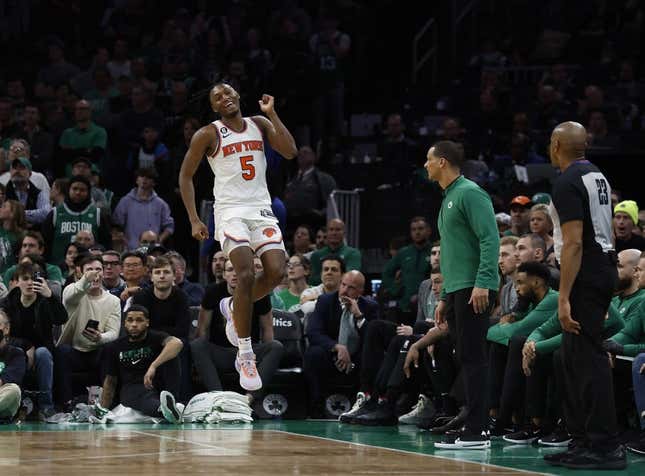 Immanuel Quickley had 38 points, eight rebounds and seven assists as the visiting New York Knicks extended their winning streak to nine games by beating the Boston Celtics 131-129 in double overtime Sunday.
How running an NFL team is like running a restaurant | Chef Emeril Lagasse
Quickley made 15 of 28 field-goal attempts, including five 3-pointers, and played 55 minutes. Julius Randle added 31 points and nine rebounds for the Knicks, who also received 29 points and 11 rebounds from RJ Barrett.
Jayson Tatum had 40 points, 11 rebounds and six assists for the Celtics, who have lost their last two home games. Jaylen Brown tossed in 29 points, and Al Horford finished with 20 points and 14 rebounds. Boston had a chance to win the game, but Horford's 3-pointer was off the mark as the final buzzer sounded.
The Celtics trailed 113-110 after two Randle free throws with 16.2 seconds remaining in regulation, but Brown tied the game on an old-fashioned three-point play with 12.9 seconds left. The Knicks failed to get a shot off on their final possession. Boston took a 121-119 lead on a Horford 3-pointer in the first overtime, but Quickley scored with 13 seconds left to tie the game and force a second OT.
Clippers 135, Grizzlies 129
Paul George scored 42 points with 11 rebounds and Kawhi Leonard added 34 points with 10 rebounds as Los Angeles was able to lean on its stars to earn a victory against visiting Memphis to end a five-game losing streak.
Eric Gordon added 17 points and Mason Plumlee had 15 as the Clippers won despite giving up 51 points in the third quarter alone as an 11-point lead turned into a 15-point deficit heading into the final frame. Russell Westbrook had nine points and six assists as he won for the first time in a Clippers uniform.
Desmond Bane scored 30 points and Tyus Jones added 20 of his 25 points in the third quarter as the Grizzlies lost without Ja Morant and Dillon Brooks.
Bucks 117, Wizards 111
Giannis Antetokounmpo recorded 23 points and a season-best 13 assists to go with 10 rebounds and three blocks to lead Milwaukee to a victory over host Washington.
Jevon Carter added 20 points off the bench as the Bucks were victorious one night after seeing their 16-game winning streak snapped. Bradley Beal had 33 points and nine rebounds and Kristaps Porzingis recorded 24 points and 13 rebounds for the Wizards.
Beal's three-point play pulled the Wizards within 101-100 with 5:03 remaining. Joe Ingles made a corner 3-pointer to give Milwaukee a 108-104 lead with 2:37 left. Beal's basket brought Washington within two before Grayson Allen drained a trey to give the Bucks a 111-106 edge with 1:24 remaining. Jrue Holiday scored a basket 14 seconds later and added two free throws to make it a nine-point margin as Milwaukee closed it out.
Suns 130, Mavericks 126
Kevin Durant scored two of his game-high 37 points on a go-ahead pull-up jumper with 12.1 seconds remaining, and Phoenix secured its third straight win with a defeat of host Dallas.
Durant combined with Devin Booker to score more than half of Phoenix's points on Sunday with 73. Booker recorded 36 points in his third consecutive outing with at least 35. Booker also dished out 10 assists to complete a double-double. Chris Paul added 11 points, passed for seven assists and grabbed six rebounds. Josh Okogie and Deandre Ayton each scored nine points, while Ayton snared a game-high 16 rebounds.
One game after setting a franchise record as the first Mavericks teammates to reach 40 points or more in the same contest, Kyrie Irving and Luka Doncic combined for 64 points Sunday. Doncic finished with a team-high 34 points to go with his team-leading nine rebounds, but he shot just 1 of 9 from 3-point range -- including a last-ditch attempt after Durant's made foul shots in the waning seconds.
Pacers 125, Bulls 122
Tyrese Haliburton scored 29 points, including a 3-pointer from 30 feet out with 2.7 seconds remaining, and visiting Indiana withstood a late charge by Chicago to earn a win.
Haliburton had 11 assists and shot 6 of 9 from 3-point range for Indiana, which won the season series against Chicago 3-1 after Nikola Vucevic missed a 3-pointer at the buzzer. Bennedict Mathurin scored 17 points, Myles Turner added 16 and Chris Duarte had 15 for Indiana. Oshae Brissett and Jordan Nwora scored 10 points apiece and T.J. McConnell had nine points and six assists.
Chicago lost despite a stellar effort by Zach LaVine, who made five 3-pointers and finished with 42 points. DeMar DeRozan scored 23 points, Patrick Williams added 14, Vucevic had 12 points and nine rebounds and Alex Caruso scored 10 points.
Lakers 113, Warriors 105
Anthony Davis led all scorers with 39 points, Dennis Schroder and Troy Brown buried key 3-pointers late and Los Angeles spoiled Stephen Curry's return with a victory over visiting Golden State.
Having missed 11 straight games with a partially torn ligament in his left knee, Curry paced the Warriors with 27 points in 32 minutes. But he missed a wide-open 3-pointer with Golden State down four with 1:14 to play. Klay Thompson backed Curry with 22 points for the Warriors, who saw a five-game winning streak -- all at home -- come to an end.
Austin Reaves chipped in with 16 points and Brown 14 for Los Angeles, which improved to 2-2 since LeBron James suffered a tendon injury in his right foot. Malik Beasley contributed 12 points to the win, Schroder 11 and Jarred Vanderbilt 10. Vanderbilt completed a double-double with a game-high 13 rebounds. Reaves had a game-high eight assists.
Nets 102, Hornets 86
Mikal Bridges scored 33 points as Brooklyn led most of the way in a victory over Charlotte in New York.
The Nets followed up their stirring comeback from a 28-point deficit Friday in Boston by leading for the final 43:36 and leading by as many as 37 points before withstanding a slight Charlotte charge in the fourth. Spencer Dinwiddie added 24 points as the Nets moved 2 1/2 games ahead of seventh-place Miami in the East. Joe Harris contributed 12 points and Cameron Johnson chipped in 11.
Kelly Oubre Jr. scored 17 points for Charlotte, which dropped its third straight. Terry Rozier added 16 points but shot 5-for-17 as the Hornets shot 37.5 percent.
Trail Blazers 122, Magic 119
Damian Lillard scored 41 points and Nassir Little sank a go-ahead 3-pointer with 35.2 seconds remaining in the fourth quarter to fuel visiting Portland to a victory over Orlando.
Lillard, who reached the 40-point plateau for the 14th time this season, sank 17 of 20 shots from the free-throw line to offset a 10-for-25 shooting performance from the floor and 4-for-16 effort from 3-point range. Lillard also had nine rebounds and six assists for Portland, which snapped a three-game skid. Jerami Grant collected 20 points, seven assists and six rebounds and Cam Reddish added 16 points.
Orlando rookie Paolo Banchero made all seven of his shots in the first half and finished with 26 points for the game. Franz Wagner had 24 points and Moritz Wagner, Markelle Fultz and Jalen Suggs each added 15 for the Magic, who have alternated wins and losses over their last 12 games.
Rockets 142, Spurs 110
Jalen Green scored 13 of his game-high 31 points in the third quarter as host Houston completed a back-to-back sweep of San Antonio.
Green shot 11 of 19 overall and finished 4 of 8 on 3-pointers. His backcourt mate, Kevin Porter Jr., added 19 points and 13 assists in his best performance since returning from a 20-game absence due to a foot injury. Alperen Sengun posted a double-double (15 points, 14 rebounds), while Tari Easton and Jae'Sean Tate tallied 17 and 16 points off the bench, respectively.
Keita Bates-Diop paced the Spurs with 17 points while Charles Bassey and Devonte' Graham scored 14 apiece. San Antonio surrendered 74 points in the paint and 34 points in transition.
Thunder 129, Jazz 119
Returning from a five-game absence, Shai Gilgeous-Alexander scored 38 points to lead Oklahoma City to a victory over visiting Utah.
Gilgeous-Alexander had been out with an abdominal strain and was in the league's health and safety protocol. The Thunder swept the two-game home set with the Jazz, who lost their third consecutive game. Jalen Williams added a career-high 32 points on 12-of-15 shooting and Josh Giddey added 24 points, nine rebounds and nine assists for Oklahoma City.
Jordan Clarkson returned after missing Utah's last two games with a thumb sprain, while Collin Sexton missed his fifth consecutive game with a left hamstring strain. Clarkson led the Jazz with 18 points but was just 6 of 15 from the floor. Clarkson added 12 assists. Walker Kessler (17 points, 10 rebounds) and Kelly Olynyk (15 points, 10 rebounds) each had double-doubles in the loss.
--Field Level Media