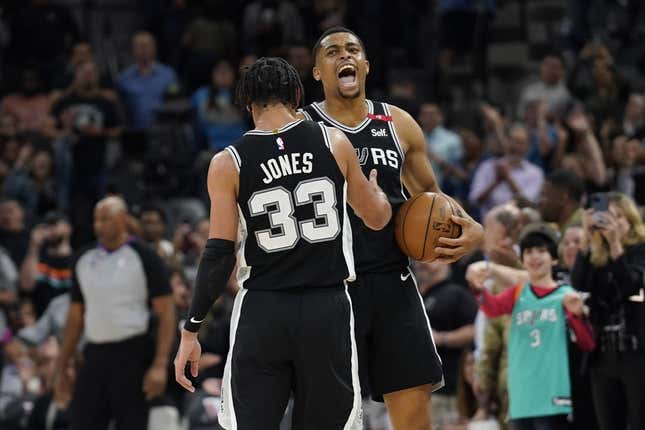 Keldon Johnson hit for 23 points and recently acquired Sandro Mamukelashvili scored all 11 of his points in the fourth quarter as the host San Antonio Spurs waylaid the Western Conference-leading Denver Nuggets 128-120 on Friday to snap a two-game losing streak.
How running an NFL team is like running a restaurant | Chef Emeril Lagasse
The Spurs were up by five points heading into the final period and by 123-116 after a ringing 3-pointer by Mamukelashvili with 2:33 to play. That seemed to put the Nuggets to sleep as San Antonio stretched its advantage to a game-high 12 points on Devin Vassell's layup a minute later.
Doug McDermott added 20 points and Jeremy Sochan 19 for San Antonio.
Nikola Jokic led all scorers with 37 points and added 11 rebounds and 11 assists for his NBA-leading 26th triple-double of the season. It was the first time the Nuggets have lost this year when Jokic had a triple-double. Jamal Murray added 24 points for Denver, which dropped its second straight game.
Nets 124, Timberwolves 123 (OT)
Dorian Finney-Smith sank the tiebreaking 3-pointer with 36.8 seconds left in overtime as visiting Brooklyn outlasted Minnesota.
Brooklyn's Mikal Bridges scored 34 points and hit the tying 3-pointer with 1:18 left in OT. Bridges reached 30 points for the sixth time since being acquired last month from the Phoenix Suns in the Kevin Durant trade. Spencer Dinwiddie logged 29 points and 11 assists as Brooklyn won for the fourth time in five games.
Anthony Edwards scored 32 points for the Wolves, who dropped their second straight despite shooting 57.4 percent in the first half. Rudy Gobert added 26 points and 13 rebounds but also missed four critical free throws in the fourth.
Lakers 122, Raptors 112
D'Angelo Russell returned from a six-game absence to score 28 points and Dennis Schroder added 23 as Los Angeles continued to find success without LeBron James, earning a victory over visiting Toronto.
Austin Reaves scored 18 points while Jarred Vanderbilt and Rui Hachimura added 16 each as Los Angeles improved to 4-2 since James went down with a foot tendon injury. The Lakers have won seven of their past nine games overall to move into a play-in tournament spot in the Western Conference.
Scottie Barnes scored 32 points and O.G. Anunoby had 31 as the Raptors ended a five-game road trip with a 1-4 record. Toronto will play seven of its next eight games at home as it clings to an Eastern Conference play-in tournament spot.
Hawks 114, Wizards 107
Trae Young's 3-pointer with 1:17 remaining capped his 28-point effort and helped Atlanta put away host Washington.
Young shot 6 of 10 from beyond the arc to pace Atlanta to a 15-of-31 performance (48.4 percent) from long range. His nine assists were a game high. Bogdan Bogdanovic shot 4 of 8 from behind the arc and finished with 15 points off the bench. De'Andre Hunter finished with 18 points and Dejounte Murray scored 16 to go with seven assists.
Washington shot just 7 of 27 (25.9 percent) from 3-point distance. At 3-of-7, Kristaps Porzingis was the only Wizard to make more than one triple. Bradley Beal scored a team-high 27 points for the Wizards, and Porzingis had 22 points and a team-high nine rebounds. Kyle Kuzma added 17 points.
Heat 119, Cavaliers 115
Jimmy Butler scored 12 of his team-high 33 points in the fourth quarter to help rally Miami past visiting Cleveland.
Butler shot 12 of 16 from the field while Tyler Herro drained 5 of 7 from 3-point range and finished with 25 points for Miami, which overcame a 14-point deficit in the third quarter to earn a split of the two-game series in South Florida. Bam Adebayo finished with 19 points and has scored in double figures in all 63 of his games played this season for the Heat.
Donovan Mitchell finished with 42 points in 42 minutes for his ninth game of at least 40 points this season for the Cavaliers. Darius Garland, who led Cleveland with 25 points in a 104-100 win over the Heat on Wednesday, missed Friday's game with a thigh contusion.
76ers 120, Trail Blazers 119
Joel Embiid hit a fadeaway 15-foot jump shot from the foul line with 1.5 seconds remaining to lift host Philadelphia past Portland.
It was the Sixers' only lead. Embiid scored 39 points and James Harden added 19 points, nine rebounds and eight assists for the Sixers, who rallied from 21 down for their fourth win in a row.
Anfernee Simons returned from an ankle injury to hit eight 3-pointers and score 34 points for the Trail Blazers. Jerami Grant added 24 points and 10 rebounds and Damian Lillard had 22 points, 11 assists and six rebounds. Cam Reddish scored 14 points and Jusuf Nurkic had 11.
--Field Level Media