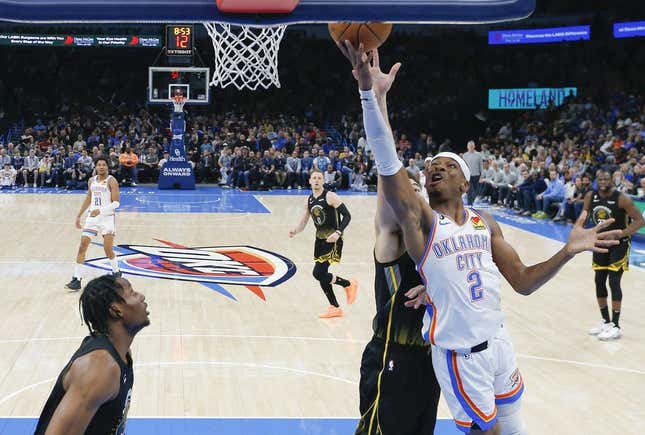 Shai Gilgeous-Alexander scored 33 points and Josh Giddey had a career-high 17 assists in a triple-double to lift the Oklahoma City Thunder to a 137-128 win over the visiting Golden State Warriors on Tuesday.
Is Texas or Florida State a bigger national title contender? | Agree to Disagree
The duo helped the Thunder overcome a 40-point game from the Warriors' Stephen Curry, who was 10 of 16 on 3-pointers. Oklahoma City has won three consecutive games since losing five straight after the All-Star break. The Warriors had won eight consecutive games over the Thunder, including both prior meetings this season.
Giddey assisted on five of the Thunder's first seven baskets in the fourth quarter, and he scored one other. Giddey finished with 17 points and 11 rebounds for his seventh career triple-double and third this season. Gilgeous-Alexander was 14 of 24 from the field as Oklahoma City shot 53.2 percent.
Klay Thompson scored 23 points for Golden State while Jonathan Kuminga added 21. Early in the fourth, the Warriors pulled within three points before the Thunder took control again with a 14-2 run.
Wizards 119, Pistons 117
Daniel Gafford scored on a putback as time expired, and Washington handed host Detroit its ninth straight loss.
Bradley Beal led the Wizards with 32 points, seven rebounds and seven assists, while Kristaps Porzingis had 24 points and seven rebounds.
Jaden Ivey led Detroit with 26 points and 12 assists. James Wiseman had 21 points, and Marvin Bagley III and Eugene Omoruyi added 15 apiece. The game was originally scheduled to be played Feb. 1 but was postponed after the Pistons got stuck in Dallas due to poor weather conditions.
Mavericks 120, Jazz 116
Kyrie Irving scored 17 of his 33 points in the fourth quarter to help Dallas withstand a challenge by short-handed Utah in a home victory.
Luka Doncic added 29 points, 10 rebounds and six assists, and Tim Hardaway Jr. fired in seven 3-pointers en route to 24 points as Dallas closed out a six-game homestand with a victory.
Lauri Markkanen led the Jazz with 33 points of his own and Talen Horton-Tucker added 21 in a starting role. Kris Dunn contributed 11 points, eight rebounds and five assists off the bench in Utah's fourth straight loss.
Bucks 134, Magic 123
Brook Lopez scored 26 points to lead six players in double figures as Milwaukee extended its road winning streak to nine games with a victory over host Orlando.
Khris Middleton had 24 points and 11 assists, Jevon Carter added 24 points and Bobby Portis Jr. had 16 points and 11 rebounds for Milwaukee, which played without starters Giannis Antetokounmpo (non-COVID-19 illness) and Jrue Holiday (neck soreness). Milwaukee maintained a double-digit lead for most of the second half and recorded its 14th straight regular-season win over the Magic.
Cole Anthony had 23 points to lead Orlando, which has lost four of its last six. Franz Wagner scored 21 points, while Paolo Banchero added 20. The Magic trailed by 10 to begin the fourth quarter and were unable to keep pace with the Eastern Conference-leading Bucks, who stretched their lead to 126-110 on Carter's jumper with 4:35 remaining.
76ers 117, Timberwolves 94
Joel Embiid had 39 points, seven rebounds and three blocked shots to easily lift Philadelphia past Minnesota in Minneapolis.
It was Embiid's 150th career game with at least 30 points, third in franchise history behind Allen Iverson (303) and Charles Barkley (154). He scored 22 points in the third quarter and was 13-for-22 in the game, including 4-for-4 from 3-point range. He also hit all nine of his free throws.
Tyrese Maxey added 27 points for the Sixers, who completed a five-game road trip with a 4-1 record. Anthony Edwards scored 32 points for Minnesota, which saw its three-game winning streak end.
Hornets 112, Knicks 105
Kelly Oubre Jr. scored 27 points and hit a key 3-point shot in the final minute as visiting Charlotte ended New York's nine-game winning streak.
Terry Rozier had 25 points and Gordon Hayward poured in 23 points for the Hornets. RJ Barrett scored 17 of his 27 points in the first half for the Knicks, who had a letdown after winning Sunday night at Boston. Julius Randle scored 16 points, but he mostly struggled, shooting 5-for-17 from the field.
Hayward's three-point play with 2:59 left sent the Hornets to a 103-100 lead. Oubre's third 3-pointer of the game opened a five-point edge with less than a minute to play, and Charlotte hung on from there.
Nets 118, Rockets 96
Mikal Bridges posted his third consecutive 30-point game, Spencer Dinwiddie added 23 points and Brooklyn extended its victory streak to three games by beating host Houston.
Bridges finished with 30 points and five assists to pace a balanced Nets scoring attack that featured a double-double from Nic Claxton (18 points, 13 rebounds) and a combined 35 points from Joe Harris, Seth Curry and Royce O'Neale off the bench.
Houston had its modest two-game winning streak snapped. Jalen Green led the Rockets with 25 points while Alperen Sengun added 16 points and 12 rebounds but had four turnovers. Jabari Smith Jr. finished with 15 points and eight rebounds for the Rockets, who gave the ball away 19 times.
--Field Level Media