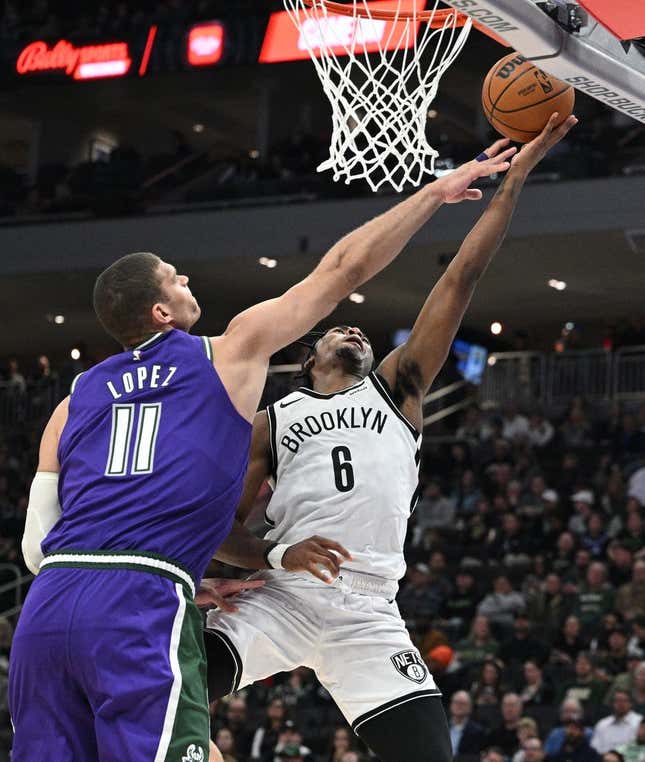 Bobby Portis led all players with 28 points and 13 rebounds, and Brook Lopez added 24 and 10 as the short-handed Milwaukee Bucks took down the visiting -- and likewise short-handed -- Brooklyn Nets 118-113 on Thursday.
Is Texas or Florida State a bigger national title contender? | Agree to Disagree
Lopez also finished with a career-high nine blocks, the most by a player in an NBA game this season. Grayson Allen finished with 19 points while Jrue Holiday and Khris Middleton each had 11. The balanced contributions were particularly key with Giannis Antetokounmpo out of the lineup with right hand soreness.
Brooklyn was led by Patty Mills (23 points) and Cam Thomas (21) -- both coming off the bench. Mikal Bridges, who had averaged more than 26 points per game since being acquired from Phoenix, was limited to just 10 points on 4-for-13 shooting.
The Bucks won their third straight and have won 19 of their last 20 games. Brooklyn saw its three-game winning streak snapped while playing without Ben Simons, Nic Claxton, Spencer Dinwiddie, Cameron Johnson and Royce O'Neale.
Kings 122, Knicks 117
Domantas Sabonis recorded 24 points, 13 rebounds and 10 assists for his ninth triple-double of the season to lead Sacramento over visiting New York.
De'Aaron Fox scored 15 of his 23 points in the fourth quarter to help the Kings win for the seventh time in eight games. Malik Monk added 19 points, Trent Lyles had 16 and Kevin Huerter chipped in 14 for Sacramento.
RJ Barrett had 25 points, Julius Randle amassed 23 points and 10 rebounds and Quentin Grimes scored 19 points as New York lost its second straight game following a season-best nine consecutive victories. Jalen Brunson aggravated his left foot injury and missed the second half. He scored 19 points in 19 first-half minutes in his return from a two-game absence.
Grizzlies 131, Warriors 110
Tyus Jones scored 22 points in Ja Morant's starting spot, Jaren Jackson Jr. and Desmond Bane chipped in 21 apiece the Memphis overcame the absence of their star to overpower visiting Golden State.
Facing the Warriors at home after the first two meetings had been in San Francisco, the Grizzlies exploded for a 48-point first quarter en route to a 20-point lead. Memphis buried eight 3-pointers in the 12 minutes, with Jackson, Jones and Luke Kennard hitting two apiece.
Making four of his eight 3-point attempts, Stephen Curry led all scorers with 29 points for Golden State, which completed a winless three-game trip. The Warriors have lost eight straight on the road dating back to Jan. 30 and fell to 7-26 away from home.
Jazz 131, Magic 124
Kris Dunn scored 10 fourth-quarter points, Lauri Markkanen scored two of his game-high 31 points on a contested runner with 10.8 seconds remaining, and Utah snapped a four-game skid with a defeat of host Orlando.
Markkanen's big, late basket put a fitting exclamation point on Utah's 64-50 advantage in the paint. The score extended Utah's lead to two possessions at the end of what was a closely contested game throughout -- though the Jazz led for much of the time.
Three Orlando starters scored at least 24 points: Franz Wagner with 24, Markelle Fultz with 25, and Banchero with 26. Banchero also grabbed a team-high eight rebounds in the loss. Jalen Suggs led the Magic reserves with 17 points, but finished just 1-for-5 from 3-point range.
Hornets 113, Pistons 103
Kelly Oubre Jr. had 27 points and Charlotte handed host Detroit its 10th consecutive loss.
Terry Rozier filled the stat sheet with 21 points, nine assists, six rebounds, two blocks and two steals. P.J. Washington had 20 points, five rebounds and three blocks, while Dennis Smith Jr. added 14 points for Charlotte, which has won two straight after a three-game losing streak.
Cory Joseph's 17 points off the bench led Detroit. James Wiseman supplied 16 points and 13 rebounds. Jaden Ivey had 16 points and six assists but also committed seven turnovers. Isaiah Livers added 13 points.
Pacers 134, Rockets 125 (OT)
Tyrese Haliburton followed his first 3-pointer of the game with a driving dunk on the ensuing possession to carry Indiana to an overtime victory over visiting Houston.
Haliburton scored 12 of his 29 points in the extra period. He added a career-high 19 assists and took over down the stretch after Myles Turner fouled out after posting 21 points and a season-high seven blocks for the Pacers.
Rockets rookie Jabari Smith Jr. finished with a career-high 30 points and added a dozen rebounds while Jalen Green scored 24 for Houston.
--Field Level Media