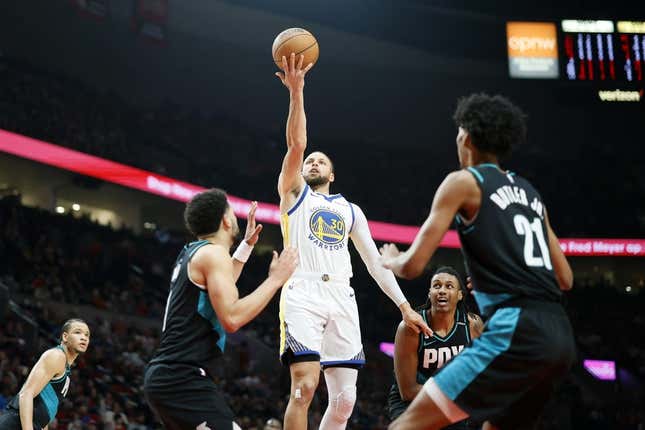 Stephen Curry poured in 26 points in 22 minutes and the Golden State Warriors produced a record-setting first quarter as they clinched a Western Conference playoff spot with a 157-101 shellacking of the host Portland Trail Blazers on Sunday afternoon.
All 13 players who suited up scored for the Warriors, who wound up in sixth place in the West. The Los Angeles Clippers won at Phoenix to finish tied with Golden State, but Los Angeles held the tiebreaker to earn the fifth seed. The Warriors draw the third-seeded Kings in the first round of the playoffs.
Needing a win to assure themselves a playoff spot, the Warriors wasted no time leaving the Trail Blazers in the dust. They set an NBA record for first-quarter points with 55, making 20 of 29 shots overall and 12 of 18 from 3-point range en route to a 28-point lead. In wrapping up the regular season on an 8-2 roll, the Warriors shot 60.4 percent overall and 55.1 percent (27 of 49) from deep. The 27 treys tied a franchise record.
All five Trail Blazers starters scored in double figures, led by Skylar Mays with 21 points. Mays also handed out a game-high 12 assists. Shaedon Sharpe added 18 points to go with a team-high seven rebounds, while Jeenathan Williams had 17 points for Portland.
Clippers 119, Suns 114
Norman Powell scored 29 points off the bench, Kawhi Leonard and Russell Westbrook added 25 apiece and visiting Los Angeles secured the No. 5 seed in the Western Conference playoffs with a win over Phoenix.
Leonard scored the last eight points for the Clippers and finished with a season-high 15 rebounds plus six assists. Bones Hyland scored 11 points and Ivica Zubac had 10 points and eight rebounds for the Clippers, who won despite shooting 5 of 23 (21.7 percent) from 3-point range and 16 of 24 (66.7 percent) from the foul line.
Saben Lee led Phoenix with a career-high 25 points and a season-high nine assists. Darius Bazley scored 16 points, Jock Landale added 15, Landry Shamet had 14 and Josh Okogie and Terrence Ross chipped in 13 apiece. The Suns rested starters Kevin Durant, Devin Booker, Chris Paul and Deandre Ayton.
Timberwolves 113, Pelicans 108
Karl-Anthony Towns scored 30 points and Minnesota won in Minneapolis to move past New Orleans into eighth place entering the Western Conference play-in tournament.
Anthony Edwards added 26 points and 13 rebounds, Taurean Prince scored 18 points and Mike Conley had 17 points and seven assists for the Timberwolves, who tied the Pelicans' regular-season record of 42-40 but won the season series 2-1. New Orleans' Brandon Ingram had 42 points and 12 rebounds, CJ McCollum scored 23 points and Trey Murphy III had 20.
Wolves center Rudy Gobert was removed from the game in the second quarter after throwing a punch at teammate Kyle Anderson. Forward Jaden McDaniels also exited the game, reportedly sustaining a fractured hand after punching a wall in the tunnel late in the first quarter.
Heat 123, Magic 110
Long-time veteran Udonis Haslem scored a game-high 24 points in his final regular-season contest as Miami defeated visiting Orlando in the regular-season finale for both teams.
Both teams sat their leading scorers -- Orlando's Paolo Banchero, who is the frontrunner for NBA Rookie of the Year, and Miami's Jimmy Butler. Banchero, who leads all NBA rookies in scoring, had back tightness. Butler was rested for the second straight game with the play-in tournament looming. Kevon Harris led Orlando with 22 points.
Banchero, 20, is less than half the age of Haslem, 42, who has announced his retirement. Haslem, a Miami native, played his entire 20-year career with the Heat, and he's the franchise's all-time leading rebounder, ranking second in games played.
Celtics 120, Hawks 114
Payton Pritchard had a game-high 30 points, 14 rebounds and 11 assists to help Boston defeat visiting Atlanta.
Pritchard made a career-high nine of his 16 3-point attempts. Boston received 27 points from Mike Muscala and a solid boost from Sam Hauser, who established career highs of 26 points and eight 3-pointers.
Bruno Fernando and Garrison Mathews each tossed in 19 points for Atlanta. The Hawks rested Trae Young (groin), Bogdan Bogdanovic (knee), Clint Capela (calf) and John Collins (back). Young (26.2 points per game) is the team's leading scorer, and Capela leads the Hawks in rebounds (11 per game).
Lakers 128, Jazz 117
LeBron James scored 36 points with eight 3-pointers to lift Los Angeles to a victory over visiting Utah.
The Lakers failed to earn themselves a guaranteed playoff spot. The No. 7 seed Lakers will host the eighth-seeded Minnesota Timberwolves on Tuesday in the play-in round.
Anthony Davis contributed 16 points, 13 rebounds, four blocks and three steals in the win, while D'Angelo Russell scored 17 points as the Lakers won for the ninth time in 11 games. Kris Dunn scored 26 points with 10 rebounds and eight assists to lead the Jazz, who again played without their starting lineup and a couple of other key players.
Bulls 103, Pistons 81
Zach LaVine had a team-high 17 points and DeMar DeRozan scored 16, and Chicago warmed up for a date in the NBA play-in tournament with an easy victory over visiting Detroit.
With nothing to lose or gain in the standings, the Bulls played their regular starting lineup against the Pistons and failed to take control of the game until a reserve-filled final period. No Chicago starter went more than 26 minutes.
After the game, Pistons coach Dwayne Casey stepped down after five seasons. Killian Hayes was the top scorer with 26 points for Detroit, which completed the second-losingest season in franchise history. The NBA-worst Pistons will join the San Antonio Spurs and Houston Rockets with the best odds of winning next month's draft lottery.
Hornets 106, Cavaliers 95
Bryce McGowens and Mark Williams both scored career highs with 22 points, fueling Charlotte's win over host Cleveland.
Charlotte missed its first 24 attempts from 3-point range, a drought that did not end until James Bouknight connected with 1:59 to go in the third quarter. The Hornets then went on a 20-6 run to start the fourth quarter.
Cleveland was without Donovan Mitchell, Isaac Okoro and Darius Garland as its three-game winning streak came to an end. Evan Mobley and Jarrett Allen each played 12 minutes. Sam Merrill led the patchwork lineup with 17 points.
76ers 134, Nets 105
Mac McClung scored a career-high 20 points as Philadelphia led most of the way and overcame a 46-point performance by Cam Thomas to defeat Brooklyn in New York.
The 76ers finished as the Eastern Conference's third seed and will start the playoffs next weekend at home against sixth-seeded Brooklyn. Shake Milton collected 20 points and eight assists while Louis King also finished with 20 points in his Philadelphia debut. Paul Reed totaled 17 points and 10 rebounds as the Sixers shot 52.5 percent.
Thomas finished one point shy of his career high and had his fourth career 40-point game. RaiQuan Gray added 16 points in his NBA debut and David Duke Jr. finished with 15 as the Nets shot 42.2 percent.
Pacers 141, Knicks 136
Bennedict Mathurin scored 26 points to lead seven Indiana players in double figures in a win over host New York.
Jordan Nwora and Andrew Nembhard scored 19 points apiece for Indiana, which shot 51.7 percent from the field and 19 of 34 (55.9 percent) from 3-point range.
Obi Toppin led New York with 34 points and Immanuel Quickley added 30. The Knicks, who are locked into the No. 5 seed in the Eastern Conference, played without starters Julius Randle (sprained left ankle) and Jalen Brunson (right hand maintenance).
Rockets 114, Wizards 109
Jabari Smith Jr. concluded his rookie season with his 12th 20-point performance, helping Houston overcome a 16-point deficit and post a win over host Washington.
Smith scored a team-high 20 points and grabbed five rebounds as the Rockets closed the regular season with a three-game winning streak. All five Houston starters scored in double figures for an NBA-best 31st time this season, as Jalen Green added 14 points and Alperen Sengun tallied 12 points, 12 rebounds and six assists.
Washington, which was down eight rotation players, was led by Jordan Goodwin (22 points) and Quenton Jackson, who added 19 points off the bench. Corey Kispert tallied 18 points and hit five 3-pointers.
Raptors 121, Bucks 105
Gary Trent Jr. scored 23 points to lift Toronto over visiting Milwaukee.
Malachi Flynn added a season-best 20 points and Precious Achiuwa collected 14 points and 13 rebounds for the Raptors.
Lindell Wigginton scored 17 points and Bobby Portis had 16 for the Bucks. Thanasis Antetokounmpo and Goran Dragic each scored 14 points, Jae Crowder added 13 and Meyers Leonard recorded 10 points and 12 rebounds.
Spurs 138, Mavericks 117
Dominick Barlow posted a career high in scoring and rebounds to lead four San Antonio players with double-doubles, lifting the visiting Spurs over Dallas in the season finale for two teams missing the playoffs.
Barlow finished with 21 points and 19 rebounds and Sandro Mamukelashvili racked up 23 and 11, respectively. Malaki Branham scored 20 points, Keita Bates-Diop had 17, Julian Champagnie amassed 16 points and 10 rebounds and Gorgui Dieng tallied 13 points and 10 boards for the Spurs.
Jaden Hardy led all scorers with 25 points, with Theo Pinson forging a triple-double (23 points, 13 rebounds, 12 assists) for the Mavericks. Davis Bertans added 19 points and McKinley Wright IV had 13.
Nuggets 109, Kings 95
Bruce Brown collected 21 points, six rebounds and six assists to lead Denver to a win over visiting Sacramento.
Brown led seven Nuggets scoring in double figures, as a variety of reserves stepped up with Nikola Jokic, Michael Porter Jr., Jamal Murray and Aaron Gordon on the sidelines. Denver made 50 percent of its shots from the floor (42 of 84).
Harrison Barnes led Sacramento with 17 points. Domantas Sabonis scored 14 points on 6-of-9 shooting and grabbed nine rebounds but played under 19 minutes. De'Aaron Fox, who scored 13 points, played less than 18 minutes.
Thunder 115, Grizzlies 100
Tre Mann posted his first career triple-double by scoring 24 points along with career bests of 12 rebounds and 12 assists as host Oklahoma City pulled away in the fourth quarter for a victory over Memphis in a game without playoff implications.
Two-way player Jared Butler led the Thunder with a career-high 25 points on 10-of-21 shooting as the Thunder shot 50 percent. Olivier Sarr contributed 22 points and a career-best 15 boards while Ousmane Dieng also finished with a career-high 22 points as the Thunder scored 60 points in the paint.
Memphis rookie Kenneth Lofton Jr. took advantage of increased playing time and led all scorers with a career-high 42 points and 14 rebounds. Lofton made 17 of 25 shot attempts and exceeded his previous career high of 11 points.
--Field Level Media