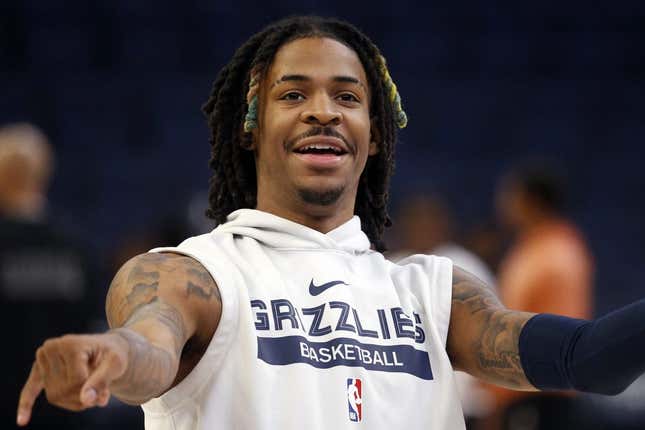 The NBA suspended Memphis Grizzlies star Ja Morant for 25 games without pay on Friday for brandishing a handgun in a viral video for the second time
How running an NFL team is like running a restaurant | Chef Emeril Lagasse
The suspension for conduct detrimental to the league covers the first 25 games of the 2023-24 regular season and includes conditions for reinstatement. He is ineligible to participate in any public league or team activities, including preseason games, during the course of his suspension.
"Ja Morant's decision to once again wield a firearm on social media is alarming and disconcerting given his similar conduct in March for which he was already suspended eight games," NBA commissioner Adam Silver said. "The potential for other young people to emulate Ja's conduct is particularly concerning. Under these circumstances, we believe a suspension of 25 games is appropriate and makes clear that engaging in reckless and irresponsible behavior with guns will not be tolerated.
"For Ja, basketball needs to take a back seat at this time. Prior to his return to play, he will be required to formulate and fulfill a program with the league that directly addresses the circumstances that led him to repeat this destructive behavior."
Based on his $33.5 million salary for 2023-24, the suspension will cost Morant approximately $10.2 million.
The video, which was on Instagram Live, featured Morant waving a gun while sitting in the passenger's seat of a car while listening to rap music. The clip was released on May 13, and the Grizzlies suspended the guard from all team activities the following day
It was the second time in three months that Morant was caught with a firearm on social media. He previously was suspended eight games and sought counseling after a March 4 incident in which he filmed himself holding a gun at a Denver strip club following a 113-97 loss to the Nuggets.
Ahead of Game 1 of the NBA Finals, Silver said the "history of prior acts" and "the individual player's history" would be taken into account when the league made its decision on Morant's punishment.
Morant, 23, is coming off his fourth season with Memphis after the Grizzlies selected him with the second overall pick in the 2019 draft. A two-time All-Star, Morant averaged 26.2 points, 5.9 rebounds and 8.1 assists in 61 games (59 starts) in 2022-23
--Field Level Media