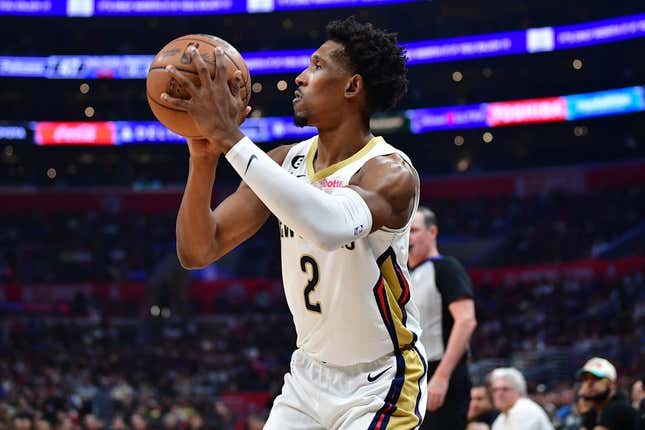 Once the NBA's free agency negotiation period began Friday, plenty of reported deals -- including Kyrie Irving staying with the Dallas Mavericks and Draymond Green remaining with the Golden State Warriors -- made the headlines, but there were several other moves worth noting.
How running an NFL team is like running a restaurant | Chef Emeril Lagasse
The contract agreements with free agents become official July 6, per NBA free agency rules.
Here's a look at several deals that were reportedly agreed to on Friday:
--The Miami Heat re-signed forward Kevin Love and added guard Jason Richardson, according to ESPN. The Athletic also reported that the Heat were set to trade Victor Oladipo to the Oklahoma City Thunder.
Love, who will turn 35 before next season, turned his career around with Miami and played a key role in the team's run to the NBA Finals.
A second-round pick of the Heat in 2015, Richardson, 29, gives his original team depth after Gabe Vincent reportedly joined the Los Angeles Lakers.
Oladipo, 31, spent 2 1/2 seasons in Miami. He previously played for Oklahoma City in 2016-17.
--Joe Ingles landed a deal with the Orlando Magic.
A key contributor off the bench for the Milwaukee Bucks last season, the 35-year-old forward is getting a two-year, $22 million contract with the Orlando Magic, per ESPN.
--Former MVP Derrick Rose is set to join the Memphis Grizzlies. The 34-year-old guard was a bit-part player for the New York Knicks last season.
--Forward Herb Jones is sticking with the Pelicans. Jones, 24, had declined his option on a minimum salary, opting instead to agree on a four-year, $54 million deal to stay with New Orleans, per an ESPN report.
--Veteran guard Dennis Schroeder is joining the Raptors. After losing star guard Fred Van Vleet to the Houston Rockets, Toronto landed Schroeder, 29, with a two-year deal worth a reported $26 million.
--Guard Reggie Jackson, 33, and center DeAndre Jordan, 34, will stay with the reigning NBA champion Denver Nuggets. Jackson's deal is reportedly for two years and $10.25 million.
--Seth Curry, 32, is back for a third stint with the Mavericks, landing a two-year contract. The former Nets guard, one of the NBA's best 3-point shooters, Curry played for Dallas in 2016-17 and again in 2019-20.
--The Minnesota Timberwolves are signing guard Shake Milton and forward Troy Brown. Milton, 26, formerly of the Philadelphia 76ers agreed to a two-year, $10 million deal, per an ESPN report. Brown, 23, played for the Lakers last season.
--The San Antonio Spurs retained forward Julian Champagnie with a four-year, $12 million contract. Champagnie, 22, signed with the team in February after he was waived by the Sixers. He averaged 11 points per game for San Antonio last season.
--The Boston Celtics agreed to a deal with forward Oshae Brissett, 25. According to ESPN, Brissett will get a player option for the second year of the contract.
--Field Level Media