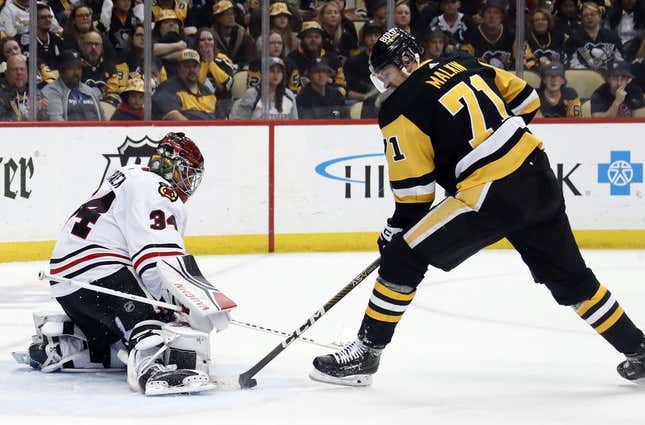 There could be a lot on the line, or maybe little to nothing, on Thursday when the Pittsburgh Penguins visit the Columbus Blue Jackets
Does Jimmy Butler have the best NBA Finals origin story? | Agree to Disagree
The Penguins (40-31-10, 90 points), who will be playing their regular-season finale, squandered a chance to improve their standing following a 5-2 setback to the Chicago Blackhawks on Tuesday
A win that night and one at Columbus would have assured Pittsburgh of a wild-card spot in the Eastern Conference. By falling to the Blackhawks, one of the worst teams in the NHL, the Penguins allowed the Florida Panthers to clinch a playoff spot while leaving themselves awaiting Wednesday's results
If the New York Islanders (41-31-9, 91 points) record at least one point against the Montreal Canadiens on Wednesday, they will claim the final postseason spot in the East and eliminate Pittsburgh.
That turn of events left the Penguins downcast
"No words," said Pittsburgh center Evgeni Malkin, who tied the game with Chicago early in the third period before Pittsburgh allowed two goals just 26 seconds apart en route to the painful loss.
"We should win here at home. We understand how important this game was for us."
Journeyman Blackhawks goaltender Petr Mrazek played the villain, making 38 saves. That included all eight shots sent his way by Pittsburgh captain and leading scorer Sidney Crosby.
Crosby, Malkin and fellow core player Kris Letang have made the playoffs with Pittsburgh for 16 straight seasons -- the longest current streak in North American pro sports -- and have won three Stanley Cups.
That streak is in jeopardy.
"We've just got to worry about ourselves, and, hopefully, we get a chance. It's in our hands," Crosby said.
Columbus, meanwhile, sits last in the league standings and has so many injuries -- many to key players -- that only 17 skaters were available to dress for Tuesday's 4-3 overtime loss at Philadelphia when team captain Boone Jenner was a late scratch.
That loss, coupled with Chicago's win at Pittsburgh, cleared a path for the Blue Jackets (24-27-9, 57 points) to "claim" last place and therefore give themselves the best chance -- 25.5 percent -- at the first overall pick in the NHL draft lottery
Columbus has another game, Friday against Buffalo in a makeup game for one that was postponed by a storm.
Lose out, and the Blue Jackets can select Connor Bedard, the consensus top prospect, in the draft
They are 1-6-2 in their last nine games.
However, the idea of tanking doesn't sit well with Columbus.
"We know where we're at. I'm not ignorant. I mean, I know exactly where we're at," Blue Jackets coach Brad Larsen said
"But it doesn't change how we approach the game. The way it's talked (about) outside (the team) and by, maybe, certain fans or media, that's on them. We go out (and) these guys are here to perform and play hard. We're trying to win."
Center Sean Kuraly was equally defiant.
"We're here to play hockey," Kuraly said. "There's a lot going on. I'm not going to lie to you. There's stuff going on. That's the outside. We're not oblivious, but the sole purpose is to ... get 20 guys to win a hockey game."
Assuming, of course, Columbus has 20 healthy players available come game time.
--Field Level Media