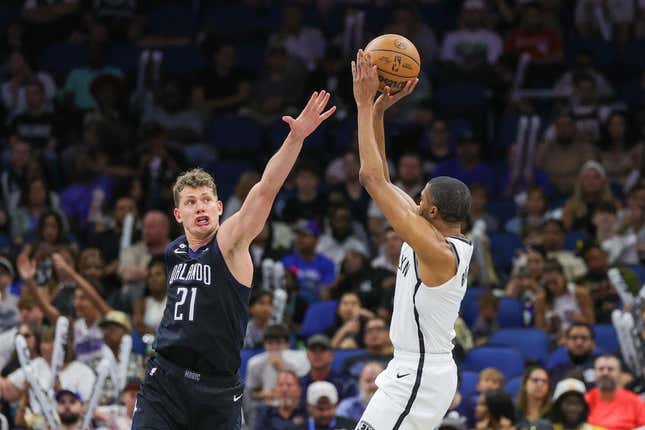 The Brooklyn Nets were hoping to spend their day off on Thursday watching the Philadelphia 76ers beat the Miami Heat
Bass' ERA stinks, but not compared to who he is off the mound | Worst of the Week Countdown
After the 76ers failed to provide assistance, the Nets must rely on their abilities to clinch the sixth seed in the Eastern Conference on Friday night when they host the Orlando Magic
Brooklyn (44-36) has a magic number of one to clinch the sixth seed and tips off about 30 minutes after the Heat (43-37) start their Friday road game against the Washington Wizards. The Nets own the head-to-head tiebreaker on the Heat, who cruised to a 129-101 win in Philadelphia, with each team having two games to go
If the Nets clinch by getting a win or watching Miami lose on Friday, Brooklyn would be locked into a first-round matchup with the 76ers. Philadelphia beat the Nets in five games during an opening-round series in the 2019 playoffs, right before Brooklyn acquired Kevin Durant and Kyrie Irving
The Nets and 76ers conclude the regular season with a head-to-head matchup on Sunday afternoon in Brooklyn
Brooklyn bounced back from a 107-102 home loss to the Minnesota Timberwolves on Tuesday by recording a 123-108 win over the host Detroit Pistons on Wednesday. In the latter contest, the Nets let a 19-point lead slip to four in the third quarter before outscoring the Pistons 27-18 in the final period
"We knew our magic number was two. Now it's one," Brooklyn guard Spencer Dinwiddie said, "so we could control our own destiny with two games to go and that was our only focus. Not dropping one or not putting pressure on both games. Hopefully getting the Magic game and hopefully sitting the Philly game.
The Nets would like to repeat some of the things that unfolded Wednesday such as scoring 47 points in the first quarter, shooting 52.3 percent from the floor and hitting 17 3-pointers. It was the 34th time Brooklyn shot at least 50 percent and 23rd time the Nets made at least 15 treys
Mikael Bridges scored 26 points, Nic Claxton added 19, Joe Harris hit six 3-pointers and contributed 18 while Dinwiddie offset 1-for-10 shooting by tying a career high with 16 assists. The Nets played without Dorian Finney-Smith, but he is listed as probable for Friday after sitting Wednesday due to a right wrist contusion
Orlando (34-46) is 5-3 over its past eight games, including a 119-106 home win over Brooklyn on March 26. If the race for sixth extends to Sunday, the Magic will be involved again, as they visit the Heat in the season finale
The Magic were officially eliminated from the race for a play-in spot with a 117-113 home loss to the Cleveland Cavaliers on Tuesday. On Thursday, Orlando scored 42 points in the first quarter but wound up with a 118-94 loss to Cleveland when the Magic sat their starters and shot 28.3 percent over the final three quarters
The Magic sat rookie Paolo Banchero (back), Franz Wagner (ankle), Wendell Carter Jr. (hip), Gary Harris (hip) and Markelle Fultz (knee), and each player might sit out again Friday
Without their usual starters, Orlando went with Chuma Okeke, Bol Bol, Moritz Wagner, Jalen Suggs and Caleb Houstan. Suggs scored 22 for his fifth 20-point game of the season while Bol finished with 18 after sitting out the previous seven games.
"They're so deserving of it," Orlando coach Jamahl Mosley said of his reserves. "They've worked their tails off all year. They've competed with these guys who've been in starting lineups. They've started at times. It's an opportunity for them to keep getting better, continue to evaluate and like anybody who puts that uniform on, they're going to compete."
--Field Level Media