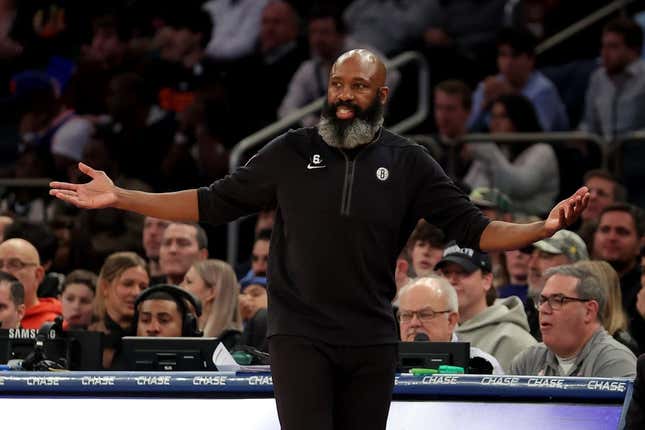 For the second time in less than a week, the Brooklyn Nets came back from a big deficit to turn an apparent blowout into a competitive battle with an elite Eastern Conference opponent.
How running an NFL team is like running a restaurant | Chef Emeril Lagasse
Unlike last week's win at Boston, however, the Nets were not playing with a full complement of players as they opted to play the rest card in Milwaukee on Thursday night, resulting in a 118-113 loss.
The players who either sat out or played limited minutes against the Bucks are expected to be available Friday night, though, when the Nets visit the Minnesota Timberwolves (themselves locked in a dogfight to stay in the top six of the Western Conference).
Brooklyn won three straight, all by double-digits, starting with last Friday's 115-105 win over the Celtics during which the Nets erased a 28-point deficit. Following impressive wins over the Charlotte Hornets and Houston Rockets, the Nets opted to sit Nic Claxton, Spencer Dinwiddie, Cam Johnson and Royce O'Neale while also limiting Mikal Bridges and Dorian Finney-Smith to no more than 12 minutes in the 118-113 loss at Milwaukee.
Claxton sat out with a right thumb sprain, Johnson was out due to a sore right knee and O'Neale sat out with a sore left knee. Spencer Dinwiddie was merely rested after playing at least 35 minutes in four of his previous six games.
"It's just how the schedule presented itself," Brooklyn coach Jacque Vaughn said. "We had guys who had some nagging (injuries). ... So, (this is) a chance for us to listen to those nagging injuries and be smart about what this stretch of the season looks like."
The Nets nearly erased a 22-point deficit thanks to an impressive performance from their reserves Thursday. Patty Mills scored 23 points and Cam Thomas added 21 -- both off the bench -- as Brooklyn's second unit totaled 98 points.
"We picked up the energy," Thomas said after playing 26 minutes. "We started getting on the glass and getting stops. That was the main key -- getting stops, getting down and running and playing faster."
Minnesota enters Friday in seventh place but tied for the sixth and final guaranteed playoff spot with Golden State. The Timberwolves also have had two days off to correct their mistakes after shooting a season-low 39.5 percent in a 117-94 home loss to the Philadelphia 76ers on Tuesday. After winning the final three games of their four-game road trip, the Wolves were held under 100 points for the fourth time this season and allowed 49.4 percent shooting.
"We've been hitting shots," Minnesota guard Anthony Edwards said. "We've been shooting great from the 3-ball. Nights like this are bound to happen. You've got to get over it, look to the next game. Hopefully, we're back to ourselves."
Edwards scored 32 points on 12-of-24 shooting against the 76ers, but Minnesota's four other starters were a combined 7-for-25. One of those was Rudy Gobert, held to six points after scoring 51 during Minnesota's three-game winning streak.
"Obviously we've got really good offensive players who can get good shots, so I think we've got to find great shots in our offense," Minnesota's Kyle Anderson said. "You've got to work a little harder to do that, and I don't think we did that tonight."
--Field Level Media