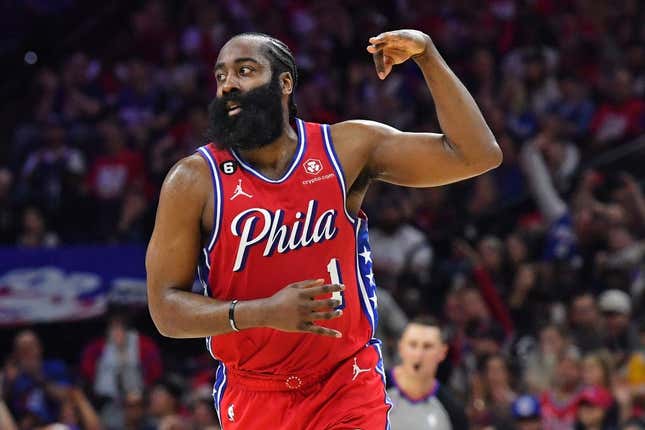 The Philadelphia 76ers had the perfect response to the Brooklyn Nets' constant double-teams against Most Valuable Player candidate Joel Embiid
Bass' ERA stinks, but not compared to who he is off the mound | Worst of the Week Countdown
When the big man passed out of the coverage on Saturday, the Sixers made 3-point shots.
They set a franchise playoff record with 21 treys in a 121-101 win in Game 1 of the first-round Eastern Conference series.
The third-seeded Sixers will host the sixth-seeded Nets in Game 2 of the best-of-seven set on Monday night
James Harden scored 23 points, dished 13 assists and made 7 of 13 shots from 3-point territory.
The Sixers were 21-for-43 overall from behind the arc.
"Just trying to be aggressive," Harden said. "They were double-teaming Joel, so somebody else had to make shots and be aggressive. Put the work in and you live with the results. I made some shots."
Embiid still managed to produce a team-best 26 points with 11-for-11 shooting from the free throw line.
If the result is a 20-point win, Embiid is happy to keep passing out of the double team.
"Just keeping it simple," Embiid said. "Every single possession they just kept doubling. It didn't matter where I was. Half court, 3-point line or post. I just have to trust my teammates. Got to make the simple plays and we took advantage of that scheme."
The balanced Sixers placed five players in double figures.
The Nets will make adjustments and the Sixers can't expect to sink 3-pointers every game
"Game 2 is going to be much more difficult," Harden said. "They're going to make adjustments and we're going to make adjustments, so it's going to be the most important game of the series. We've got to come out with the same mindset."
The Nets will look to even the series before heading back to Brooklyn for Game 3 on Thursday
They hung around for much of the opener, but 20 turnovers ultimately cost them in the end.
Mikal Bridges led the Nets with an impressive 30-point effort in the opener. Cameron Johnson added 18, Spencer Dinwiddie contributed 14 and Seth Curry had 10
The Nets can score. It's imperative for them to make good decisions to have a good chance at equalizing
"I think I'm just more about trying to win, so I think we got to rebound better, and we had a lot of turnovers, so just try to be a better team," Bridges said. "This series, it's tough, so we just got to watch film, get better and do whatever we have to do to get ready for next game. I'm just learning right now, which I think we'll be OK, just got to be ready for the next one."
The Nets gave up 21 second-chance points to the Sixers on Saturday. That number must be lower if the Nets hope for better results
"It is definitely multiple efforts," Nets coach Jacque Vaughn said. "This time of year, you have to have multiple efforts and so it goes from your traditional spacing on the defensive end because you trap Embiid, now you're rotating, now you need another effort to stop the penetration then go after the rebound. So, it is just giving multiple efforts. We got to get that in our brain that that's what it's going to take in this series.
The Nets have now lost five straight playoff games to the Sixers dating to April 15, 2019
--Field Level Media