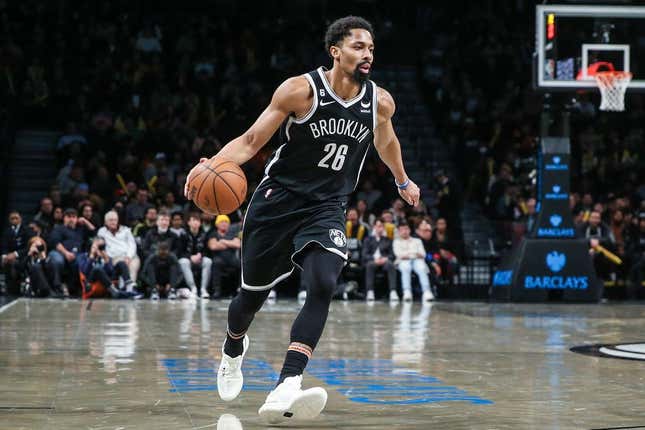 The Brooklyn Nets allowed the Miami Heat to creep closer in the standings on Tuesday night
Air Jordans are more American than McDonald's French fries | Deon Cole's Ultimate Sports Fantasy
Now, the Nets will try to hold on to the No. 6 seed in the Eastern Conference playoff race when they visit the Detroit Pistons on Wednesday night
The Nets lost to Minnesota 107-102 on Tuesday while Miami topped Detroit 118-105
Brooklyn (43-36) now holds a tenuous one-game edge in the standings over the Heat (42-37).
Minnesota outscored Brooklyn 58-46 in the paint, and Nets coach Jacque Vaughn viewed that as a backbreaker for his club
"There were a couple of opportunities where we didn't keep them away from the rim," Vaughn said. "So that ended up really being the difference in the game. They were able to get to the rim more times than we were, and we kind of got some mid-range shots. Conversely to them getting to the rim."
Vaughn essentially used a seven-man rotation. A trio of other players only saw fewer than five minutes, including usual rotation members Seth Curry and Cam Thomas. That could change during the second game of a back-to-back on Wednesday.
"Everyone, from what I know, is available for tomorrow. That's the plan," Vaughn said. "We tried Cam and Seth early. Overall, the rest of the group, with the way we were playing defense, kind of paired a little bit better. So Seth and Cam, be ready for tomorrow and hopefully give us a good lift."
Spencer Dinwiddie led the Nets against the Timberwolves with 30 points and six assists
The Pistons (16-63) hung tough against the Heat before falling 118-105 for their 10th loss in a row. Detroit led 99-96 in the fourth quarter, then gave up 11 unanswered points
Rookies Jaden Ivey and Jalen Duren continued to stand out despite the ugly record. Ivey had a team-high 30 points to go with seven assists, and Duren contributed 20 points and 14 rebounds.
Ivey has scored 30 or more points three times this season. He had five turnovers, but otherwise coach Dwane Casey was pleased with what he saw.
"I thought he did an excellent job," Casey said. "You have to find other people, and that's his next area of growth."
The 6-foot-11 Duren, who missed only one field-goal attempt, started in a jumbo front court with fellow center James Wiseman.
"JD is a very smart player," Casey said. "He picks up quickly, he understands. Even if he makes a mistake, he bounces right back, and that helps him."
The Pistons, already riddled with injuries, got another scare when Isaiah Livers landed on Ivey's foot while taking a jump shot in the first quarter. Despite spraining his ankle, Livers returned to the contest and added 15 points
"I love the way he bounced back," Casey said.
Detroit is guaranteed of its first season with fewer than 20 wins since the 1979-80 season.
"We believe we can win any game," Ivey said. "That's just the mentality that we have, and I think it's very big to finish these last couple of games strong. I feel like having the spirit that we're going to be good. We just have to keep working."
Brooklyn split the first two games of the season series, but Kevin Durant and Kyrie Irving were still on the team in those contests.
--Field Level Media