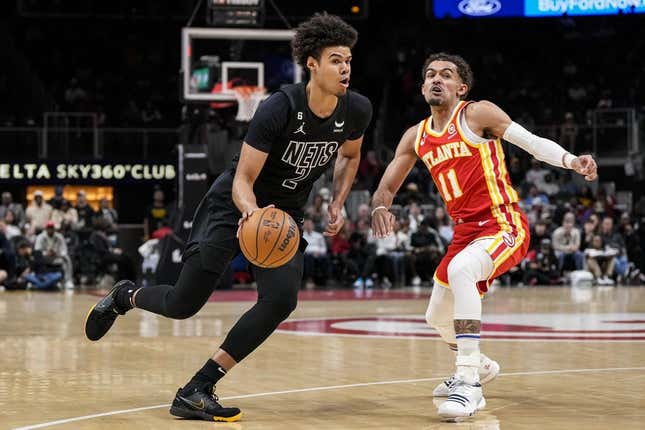 The Brooklyn Nets saw their lead in the race to avoid the play-in game grow a little more comfortable because of favorable results in the fourth quarter against the Houston Rockets and help from the New York Knicks on Wednesday
After pulling away down the stretch from the Western Conference's worst team, the Nets get another chance at widening their lead for sixth place in the Eastern Conference on Friday night when they host the eighth-place Atlanta Hawks
Brooklyn (41-35) has six games left with five at home. The Nets are 1 1/2 games ahead of Miami and completed a three-game season sweep of the Heat with a 129-100 victory on Saturday
While the Heat were faltering down the stretch in a 101-92 loss to the Knicks, the Nets did enough in the final minutes of their 123-114 victory over the Rockets
"We (have) six games left. They're all super important for us," Brooklyn's Cameron Johnson said. "There's no excuse for how we played the first 40 minutes of the game, but we were able to clean it up and come out of it with a win."
In their first home appearance since falling apart late in a 116-114 loss to the Cleveland Cavaliers on March 23, the Nets ended Wednesday by outscoring Houston 18-4 in the final three-plus minutes
Brooklyn got it done thanks to Johnson and Bridges, who combined for 21 points in the fourth. The Nets also hit nine 3-pointers in the final 12 minutes and scored 37 points in the fourth after averaging 27.5 points in the final period during a four-game home skid
"I thought overall our drive and kick was really good," Brooklyn coach Jacque Vaughn said. "What a difference when that ball goes through the hoop. It shows growth from just a week ago."
Johnson scored 31 points on 11-of-18 shooting while Bridges added 27. The duo had better help than in Sunday's 13-point loss in Orlando as Spencer Dinwiddie added 20 after going 0-of-11 from the floor against the Magic in the second night of a back-to-back.
Atlanta (38-38) shares the same record as Toronto but sits in eighth because it won two of three meetings with the Raptors. The Hawks are 1 1/2 games behind Miami and two up on the Chicago Bulls, who visit Charlotte Friday
Atlanta is 14-16 since winning five straight Jan. 13-20. During that span, the Hawks have been at .500 15 times and evened their record yet again with Tuesday's 120-118 home win over the fourth-place Cleveland Cavaliers
Atlanta was able to overcome 44 points by Cleveland star Donovan Mitchell by placing seven in double figures. Dejounte Murray bounced back with 29 points after a combined 11-for-31 shooting effort in his first two games back from a brief absence due to a non-COVID-19 illness.
"Just knowing we're in a must-win situation, trying just to control the Atlanta Hawks," Murray said. "We came out ready to play for 48 minutes and got a great win.
Onyeka Okongwu added a season-best 21 to help the Hawks overcome a quiet night from star Trae Young. Young was held to 16 points on 4-of-15 shooting though he had 10 assists for the second straight game
The Nets won two of the first three meetings, though Atlanta earned a 129-127 home win on Feb. 26 when Young scored 34 and hit the game-winning 12-foot jumper
--Field Level Media