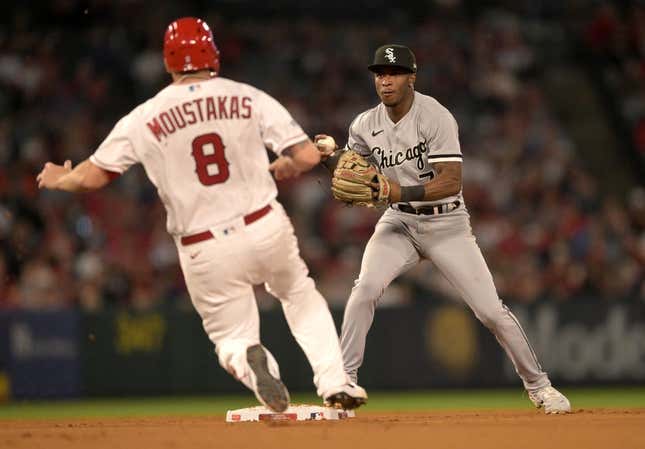 Mike Moustakas wasn't certain where his major league career was going when the Cincinnati Reds released him in January, but the 13-year veteran has started the past two games at first base for the Los Angeles Angels
How running an NFL team is like running a restaurant | Chef Emeril Lagasse
Moustakas could be back in the lineup Wednesday night when the Angels host the Chicago White Sox in Anaheim, Calif
Injuries kept Moustakas, 34, out of the lineup for much of his time with the Reds, for whom he averaged just 61 games a season in three years with the club. The Reds released him despite still owing him $22 million, leaving Moustakas to wonder if his career was over.
The Rockies, though, signed him to a minor league deal, and Moustakas hit .270 with four homers, 17 RBIs and a .795 OPS in 47 games for Colorado, and the Angels took notice
The Angels sent a minor league pitcher to Colorado for the left-handed hitting Moustakas, essentially taking the spot of the struggling Jared Walsh, who was sent to the minor leagues
Moustakas went 2-for-4 with an RBI in Tuesday's 4-2 win over the White Sox, and is 3-for-7 in two games with his new club. It's a homecoming of sorts for Moustakas, who grew up in the Los Angeles suburb of Chatsworth
Angels center fielder Mike Trout and Moustakas both made their major league debuts in 2011
"What a great dude, great player," Trout said. "I've gotten to know him over the years. Just one of those things where you come up through the draft process, then you play with each other (on Team USA), build a friendship and we go our separate ways. Now we're teammates, so it's pretty cool."
Moustakas has playoff experience, including winning a World Series with the Kansas City Royals in 2015.
"I know I can play this game still, especially when I'm healthy," he said. "The last couple of years haven't been great for me, but I feel good. I feel healthy."
Right-hander Jaime Barria (2-2, 2.14 ERA) will make his 17th appearance (fifth start) for the Angels on Wednesday. He is 1-2 with a 3.98 ERA in five career games (two starts) vs. the White Sox
Right-hander Lucas Giolito (5-5, 3.41) will make his 17th start of the season for the White Sox. He's allowed two earned runs or fewer in each of his four starts in June, compiling a 1.50 ERA with 30 strikeouts in 24 innings this month
Against the White Sox, he is 3-1 with an ERA of 3.97 and 56 strikeouts in 45 1/3 innings over eight appearances
White Sox closer Liam Hendriks will throw on Wednesday, but not in an actual game. Hendriks, who has not pitched in a game since June 9, has an inflamed right elbow and there is no timetable for his return
"There's no end date as of yet," Hendricks said. "It's just, take it step by step. If I respond well, we can move that forward. If it responds OK, we have an idea. And if it doesn't respond well, we take a little extra time. We're making sure not to overdo it."
The White Sox need their veteran closer, who gave his struggling team a boost when he made his season debut following offseason cancer treatments amonth ago. The White Sox are 4-1 in games he's pitched this season, with the only loss coming May 29 in Hendriks' first game back, coincidentally against the Angels
--Field Level Media