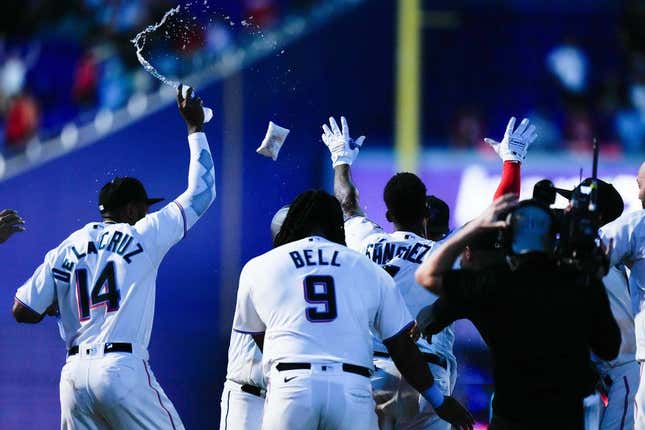 The Miami Marlins, energized by their two new corner infielders, will try for a series split on Thursday afternoon against the visiting Philadelphia Phillies
How running an NFL team is like running a restaurant | Chef Emeril Lagasse
Thursday's pitching matchup will feature a battle of right-handers, Miami's Johnny Cueto (0-2, 5.60 ERA) and Philadelphia's Michael Lorenzen (5-7, 3.58)
Cueto is 2-5 with a 5.24 ERA in 13 career starts against the Phillies
This year, the Marlins are 0-4 when Cueto takes the mound. Injuries robbed him of more than three months this season, but he has now made two straight starts
Lorenzen, acquired from the Detroit Tigers on Tuesday, is set to make his Phillies debut. He is 2-2 with a 2.72 ERA in 15 appearances against the Marlins, including four starts
After winning three consecutive outings, Lorenzen took a loss his last time out, falling 6-0 to the Los Angeles Angels on July 27. He gave up three runs on five hits in five innings with seven strikeouts and one walk
After joining the Phillies, Lorenzen said, "It's my second year starting, so there's skills to develop. I feel like Detroit did a really good job developing those skills. I feel like I'm in a good spot and I'm happy to bring it here.
Lorenzen added, "I've been seeing the benefits in my strikeouts going up. First, let's get you in the zone. And once you're comfortable with getting in the zone, let's try to work on that two-strike skill. I feel like I'm in a really good spot there. I'm excited to bring that here.
Philadelphia won the first two games of the series before Miami rallied for a 9-8 victory in 12 innings on Wednesday
In the latest game, Miami came back from a 5-0 deficit in the sixth inning. The Marlins also tied the score in the ninth, 10th and 11th innings before winning it on Jesus Sanchez's bloop single in the 12th
First baseman Josh Bell and third baseman Jake Burger both had big games in their debuts with the Marlins. Bell went 4-for-5 with a homer, a walk and two RBIs. Burger went 2-for-4 with a walk
"I texted my wife after the game," Burger said. "I told her, 'That's the most fun I've had on a baseball field in a really long time.' It's special.
Burger and Bell both arrived in big Marlins transactions on Tuesday, just before the trade deadline
"I think the moves that were made over the past few days were for moments like this, for us to fight back," Bell said. "Next time we're behind, I know we will trust the guys in the lineup
"It's all about the fight.
The Marlins have shown plenty of punch lately, though one concern is the plight of new closer David Robertson. Acquired from the New York Mets last week, Robertson has been thumped in two straight appearances for Miami, allowing five runs (four earned) in two innings
The Phillies have played the past two games without three-time All-Star catcher J.T. Realmuto, who has a cut on his right hand
Philadelphia's Alec Bohm went 4-for-6 with three RBIs in the loss, including a go-ahead, run-scoring single in the 11th
"That's a game we should have won," Bohm said, "but there's nothing we can do about it now.
--Field Level Medi