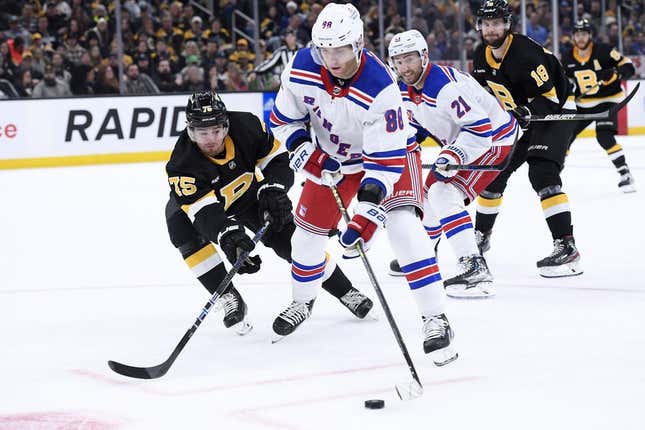 After four days in between games, the New York Rangers saw their new power-play alignment produce the desired results even if some other aspects of their game were not as sharp.
How running an NFL team is like running a restaurant | Chef Emeril Lagasse
The Rangers hope to merge their effective power play with more of a complete showing Saturday night when they visit the slumping Buffalo Sabres.
New York is 3-5-1 since Feb. 18 and five points ahead of the New York Islanders in the race to earn a top-three spot in the Metropolitan Division. The Rangers dropped the first two games of Patrick Kane's tenure with the team before earning a 4-3 victory at Montreal on Thursday.
"We're up and down all night, we just kept battling back and, fortunately for us, at the end of the day we got two points," New York coach Gerard Gallant said. "Didn't play a perfect game but we created some good offense and some key guys scored for us tonight."
Kane produced his first two points with the Rangers, getting a power-play goal and an assist before Mika Zibanejad scored the game-winner in the second round of the shootout.
Kane scored on a night when the Rangers went 2-for-4 on the power play while the former Chicago Blackhawks star played on a power-play until featuring Artemi Panarin, Vincent Trocheck, Alexis Lafreniere and Adam Fox.
New York's other man-advantage lineup saw Zibanejad and Chris Kreider, Vladimir Tarasenko, Filip Chytil and Jacob Trouba. The new power-play units were installed by Gallant after the Rangers were 5-for-27 (18.5 percent) in their previous eight games before getting two consecutive practice days ahead of their visit to Montreal.
"Right now, it's a much better feeling," Panarin said. "It doesn't matter if it's a shootout or not, two points are two points, so we just take it and keep going."
The Rangers played a fifth straight game without defenseman Ryan Lindgren, who could be out again with the upper-body injury sustained on a hard hit by Washington's T.J. Oshie on Feb. 25
Buffalo is six points behind the Pittsburgh Penguins for the second wild-card spot. Since winning five straight from Jan. 19-26, the Sabres are 6-9-1 including 1-4-1 since Feb. 28.
During their past five losses, the Sabres have been outscored 28-12.
After consecutive 3-2 losses to the Edmonton Oilers and New York Islanders this week, Buffalo's defense allowed 49 shots on goal (one shy of a season-high) in a nightmarish 10-4 home loss to the Dallas Stars on Thursday night that marked the first time it allowed 10 goals since Nov. 2, 2005, against the Ottawa Senators.
The Sabres allowed four goals in a span of 3:03 midway through the third after Jeff Skinner scored to get them within 5-3. Skinner's goal occurred after Buffalo allowed 18 shots in the second period.
"We did not have it and it was pretty evident right from the beginning," Buffalo captain Kyle Okposo said. "We just seemed a little bit lifeless, a little tired. It's just tough to play this time of the year when you're not feeling your best and we just have to find a way to get that energy back and understand the position that we're in."
The Rangers have won the past five meetings with the Sabres and are 9-0-1 in their past 10 encounters with Buffalo.
--Field Level Media